Horse Racing Fantasy Sports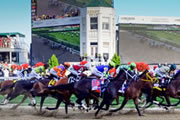 Horse racing is a fairly small market in the daily fantasy sports industry but it has been a hot topic recently as Derby Wars become the top horse racing fantasy sports site by taking advantage of horse racing's legality. While sports gambling is massively limited due to federal laws like PASPA and the UIGEA, horse racing was legalized after the Interstate horseracing Act was passed.
That being said, a horse racing interest group called the Stronach Group took Derby Wars to court with the accusation that they were operating in violation of the Interstate Horse Racing Act. The ruling was given by a judge in the Central District of California as he ruled in favor of the Stronach Group and said that Derby Wars were illegally providing off-track betting operations.
Fantasy Sports Entry Fee's Debate
The court's ruling did lead to some interesting speculation as the wording of said ruling was very interesting. As we know the fantasy sports industry argues that it does not break gambling laws because it is a game of skill that involves "entry fees" but that point is argued in quite a few states. There are also 12 states that do not consider fantasy sports to be gambling in their state laws.
The speculation behind the ruling that we discussed comes from the fact that the judge in the case ruled that Derby wars were offering gambling opportunities and that players are placing wagers at their site, even saying that "entry fees constitute a wager". Rather interesting take on the subject as there have been limited court rulings that mention the legal nature of paid-entry fantasy sports.
What This Means For Legalized Fantasy Sports
The only reason this case came about was because of the Interstate Horse Racing Act and really has nothing to do with legalized fantasy sports as a whole. Jessica Feil, a lawyer with the gaming firm Ifrah Law touched on this point saying that "Even though Derby Wars structure is similar to various DFS operators, it was the subject of their wagers that created the problem. It would take an extremely broad reading and expansion of this opinion to apply it to the rest of the non-horse racing DFS industry."
Ryan Rodenberg, an FSU associate professor also had some choice words on the matter saying that "As an Interstate Horseracing Act case, it is unclear what impact, if any, this new decision will have on DFS legality… Gambling on horse races has a unique legal history. For example, the activity is specifically exempted under PASPA. As such, the case could be distinguishable for DFS moving forward."
Regardless of what your thoughts are on this issue and its impact on sites like FanDuel and DraftKings, it is apparent that lawmakers believe this is a good thing for the industry and legal USA gambling.