How Big Can Partypoker's Online Poker Tournament Guarantees Get?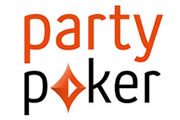 Partypoker, one of the world's largest online poker rooms, has considerably upped the ante (or at least the guaranteed prize pool) in each of its premier Powerfest tournaments since launch. The first such event kicked off in February of 2016, with a total pot of $5 million. The brand's May and August events had modest increases, with guarantees of $7.8 million and $10 million, respectively. There was some drop-off in pace at the start of 2017, with January's tourney only hitting the $11 million mark, but just four months later, the May contest boasted more than 300 individual events worth a combined $20 million.
And now, for partypoker's August 2017 Powerfist, that total has climbed to an eye-popping $35 million in guaranteed winnings for participants. At this rate, it'll be no time before partypoker passes the $50 million threshold, and after that, $100 million won't be far behind. Even more amazingly, the online poker giant has raised this kind of cash all without the help of US-based customers. (Partypoker left the American market in 2006 after the passage of Unlawful Internet Gambling Enforcement Act drove them out of the country. In 2003, they returned to do business in New Jersey, but that's not a real place so it doesn't count.)
At any rate, if your country allows you access to partypoker (and no, a VPN and bitcoin balance will not let you sneak past the bouncer), you can get in on the upcoming action at pretty much whatever level you please. Buy-ins start at $5.50 and run the gamut up to $25,500, the latter getting you into the two-day $3 million Super High Roller event. For the rest of us, there will be 12 Championship events four Main Events, comprised of winners in the $11, $55, $215, and $1050 tiers.
But partypoker is not alone in its trek up the mountain. PokerStars (which also does US business only in New Jersey due to the UIGEA) seems to be poised to eclipse them, having collected a whopping $97 million during their SCOOP tournament earlier this year. Clearly, online poker is more popular than ever, and gamers are flocking to any and every reliable online poker room out there.
Just imagine how these two powerhouse brands will do once the entire country is able to join the party for legal gambling in the USA.