How Derby Horses Got Their Name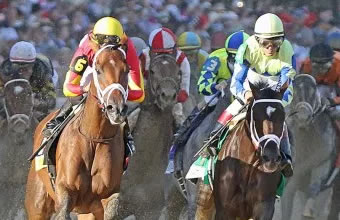 Have you ever wondered how the 2018 Kentucky Derby horses got their unique names? Well, there's a method to the madness. LegalGamblingUSA knows thoroughbred horses have a long-standing tradition of sporting unique names, and it goes back to the established rules set forth by the Jockey Club and its custodianship of the American Stud book.
There are a couple dozen criteria that any registered Thoroughbred naming scheme must adhere to, but the main rule is that – in all but the rarest circumstances – every registered foal must have a unique name that hasn't been used before. With that in mind, here is how the participants of the 2018 Run for the Roses got their odd, intriguing names.
1. Firenze Fire (66/1, +6600)
Firenze is Italian for "Florence," and owner Ron Lombardi and his daughter visit the city multiple times a year. When Firenze Fire was foaled, the terrible Tom Hanks movie "Inferno" had just been released. Apparently, the Lombardi's liked the film.
2. Free Drop Billy (33/1, +3300)
Owner Dennis Albaugh's golfing buddy Bill would frequently end up in the water and take a free drop rather than a penalty. Albaugh named his horse after him.
3. Promises Fulfilled (40/1, +4000)
Owner Robert Baron submitted the name on his 44th wedding anniversary with the premise that he and his wife had fulfilled all their promises to each other and their children.
4. Flameaway (40/1, +4000)
Owner John Oxley says Flameaway's name is triply referential: He is named for his "flaming" chestnut colt, named after his third dam Flame of Tara, and named as a tribute to 1941 Triple Crown winner Whirlaway.
5. Audible (11/2, +550)
Owner Elliot Walden likes to use football terminology when naming his horses. An audible is a last-second football play adjustment. (Audible was not named for the Amazon service of the same name, even though the retail giant has now purchased a stake in the horse.)
6. Good Magic (9/1, +900)
Good Magic's dam is Glinda the Good, hence his name.
7. Justify (7/2, +350)
This was chosen at random, with no significance to the owner or trainers beyond "sounding cool."
8. Lone Sailor (50/1, +5000)
Greg Bensel, manager of GMB Racing, named Lone Sailor after Tom Benson's naval military career. Benson is the late owner of the New Orleans Saints.
9. Hofburg (16/1, +1600)
Hofburg is named for the erstwhile imperial palace in Vienna, Austria, as he is "all class and beauty."
10. My Boy Jack (22/1, +2200)
Trainer Keith Desormeaux named the horse for a friend of the animal's co-owner, who has a young son named Jack.
11. Bolt d'Oro (9/1, +900)
Bolt was chosen as a tribute to Usain Bolt, the fastest human ever. The surname is a tribute to the horse's sire, Medaglia d'Oro.
12. Enticed (25/1, +2500)
Owner Emma Browne chose this for the name of dam Tricky's second foal, as Tricky often had to be "enticed" into doing things (like, presumably, giving birth).
13. Bravazo (50/1, +5000)
Bravazo loosely translates to "awesome" in Spanish, which is fitting because the horse's sire is Awesome Again.
14. Mendelssohn (4/1, +400)
Mendelssohn was named after 1800s composer Felix Mendelssohn, who wrote the tunes for A Midsummer Night's Dream (which winning the Derby surely would be).
15. Instilled Regard (50/1, +5000)
Owner Larry Best just wanted a "classy name" that reflects a valuable "attitude toward life." I guess...
16. Magnum Moon (7/1, +700)
Magnum Moon's pappy is Malibu Moon, hence the tribute.
17. Solomini (20/1, +2000)
Solomini was named after Solomon, a nephew to Zayat Stables manager Justin Zayat.
18. Vino Rosso (14/1, +1400)
Co-owners Mike Repole and Vinny Viola, both of Italian heritage, really like red wine.
19. Noble Indy (28/1, +2800)
Noble Indy was named totally traditionally, as his moniker is a combination of his sire, Take Charge Indy, and his dam, Noble Maz.
20. Combatant (66/1, +6600)
Fittingly for the race's biggest longshot (who only made the field after another horse dropped out), Combatant's owner said his name "doesn't have any particular significance."
| Legal Betting Sites | Bonuses | Features | Visit Site |
| --- | --- | --- | --- |
| | 50% - $250 | Casino Games | |
| | 50% - $1,000 | Poker / Casino Games | |
| | 50% - $1,000 | Poker / Casino Games | |
| | 100% - $500 | Poker / Casino Games | |
| | 50% - $520 | Live Dealer Casino | |