Kentucky Derby Bargain Firenze Fire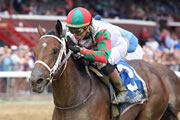 Most Kentucky Derby participants are high-dollar animals for whom six-digit (and even seven-digit) auction prices and training facilities are a matter of course. However, that's not always the case, and this year, Firenze Fire is a budgeter's bet for Derby Glory. In other words, if you only have a few bucks to spend and believe in true Cinderella stories, Firenze Fire might just be your ticket to the ball.
With current futures odds of 66/1 (+6600), he's tied with Combatant on the betting boards as the longest shot to win the Run for the Roses. While such a victory is not unprecedented at the Derby, Firenze Fire's bargain-basement life very well might be.
It all starts with Firenze Fire's owner, Ron Lombardi of New Jersey. Lombardi, a gym and rehab chain owner, has only been in the Thoroughbred horse racing business since 2007, when he purchased his first yearling for $30,000. However, that colt – Mr. Amore – died in a training accident, having never run a single race. Lombardi's next horse, the filly Miss Sure Pockets, was bought for $75,000, but she developed a shin condition that prevented her from ever competing. His third horse, Snare, broke a leg during an early career race and had to be euthanized.
Three horses, two deaths, no wins. But Lombardi didn't give up. Nor did Lombardi kick his investing into high gear and go after more proven, higher-dollar animals. He kept his pace, and he stuck to his budget.
In 2008, Lombardi's horses started winning, with the filly American Border finishing her career winning 9 of 13 races. Then came Tightend Touchdown, who won 11 times in 32 races and hauled in nearly a million dollars over his career. Ribo Robo nearly hit seven figures in winnings over the course of his 56-race career (18 wins), and Lombardi's stables grew. However, his fiscal proclivities remained subdued.
Finally, after a rough start and a burst of mild success, Lombardi struck Grade 1 gold. After purchasing the mare My Every Wish for $16,000, Lombardi – against the advice of others "in the know" – decided to breed her. The sire was Poseidon's Warrior, a little-known sprinter specializing in races of around 6 furlongs.
For a $4000 stud fee, My Every Wish birthed her first foal, Firenze Fire, one of more than 25,000 Thoroughbreds born in the US in 2015. Of these, a maximum of 20 make it to the Kentucky Derby. Firenze Fire even earned his way into the race (whereas the other two longshots in this year's Kentucky Derby were late scratch replacements).
Ultimately, from an acquisition standpoint, Lombardi has only $20,000 invested into Firenze Fire, an extreme bargain for a top Grade 1 stakes colt. For comparison, look at the 2018 Kentucky Derby's various favorites. Justify (7/2, +350) was sold as a yearling for $500,000, while Irish superhorse Mendelssohn (4/1, +400) was sold for an astronomical $3 million.
But even other longshots have high auction prices compared to Lombardi's total investment in Firenze Fire. Instilled Regard (60/1, +6000) pulled in $1,160,000 in his auction history, while Combatant (66/1, +6600) – who only made it to the Derby because Quip was scratched from competition – was purchased as a yearling for $320,000. Lone Sailor (50/1, +5000) was bought for $120,000, and Flameaway (45/1, +4500) was auctioned twice for a combined $550,000.
The only horse that comes close to Firenze Fire's meager comparative investment is Promises Fulfilled (50/1, +5000), who was auctioned as a yearling for just $37,000. (Bravazo, homebred at Calumet Farms and sired by Awesome Again, has no price history, but Awesome Again typically produces yearlings that sell for an average of around $70,000.)
LegalGamblingUSA thinks if you're budget-minded like Firenze Fire's Ron Lombardi, his horse might be the horse for you. The payout is the biggest in the 2018 Kentucky Derby, and while the pony probably won't podium, just making it to the Run for the Roses is a victory in itself.
| Legal Betting Sites | Bonuses | Features | Visit Site |
| --- | --- | --- | --- |
| | 50% - $250 | Casino Games | |
| | 50% - $1,000 | Poker / Casino Games | |
| | 50% - $1,000 | Poker / Casino Games | |
| | 100% - $500 | Poker / Casino Games | |
| | 50% - $520 | Live Dealer Casino | |