NBA Hall Of Famer Magic Johnson To Speak On Sports Betting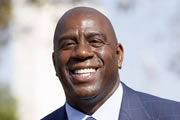 On Thursday, October 5th, NBA legend Magic Johnson will give a speech at the Global Gaming Expo (G2E) to address several topics in the gaming industry, along with a conversation regarding legal sports betting in the United States.
Johnson's Global Gaming Expo Keynote Speech
The two-time NBA Hall of Famer will deliver a 30-minute keynote address at what is considered the largest event in the casino gaming industry. Sponsored by the American Gaming Association (AGA) and Reed Exhibitions, the speech will cover various topics.
As a former Los Angeles Laker and successful businessman, Magic will discuss his journey from all-star basketball player to a prosperous entrepreneur. Johnson will highlight how the lessons and knowledge acquired on the court were able to be applied to his business ventures over the years.
His investment company, Magic Johnson Enterprises, has invested in several lucrative companies such as Sodexo, T.G.I. Friday's, and numerous movie theaters and dining establishments.
Magic Johnson To Speak On Sports Betting
Perhaps more perplexing will be the 15-minute chat that Magic will have with AGA CEO and President Geoff Freeman following his speech. In the discussion, the businessmen are expected to discuss the future regulation and legalization of betting on sports in the country.
Johnson himself has ownership in several leagues, such as the L.A. Dodgers, Los Angeles Lakers, and the L.A. Sparks.
"Magic Johnson's experience on and off the court has helped shape his successful business career," stated CEO Freeman in an AGA press released. "I look forward to talking with him about the future of sports betting."
NBA Continues To Support Sports Betting
As a former player and President of Basketball Operations for the Los Angeles Lakers, Johnson has never vocally taken a stance for or against legalized sports betting. His October address may add him to the growing list of professional league leaders that have voiced favorable opinions toward the topic.
If you may recall, NBA Commissioner Adam Silver has been vocal about his support of establishing a legal framework for regulated sports betting since 2014. In an opinion piece written for the New York Times, Silver is quoted as saying:
"There is an obvious appetite among sports fans for a safe and legal way to wager on professional sporting events," wrote Silver. "Congress should adopt a federal framework that allows states to authorize betting on professional sports, subject to strict regulatory requirements and technological safeguards."
Over the past year, Silver has done several interviews where he continues to be active in keeping the discussion of legalized sports betting alive.
What Else To Expect From G2E
Sports betting is expected to be a major theme of this year's gaming expo. There will be several seminars that cover various aspects of potential sports betting legalization and allow for attendees to learn more about the issue and current sports betting laws in the USA. Some of the roundtables focused on sports betting will include the following:
Pressure Points:

How States Are Readying For a Future with Sports Betting

The Business of Sports Betting

: Global Perspective on Integrity, Regulation, and Opportunity

Responsible Gaming Roundtable:

A Fresh Take on Next-Gen Programs

Global Regulation:

What Gaming Regs Should Be
With the New Jersey sports betting case garnering more support and attention than ever, LegalGamblingUSA believes it is more important than ever for those across various industries to learn more about the topic. The American Gaming Association has even created the American Sports Betting Coalition for the purpose of introducing more legislation to Congress. G2E serves as a networking event for leaders from diverse industries to come together, and as the NJ trial moves forward, we can expect more events of the same nature to take place.