McGregor Mania: Super-Fight Odds Continue To Tighten As Bets Roll In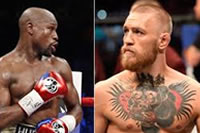 Whether betting purely on bluster or simply enticed by long odds, those siding with Connor McGregor for August 26th's super-fight between he and Floyd Mayweather certainly haven't lost any steam. In fact, the vast majority of recent bets have been in McGregor's favor, so much so that the odds for the match-up continue to tighten as the date approaches.
For those late to the party (or circus), McGregor, a prolific MMA fighter with a UFC record of 9-1, is scheduled for a 12-round boxing match with Floyd Mayweather. Oh, and by the way, Mayweather is considered by many to be the best boxer of all time, with a perfect 49-0 record. Those stats are probably all you need to see how completely lopsided this match-up should be. 'Should' being the operative word here.
Despite the obvious mismatch this fight presents on paper, people have continued flocking to sportsbooks to throw down money on their favorite trash-talking Irishman. When the betting lines opened several weeks ago, Mayweather was a -2500 favorite, and McGregor a +1100 underdog. Reasonable odds, you might think, considering what we know. Well, fast forward to today, and the lines have shifted drastically. In response to heavy action on McGregor, he's moved all the way up to +375, with Mayweather currently sitting at -550.
To help illustrate exactly how staggered the betting has been, we'll use some numbers from the Westgate Las Vegas SuperBook. At this particular (and very prominent) sportsbook, 93% of sports betting tickets have been for McGregor, accounting for 76% of the total money wagered. And if that's not glaring enough, yesterday a bettor placed $150,000 on McGregor. That's 6-figures on a guy who's never had a pro boxing match in his life, to beat one of the greatest boxers of all time.
So, what in the world has changed since the initial betting lines opened? Well, the obvious answer is that people placed numerous and/or large wagers on McGregor, prompting sportsbooks to shift their lines accordingly. Understanding why people are placing those bets, however, is a much trickier task.
The consensus seems to be that while Mayweather heavily outclasses McGregor in terms of boxing prowess, McGregor's superior power gives him a puncher's chance. Still, it's hard to imagine all this ado comes down to McGregor having a pretty decent right hand. More than that, McGregor's grandest weapon seems to be his confidence. Dismissible as that may seem, his fans will quickly point out Connor's track-record for backing up his smack-talk.
Be that as it may, the water's never been deeper for McGregor than it will be on August 26th, when he'll stand toe-to-toe with a legend of boxing and have to live up to his own hype, or get knocked down, despite it.
Back to LegalGamblingUSA