North Korea Finishes 13th In Figure Skating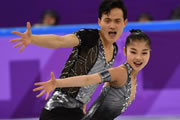 The North Korean figure skating pair of Kim Ju Sik and Ryom Tae Ok did well in their Olympic debut Thursday, each earning their personal best scores and the applause of the entire crowd.
Kim, 26, and Ryom, 19, scored a combined 124.23 points in today's free skate competition after racking up 69.40 in the Wednesday short program, high enough to make it into the long program, in which they finished 13th overall. They didn't have much of a chance to win the overall competition, and in fact the leading legal offshore sports betting sites from Bovada to Bet365 didn't offer any odds on them to do so at all. But winning a medal at the PyeongChang 2018 games – much less winning bets for sports gamblers – is hardly the point for these up-and-coming athletes from the Hermit Kingdom.
Kim and Ryom came to the South to prove that North Korea can be taken seriously in international sporting competition. Although they didn't finish where they wanted to this time around, the pair, which received a special exemption along with other North Korean athletes to compete at PyeongChang, were encouraged just by being able to showcase their abilities. Nevertheless, Kim told reporters after he and Ryom completed their history-making routine that he aimed to improve substantially before the next competition.
"We feel somewhat disappointed because in our training we did a whole lot better than the results we got here," Kim said. "We will try our best to improve our score in our next performance. We want to break our record, step by step, and hope to get better and better."
The North Koreans' focus on making steady improvements, instead of aiming straight for the top of the leaderboards right away. Kim and Ryom, who have been skating together since 2015, may not still be competing on the day when North Korea wins a gold medal in figure skating. However, there is plenty of reason to believe that considerable resources are being expended by the communist regime to ensure its athletes can quickly begin to assert themselves on the world stage.
There is already a precedent for this kind of rapid improvement in the Hermit Kingdom's sporting aspirations, as North Korea's women's soccer team just recently win the East Asian Football Championship last December, and the men's ice hockey team is currently ranked as the 39th-best national squad in the world. Athletes from the North won two gold medals at Rio 2016 and four at London 2012, which goes nicely with the 11 gold medals that they won at the 2014 Asian Games. Individual and martial arts oriented sports like boxing, judo and wrestling are some of North Korea's best events in international competition, as are related disciplines like gymnastics and weightlifting, but – outside of gymnastics – those are all fairly low-profile Olympic events.
Figure skating, on the other hand, is considered by many fans to be THE Winter Olympics sport, and finding success in that event – and repeating that success – will depend on building consistency in coaching and developing young skaters over years of dedicated training. Fortunately, the North's figure skating ambitions are not a pie-in-the-sky dream cooked up by commissars in the authoritarian government's politburo – that's because the Supreme Leader himself, Kim Jong Un, is a huge fan of the sport, which was decried for years in the isolated nation as a bourgeois pursuit. The Leader's enthusiasm for basketball, soccer and skiing have already resulted in considerable state resources being directed to improvements in those channels, and that includes building the infrastructure necessary for training, as well as recruiting reputable coaches, even from the ranks of the "Decadent Western Imperialists."
However, the long-term success of North Korea's sporting goals may be hamstrung by the nation's nuclear ambitions, as international sanctions on the export of luxury goods like sports equipment could make the process much more difficult. Western international pressure on North Korea is intended to get Kim to de-escalate his plans to modernize the nation's nuclear capabilities, but the presence of a sympathetic regime in Beijing consistently throws in a kink in that plan as China is one of the Free World's most crucial partners in trade.
Nevertheless, back in PyeongChang, the North Korean figure skating duo who won the hearts of the crowd and the respect of their South Korean hosts is just doing its best to make incremental improvements. It's somewhat ironic, but this attitude of focusing on doing better as individuals stands in stark contrast to the fiercely collectivist stance of the world's last true stronghold of old-school communism. For what it's worth, LegalGamblingUSA thinks there was nothing but graciousness expressed by Kim and Ryom, especially for the people of South Korea in a fairly straightforward indication that the two states' long-running Cold War is thawing, even if just by a little.
"We are proud to have participated in an Olympics where both [North and South Korea] celebrated together," Kim said. "We were happy to perform here."