Online Lottery Is The Future Of The Numbers Racket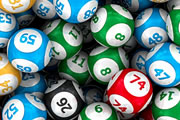 Do you play the lottery? Every time the Power Ball hits $200 million, do you get in your primitive, fire-powered metal cage and burn dinosaur squeezings all the way to the local brick hut to purchase paper tickets like a savage? Why? This is America. This is 2017. It's time to play the lottery online.
The online lottery system is a burgeoning concept, and it represents a measure of push-back from the world's oldest form of gambling in this ever-advancing technical age. While online sports betting is getting the lion's share of gambling coverage these days, countries the world over are loosening their gambling laws in general. Between the classic table games and the massively popular sportsbooks both online and off, many observers are sounding the death knell for lottery gaming as a future-proofed moneymaker.
However, innovators in the online gambling space are not convinced. Lotto Hero spokesperson Angelo Dalli has embraced the future of lottery-based gaming, calling it "a sleeping giant." That's because lotteries have a unique potential in the online space. Digital blackjack and slots are unquestionably a quick fix for gamblers, while sports betting is a longer haul proposition. Poker and the like can require quite the grind of its players, and table games in online casinos run the gamut of time expenditure. The online lottery, according to Dalli, will naturally fit in between the current pacing structure of the industry: not too fast, not too slow.
As an example, Dalli explains one of Lotto Hero's working concepts: an online lottery that gives players the chance to win a cool million dollars every hour on the hour, 24-7. The premise is powerful in its simplicity, taking the established week-long wait for the lottery and condensing it down to two dozen drawings a day. Dalli even says his company's service has "second-chance" mechanisms for folks who didn't win, enticing them to check back with the service early and often.
LegalGamblingUSA thinks the online lottery idea seems like a natural extension of the industry, much the same way that online slots or online poker are universally viewed today. It's actually surprising that the concept hasn't taken off sooner, though it remains to be seen how well Lotto Hero and its competitors are able to translate the pastime not just to the Internet, but to the mobile space in particular.