Phelps vs. Apex Predator Betting Odds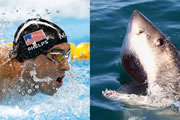 After Phelps announced his retirement – again – back in 2016 following the Rio De Janeiro Olympic Games, you probably didn't expect to see him back on the books. But here he is once again, less than a year later with betting odds next to his name.
The Greatest Olympic athlete of all time has announced that he will be participating in Discovery Channel's Shark Week. Not only will he be co-hosting an educational show – about hammerhead sharks, no less – he'll be taking on the greatest predator in the sea in a head-to-head competition.
That's right, Michael Phelps is going to race a Great White Shark.
In what is being heralded as Great White vs. Great Gold, the matchup is set to go down on July 23rd, at 8 pm Eastern Standard Time. And right now, you can bet on who the winner will be.
For probably the first time since his debut, Michael Phelps is a severe underdog, with a +500 line. For some reason, oddsmakers believe that the 23-time Gold Medalist just doesn't have what it takes to beat evolution's most efficient killing machine. Odd.
According to the experts at ESPN, Phelps' top speed in the water taps out around 6 MPH, an impressive feat for a land-based mammal. Great Whites, however, can exceed speeds of 25 MPH. For those of you who aren't math experts, that's more than 4 times faster than Phelps at his top form.
The specifics of the race itself have yet to be announced. The Great White will more than likely be given the home-pool advantage, seeing as there probably aren't many community centers or training facilities that can host a 2,000-pound death fish in addition to Phelps' ego. Regardless of where the event will go down, we can only hope that there's more than just a buoy or two between the competitors.
One can only guess how the conversation between Discovery Channel producers and the former Olympian went when the idea was first pitched. If it's anything like the promos – "One trained to be the best since the day he was born. The other has been perfected by EVOLUTION." – Then it was probably wildly dramatic and I almost wish I could have been there to hear it.
Regardless of their pitch, the 32-year-old has signed on for the task and will be taking on the apex predator of the sea in less than a month. Phelps has broken 39 records throughout his life, and with this competition looks to round out that number to an even 40. But the Great White won't go down easily. He's had too many years of being the most dominant being in the sea.
There's only one way to know who will come out victorious – tune into Discovery Channel's Shark Week (or just use your brain for like, three seconds and apply logic to the situation). If you're really feeling into the competition, head over to any one of the site for legal US gambling available to US players and wager on the results of the race. Betting odds will be up at gambling sites that accept US players like Bovada and BetOnline, so you can head over there for all of your Great White vs Great Gold betting odds.