New York Assembly Members Kill Second Consecutive Online Poker Bill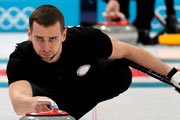 The hits against the so-called Olympic Athletes from Russia just seem to keep coming, and one of social media's more recent darlings – curler Alexander Krushelnitsky – is just the latest casualty of the apparent witch hunt over doping.
Krushelnitsky, as everyone is likely to remember, captured the attention of the world a week or so ago when he and his wife, the comely Anastasia Bryzgalova, won the bronze medal in the Winter Olympics debut of the mixed doubles curling event. That was Russia's first-ever medal-worthy performance in any curling event, or it would have been the country's first if it was actually allowed to officially compete, but now the validity of the third-place finish is being called into question. That's because Krushelnitsky tested positive for banned substance meldonium, leading the Olympic Committee's anti-doping division to open proceedings against him.
For his part, Krushelnitsky has actually welcomed the investigation, as he is, more than anyone else, baffled as to how he returned a positive blood test. In the meantime, Krushelnitsky has been banished from the PyeongChang 2018 Winter Games, but he has issued what appears to be a heartfelt apology for any embarrassment caused by the scandal, manufactured as many people close to the sport believe it to be.
"I want to apologise to my partners on the Olympic team, our delegation and all the fans for not being able to protect ourselves and [Anastasia] from the problems that we faced today," Krushelnitsky said in a statement released after being charged Tuesday morning. "I'm very sorry that the historic victory of Russian curling has now become the subject of a doping scandal, which is doing immense harm to our sport and to all Russian sports in general."
The Olympic Athletes from Russia released a statement of their own Tuesday denying the legitimacy of the charges of doping, saying the circumstances of the case "do not provide any answers to the questions as to how and when meldonium could have gotten into [Krushelnitsky's] body." Kruskelnitsky, similarly, denied using performance enhancing drugs, saying that he never used "forbidden drugs" and other dishonest tactics. The 25-year-old is nevertheless likely to be stripped of his bronze medal, which means his wife, who did not test positive for meldonium, will probably have to give up her bronze as well if the ensuing Olympic Committee investigation turns up anything damning.
However, just exactly who believes Krushelnitsky is guilty of taking the meldonium, an drug regularly prescribed in Eastern Europe to combat ischemia (a medical condition causing insufficient blood flow to the organs, particularly the heart) isn't clear. He certainly isn't the only person who has a hard time believing that he tested positive for a drug that he has never taken, especially after having a clean blood test as recently as a month ago. Meldonium was added to the World Anti-Doping Agency's list of banned substances at the start of 2016 because of evidence suggesting that athletes had been using it with the intention of enhancing performance through greater blood flow, but there haven't been any studies conclusively showing it has any enhancing effects.
Perhaps lending some more credence to the denial of wrongdoing coming from Krushelnitsky (who of course could be expected to say some variation of "I didn't do nothing, honest!") is that his team mates and some competitors alike are rallying behind him, or are at least incredulous as to the claims against him. Viktoria Moiseeva, who competes for the Olympic Athletes from Russia on the women's curling team said she and her squad were shocked to find out that Krushelnitsky was being accused of blood-doping, saying that curling isn't about being faster, jumping higher or being stronger, but about being more accurate than one's rivals.
"I can't imagine what kind of drugs you could use in curling, so [the accusations against Krushelnitsky are] very hard to believe," Moiseeva told reporters.
That sentiment was echoed by Danish women's curling team member Madeleine Dupont, who remains unconvinced that any drug – much less meldonium, which is regularly prescribed to athletes around the world that train and compete in cold climates (just not in the US, where it's an unscheduled drug) – would help a curler. Dupont said most reasonable people in the curling world would laugh at any participant taking performance enhancing drugs and ask "what do you possibly need doping for?" Curling simply isn't a sport that involves very much peak human conditioning and relies instead on finely honed skill and patience.
The Russian curling federation's president, Dmitry Svishchev spoke out against the perceived injustice of the charges against Krushelnitsky and the prospect of having his medal and possibly his wife's taken from them. Svishchev said the OAR's curlers were tested on Jan. 22 before flying to South Korea per International Olympic Committee regulations, and no one on any of the teams competing tested positive for meldonium. There's a good reason for that, he said: Russia had already been "busted" for the same thing at Sochi 2014, which is why the athletes from Russia are the OAR and not "Russia" at the PyeongChang Winter Games.
"Only a crazy person takes banned substances before a competition," Svishchev said. "It's a strange story. It raises a lot of questions."
Svishchev's colleague with the Russian Olympic Delegation, the group's spokesman Konstantin Vybornov took things a step further, even making a few accusations of his own. The outspoken Vybornov said foreign (that would be Western) media outlets have been publishing nonstop misleading reports of the whole Krushelnitsky situation intentionally in the hopes that such reporting will damage Russia's credibility even after it has served out its ban from Olympic competition. Vybornov went on to say that he had spoken with "a person who previously headed" the anti-doping lab, who allegedly told him that curlers don't need to take meldonium.
Though Vybornov doesn't clear up anything by keeping his source anonymous, he did say the as-yet unnamed former lab chief told him that the Krushelnitsky incident was a "political act" and that the Russian team – or, sorry, the OAR team – was the victim of a "conspiracy."
Krushelnitsky's hearing date has not been decided yet, according to information released by the Olympic Committee's anti-doping division, so the man himself is in a state of limbo until they get things worked out. Though there could be some merit to the investigation, all signs are pointing toward further punitive action taken against Russia.
LegalGamblingUSA thinks it's worth noting that, while widespread doping and steroid use is considered to have been a matter of state policy throughout the Eastern Bloc nations during the Cold War years, the international Olympics community wasn't as aggressive toward Russia when it was under the Soviet regime as it has in the last four years. And that was when the threat was possible thermonuclear annihilation on a global scale and not a bronze medal in one of the least popular or significant Olympic sports.
| Legal Betting Sites | Bonuses | Features | Visit Site |
| --- | --- | --- | --- |
| | 50% - $250 | Casino Games | |
| | 50% - $1,000 | Poker / Casino Games | |
| | 50% - $1,000 | Poker / Casino Games | |
| | 100% - $500 | Poker / Casino Games | |
| | 50% - $520 | Live Dealer Casino | |