Texas Woman Wins $1.2 Million On $18 Kentucky Derby Wager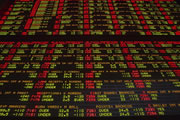 It looks like the owners of Kentucky Derby winner Justify were not the only ones to make millions this past Saturday, as a millionaire joined the circle.
A Texas woman placed an $18 'Pick 5' bet on the Kentucky Derby and won a $1.2million payout.
A 'Pick 5' involves placing a bet on the winner of five consecutive races throughout the day. The unidentified woman bet on Kentucky Derby favorite Justify and several longshots in races leading up to the Run for the Roses.
The Austin native was not present at Churchill Downs, but placed her bet at Retama Park racetrack in Salem, Texas.
"It's extremely rare," stated Rachel Bagnetto, spokeswoman for Retama. "To bet that little amount of money and win $1.2 million is unheard of. In fact, it's the first time it's happened at Retama."
The total purse to be divided between the top five finishers of the Kentucky Derby is $2 million, which makes the woman's payout almost as much as the $1.24 million that Justify's team took home.
Justify was the consistent betting favorite for the event, and it looks like he is still favored in the second leg of the Triple Crown. Early odds have Justify as a -160 favorite to win the Preakness Stakes on Saturday, May 19th.
Just as this Texas native placed her bet from an off-track location, LegalGamblingUSA knows you can wager from a local track or online racebook if you can't make it to Pimlico Race Course in Baltimore for the Preakness.