Verdict Still Out On Skill-Based Video Game Gambling Machines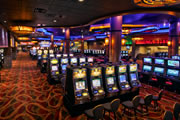 Skill-based gambling machines are a newcomer on the casino floor, designed and marketed like video games as casinos hope to attract Millennials and other younger clientele. In that regard, it is still unknown what kind of staying power these types of machines have, but so far, the numbers appear to support the main premise.
According to US-based game manufacturer Gamblit, the concept of skill-based gambling machines is paying off. Darion Lowenstein, Gamblit's Chief Marketing Officer, claims that the company's products are "averaging players nearly 20 years younger than those of a slot [machine]." That age gap is crucial to the long-term survival of skill-based gambling machines (albeit it does make one wonder what sort of game caters the entire generational vacancy between those two groups).
Unfortunately, the idea to gamify an otherwise random system isn't without its hurdles. While these skill-based gambling machines do make an impression on a younger group of folks, they don't always seem to have the day-in, day-out reliability that slot machines enjoy. GameCo, one of Gamblit's domestic competitors, is having a particularly rough go of things, with its initial rollout at three Caesars Entertainment locales in Atlantic City giving up the ghost (but apparently not any meaningful jackpots) after just seven months on the floor. Yes, this could be attributed to the general state of the faltering casino industry in New Jersey, but it is still cause for concern. Hopefully, GameCo's Connecticut-based installations and expansion into Australia will both yield better results, but only time will tell.
Meanwhile, Gamblit is having better luck so far. The company has secured various rights to mobile gaming IPs (like the smash hit Doodle Jump), and they've got deals secured with some top Las Vegas casinos, including Caesars Palace, the LINQ, Paris, and the MGM Grand. Whether or not the games can stay in those spots' permanent lineups is a big question right now, as customers – even curious ones – may be put off by the arcade-style cabinets and controllers in an otherwise traditional casino slots setting. On the other hand, these things might be able to tap into the coin arcade nostalgia of newer customers, which could end up being extremely lucrative.
If only I could have won actual money playing Mario Kart 64 back in the day…
Back to LegalGamblingUSA