Kentucky Bill Seeks To Legalize Online Sportsbooks, DFS, Poker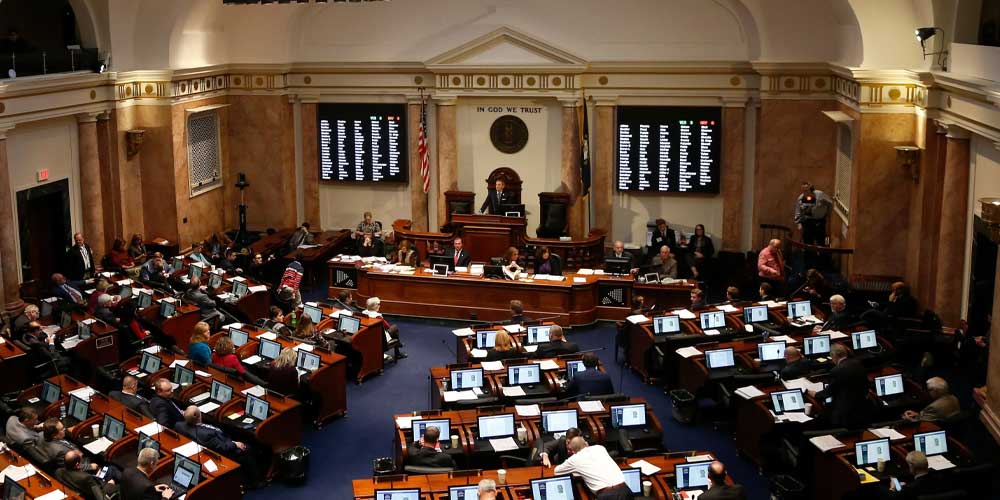 House Bill 241 would make sports betting, online poker, and Daily Fantasy Sports (DFS) legal in Kentucky.
The legislative session in the Bluegrass State must adjourn for the year by March 30, allowing for 30 full days of hearings.
Legalizing historical horse racing (HHR) will take precedence over sports betting and online legalization if time becomes an issue due to the shortened session.
FRANKFORT, Ky. – The Kentucky General Assembly will have 30 days of hearings in 2021 to listen to a number of bills, one of which is looking to legalize sports betting, internet poker, and Daily Fantasy Sports (DFS).
The main goal of House Bill 241 is to get sportsbooks in the Bluegrass State more than the other two types of gaming also mentioned within the proposal.
Bill sponsor, Representative Adam Koenig believes that the shortened session in 2021 will make getting KY HB 241 that much harder to be approved as law in both the House and Senate.
Factors That Could Put A Hitch In Legal KY Sports Betting For 2021
The Coronavirus Pandemic has caused a huge financial blow to the economy of Kentucky and getting revenue from a new legal gambling market could help add extra money to put toward the budget deficit.
But the topic of gambling as a whole for the state of Kentucky comes with a strong wall of opposition that 30 days may not be able to breakthrough.
There is also the fact that historical horse racing (HHR) will need time on the floor this year because of a ruling by the Kentucky Supreme Court late last year that made the terminals for HHR illegal.
The HHR market took in $2.2 billion in handle with the use of these machines in 2020 and had $33.8 million in revenue for the year. This subject will be getting plenty of consideration by the Kentucky General Assembly to pass a bill to once again make HHR a legal industry for Kentuckians.
What's To Come
While passing a bill for HHR looks to be no problem because the Bluegrass State would be losing millions in annual revenue if they didn't, it will take up a lot of time in the 30-day session.
That's time that could be put toward sports betting and House Bill 241. Koenig knows the importance of HHR in the state and doesn't have any sour grapes for whether or not his bill will receive the proper consideration it needs in 2021.
Kentuckians can always wager on sporting events with offshore internet sportsbooks or go to five of the seven neighboring states that all have a legal sports wagering market.
This all equates to money lost for Kentucky but there is always 2022 in case KY HB 241 doesn't receive any traction this session. Considering how Kentucky could use any extra revenue it can get its hands on, Koenig's bill may have a shot, and legal sports betting in the Bluegrass State among other gambling options would become a reality in 2021.