LSU Names Caesars Sports As Official Sportsbook For Tigers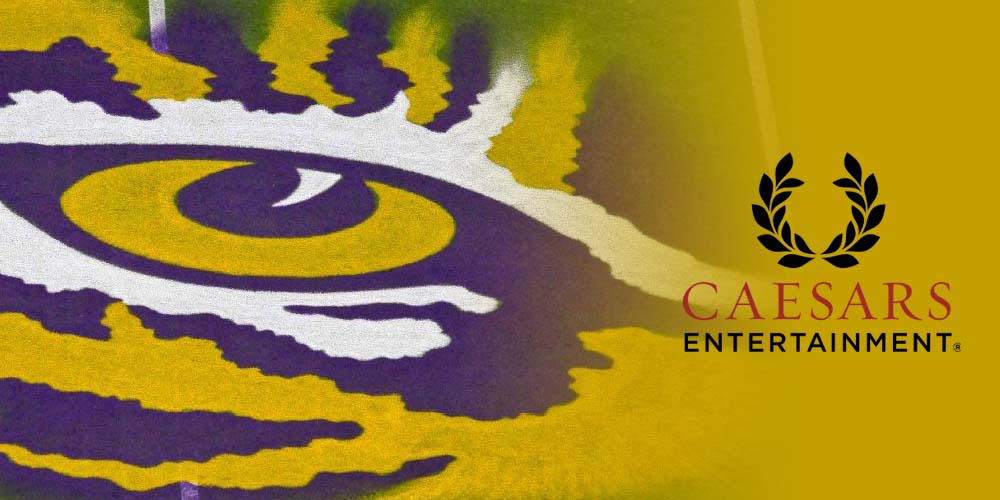 The LSU Athletic Department has named Caesars Sportsbook the LSU Tigers official sports betting partner.
LSU, Caesars Sports, and Playfly Sports are creating a gaming and sponsorship rights relationship that will be the first of its kind.
This deal will focus on unique alumni and fan engagement products for the LSU Tigers.
BATON ROUGE, La. – Caesars Entertainment has partnered with the LSU Athletic Department, becoming the University's official sportsbook brand. The deal will see LSU, Caesars, and LSU's third-party multimedia rights holder Play Fly Sports, create a first of its kind relationship encompassing sponsorship rights and gaming together. Fans and alumni of the LSU Tigers will experience exclusive fan engaging opportunities through Caesars Sportsbook.
LSU Meets Caesars
The LSU Tigers will be giving Caesars access to official game stats while Caesars will promote LSU games through their sportsbook app. Caesars also gains access to exclusive naming rights for the new Caesars Sportsbook Skyline Club at Tiger Stadium.
"LSU Athletics programs have always exemplified excellence, and at Caesars, we couldn't be happier to partner with such an iconic brand in college athletics," said Chris Holdren, Co-President of Caesars Digital. "We have a proud legacy in Louisiana, and bringing LSU fans and alumni closer to the sports they love while also offering scholarship opportunities will help us build upon that."
Caesars Sportsbook will be promoted through all 21 of the Tigers' men and women athletic teams. Caesars Sportsbook patrons will also be able to win free tickets to LSU games and VIP access at the Tiger Stadium.
"LSU has always taken pride in providing fans with unique, innovative, and world-class experiences, and our new partnership with Caesars Entertainment will do just that," said Scott Woodward, LSU Athletics Director. "We share a clear vision of how athletics and entertainment can come together to enhance the fan experience, and we are excited to join with Caesars to make that vision a reality."
This deal is a major move for the regulated gambling industry and could lead to similar partnerships in the future.
Sports Betting In Louisiana
With the Louisiana gambling market expanding to include sports betting, it was only a matter of time before a major sportsbook would partner with a Louisiana team.
The sports wagering industry of Louisiana is aiming to launch on October 1st so locals are only a few weeks away from seeing regulated sportsbooks go live for wagers.