Pro Gamers And Celebrities Play In King Of Twitch Poker Tournament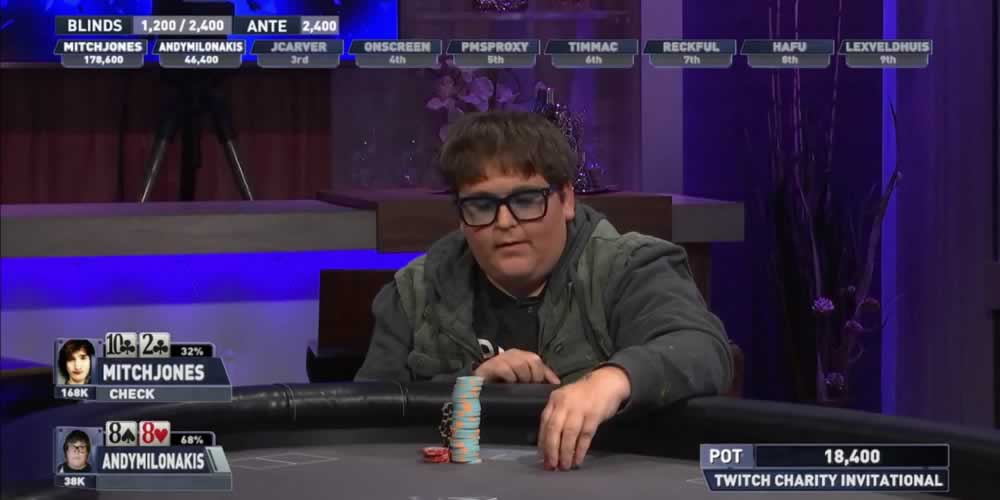 King of Twitch Poker is organized by Americas Cardroom.
Professional fighting game community players and influencers will play with celebrities.
The prize pool for the first exhibition match is $10,000.
TALLAHASSEE, Fla. – The exhibition match for King of Twitch Poker that features pro esports players and celebrities happens on Thursday.
Twitch is a platform where people stream themselves playing video games. These streams can be anywhere from one person playing a game or entire esports tournaments. Twitch has over 15 million active users daily.
King of Twitch Poker was designed by Americas Cardroom to bring gamers and poker together. The King of Twitch Poker invitational will bring various celebrities and Twitch influencers together for Texas Hold'em. The invitational will be streamed by Andy Milonakis, from Comedy Central, on his Twitch Channel. In a tweet, Milonakis revealed the participants for the invitational.
One of the pro gamers is Joseph Marquez, otherwise known as Mang0. Mang0 is a professional Super Smash Brothers Melee player and is a strong advocate for gambling. He will be joined by other members of the Smash Bros. community for this tournament. Rene Nexhoda from "Storage Wars" on A&E will also be in attendance. Americas Cardroom expects that the lineup for the invitational will bring in a lot of viewers.
"Twitch viewers are showing up en masse to watch some of the biggest names on Twitch battle it out at the card tables. The second event drew double the viewership of the first, and the next events look to keep that trend going with added love from the Smash Bros. community," said Michael Harris, spokesperson for Americas Cardroom.  
Poker and other forms of gaming go hand in hand. There are professional poker players that had a background in chess, backgammon, and even "Magic: The Gathering." This King of Twitch Poker event will let people see if professional esports players have what it takes to become a pro poker player.
Even though this tournament is meant to show why legal gambling is fun, the invitational is not all fun and games. The players invited are playing to take the $10,000. It does not end there. The winner will also be able to participate in the main tournament for the King of Twitch Poker. The main tournament takes place in December, and the prize pool for that tournament is $75,000.