Sports Betting Coming To New Jersey's Monmouth Park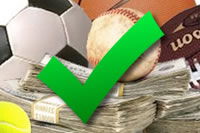 William Hill US CEO Joe Asher is, apparently, not a man who wastes any substantial amount of time.
The show runner of the worldwide leader among sports betting operators' American branch announced shortly after the momentous decision from the US Supreme Court to strike down a key federal anti-sport betting law that his company is just about ready to start accepting bet at New Jersey's Monmouth Park. William Hill US partnered with Monmouth Park to operate a sportsbook there in the event that the highest court in the land would indeed take the axe to the longstanding and much-reviled Professional and Amateur Sports Protection Act of 1992 (PASPA). Now that the law – rendered largely toothless by the arrival of widespread high speed internet access and the presence of legal offshore sports betting websites serving US customers – has well and truly been laid to rest, it is looking like a case of full steam ahead, Asher said.
"[Tuesday] the hard work is going to begin to get ready to open for business at Monmouth Park," the CEO told reporters yesterday morning, just minutes after the SCOTUS justices released their majority decision to bin PASPA.
That work is not the result of a spur of the moment decision on the part of William Hill's leadership either, as the United Kingdom-based company, which has a truly worldwide presence with operations in Canada, Australia and elsewhere, has apparently spent years' worth of time and millions preparing. It was reported as recently as last week that William Hill's gambled on what appeared to be a sure thing bet that the Supreme Court would declare PASPA unconstitutional, though there is no getting around that the wager was a hefty one: William Hill spent at least $5 million but possibly as much as $10 million. While that is quite a bit of scratch, the New Jersey sports betting market could develop into a $10 billion industry, so that should help to take a bit of the sting out of the cash outlay getting the Monmouth Park racino ready to be a sportsbook as well.
And besides, you can never put a price tag on peace of mind.
"We made the bet that we wanted to be ready in the event that the Supreme Court ruled for us," Asher said. "We didn't want to wait and start figuring it out today; we were working on this going back to the beginning of the year."
The lynchpin to William Hill's projected and hoped-for success at Monmouth Park is the population of the several heavily urbanized states in the surrounding area. While that might seem like a given, we would venture to guess that not too many people outside of hardcore gambling industry analysts have given much more than a passing thought to the numbers game at play here. If New Jersey's nascent sports betting industry, led by Monmouth Park but sure to include Atlantic City casinos and possibly in state options for online sports wagering platforms, can top out with $10 billion or thereabouts in annual handle – that being the among a sportsbook or in this case sportsbooks take in from bettors in terms of wagers – that would be double the handle of Nevada's sports betting market. An additional factor working in William Hill's favor (and by extension the Garden State's favor as well) is that New Jersey has actually passed sports betting legalization going back years and now just needs to quickly put together some regulatory measures. Pennsylvania, the only other state to be on similar footing, is a lot farther away than either New York or Connecticut, both of which are considering passing laws to regulate sports betting but are not quite there yet.
For the record, Connecticut is actually farther along than New York (which, it should be pointed out, is home of the headquarters of all the major pro sports leagues and therefore has to realistically look at playing ball with them more than perhaps any other state), and may call a special session to clear up the whole affair. The Empire State, on the other hand, is way behind in terms of passing sports betting legalization and regulatory legislation, and the Albany legislature is running out of time as the June 20 sine die of the 2018 session draws closer by the day.
As for New Jersey, lawmakers at the Trenton statehouse still have to put the finishing touches on a regulatory bill that would establish the rules for how sports betting would be run in the state. A bill to that effect was introduced back in April, with some of the following provisions. Regulation will be handled by the New Jersey Division of Gaming Enforcement (DGE), sports betting will be allowed at any Atlantic City casino or any of the state's horse racing facilities or even via mobile online wagering, the NJ Racing Commission will have to be involved in approving a sportsbook jointly operated by a racetrack and a casino, wagering on college sports are banned.
Proposed taxes on sports betting tally in at 8 percent for casinos and racetracks, while online sports betting revenue will be taxed at a higher rate of 12.5 percent, probably to account for the presumably lower overhead costs associated with running an online exclusive operation. Additionally, casino sports betting outlets will also be liable for a so called "investment alternative tax," but there are not many details floating around at this point as to what that might entail. We'll keep you posted as more information comes in.
However, the plot in New Jersey started to thicken even as recently a few days ago, as state Sen. Stephen M. Sweeney (D-West Deptford), the president of the state Senate, introduced a new sports betting bill on Monday. The draft of the bill contains many similar components to the earlier bill submitted by the lower house of the legislature, but calls for a revision of the taxable amount assessed on casinos and racetrack sportsbooks. According to Sweeney's new proposal, land-based brick and mortar sportsbooks in Atlantic City will have to pay an amount equal to 9.25 percent of annual handle while online operators will be looking at a 17.5 percent tax rate on the action they take in.
There are additional changes called for in the draft of Monday's sports betting bill from the NJ Senate, among them a limit of two individually branded websites per sports betting licensee. It is a fairly common industry practice to develop a system for accepting wagers on sporting events and then drape a different "skin" over the top of betting site's basic architecture, which is – in effect – an attempt to cast as large a net as possible with the hope of attracting possibly even the same player across multiple platforms. No action either in committee or on the floor of the statehouse has been taken on this new bill proposal as yet, but we look for there to be new developments forthcoming in the near future.
Still, the fact remains that early adopters and those operators that planned ahead like William Hill US, which is also eyeing some choice partnerships with casinos and racetracks in states like Mississippi and West Virginia, can and will be bringing sports betting to market in New Jersey without regulatory oversight. That remains for the NJ legislators to fix, as the whole point behind fighting the pro sports leagues at the Supreme Court level and spending upward of $8 million in legal fees alone was to get more taxable revenues for the Garden State's coffers as much as it was to help revive the somewhat flagging Atlantic City gambling industry. So, in that sense, LegalGamblingUSA.com knows the clock is ticking for them too.
| Legal Betting Sites | Bonuses | Features | Visit Site |
| --- | --- | --- | --- |
| | 50% - $250 | Casino Games | |
| | 50% - $1,000 | Poker / Casino Games | |
| | 50% - $1,000 | Poker / Casino Games | |
| | 100% - $500 | Poker / Casino Games | |
| | 50% - $520 | Live Dealer Casino | |