Legal Online Gambling For Maryland Residents
Maryland gamblers will find that the laws are favorable for those who are looking to gamble online. Since we have a focus on online gambling, we are here to explain the legalities of online gambling in Maryland above anything else. We have done what we can in order to bring our readers a clear view of the laws, the rules, and the requirements of online gambling in the state of Maryland. If you are going to try to gamble on the Internet, you will want to do so as safely as possible. Our goal is to make sure you are safe throughout your entire gambling experience, so you should have nothing to worry about anything other than playing the games that you wish.

Help Us Help You!!! Like Us On Facebook And Vote On Google +1
Online Gambling Age For Maryland Residents
All states have age requirements on online gambling, and you will want to make sure you adhere to these age requirements before you decide to start gambling. If you want to play casino games you will have to be 21, and the same applies to poker and sports betting. This encompasses both online and land based gaming choices. If you are 18 you do have a few choices. The state's lotto and live or online bingo halls can all be accessed at the age of 18.
Maryland Online Gambling Laws
The Maryland online gambling laws are not something you have to worry about, as they do not actually exist. There is no law in the state of Maryland that has anything to do with online gambling. This maybe some form of legislative oversight, or it may simply be because there has yet to be a need to ban or regulate online gambling in the state. For now you can rest assured that there are no restrictions on online gambling, at least none as far as we have found. If you are truly hesitant to gamble online, we can tell you that there is nothing within the legislature that will make it so you cannot play online without infringing upon the law.
Gambling Sites That Accept Maryland Residents
Due to the relaxed state of the laws in Maryland, you will find that many forms of gambling are at your disposal. Maryland residents can very easily participate in a number of options. There exists casinos, poker rooms, sportsbooks, bingo halls and many more options. Residents of Maryland will find that there are plenty of ways to join up and participate with these options. We are going to share with you a number of options for play, but only those which have passed our rigorous testing.
SportsBetting: Bet On Ravens, Terps And More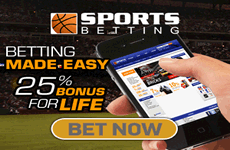 If Maryland residents have a sweet tooth like I do, they should try out the sweet deals that SportsBetting has on sports, poker, skill/table games, and arcade style slots. SportsBetting was named the best overall gambling site, that's sweet as honey, right there. SportsBetting is not forbidden fruit and won't sugarcoat the facts, it is legal to place bets on their site. SportsBetting accepts gamers from all over the US, and as long as you are 18 years old you can play.
SportsBetting is free to join and to show good faith they want to "give you some sugar." New members that make their first qualifying deposit can get up to $500 of a sugar rush to their accounts with the 50% welcome bonus. To claim your bonus all you have to do is enter the promo code located on the promotions page, and it's like taking candy from a baby. SportsBetting has a variety of other bonuses, and rewards for all wagering types, you'll be like a kid in a candy store. Once you're a member and you start winning, you'll be another pro-wagering confectionery genius at SportsBetting. Go To SportsBetting!
BetOnline: NCAA, NFL, MLB, And NBA Betting Odds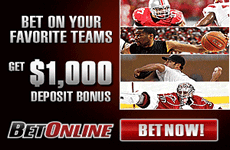 So is BetOnline legal in Maryland? It sure is, and this is one of the main reasons it is our featured gambling site. BetOnline offers their users one of the most versatile gambling sites online, and this is because they have explored every option for gambling on the market. They have poker, and this comes with a solid 25% match to $900 on every deposit you make. But, this bonus isn't just for online poker, it's for everything that BetOnline offers like sports betting (where this bonus is the best) and in their online casino. BetOnline has built a reputation of integrity and they will never sacrifice this in order to make a buck. With deposits made easily by way of prepaid cards, money orders, American Express, MasterCard (after time), VISA and wire transfers, you will not have to worry about anything other than playing the games as your finances should all be kept safe. Go To BetOnline
Online Casinos That Accept Maryland Residents
Casinos are some of the better gambling options out there, as many games do not require you to know much about how to play them. With a little luck, you will find that there are huge winnings that can be earned by way of these casinos. If you decide to join up with Maryland's casinos, you will never have to travel or risk your safety just to find these games.
Online Sports Betting Sites That Accept Maryland Residents
Betting on sports in the state of Maryland is easy enough. You will find that there are plenty of options available for you, and you will be able to hit these lines without any trouble. We have made sure to only look into the most trusted sportsbooks out there, and we can assure you that all of these are viable options for play.
Online Poker Sites That Accept Maryland Residents
Online poker is one of the primary options available in the state. If you decide to visit the options we have to show you, you will see that big bonuses, easy to use software, and a most trustworthy reputation can be found universally through our recommend poker sites. While we do not recommend that many poker rooms, those that we do recommend are at the pinnacle of quality.
Online Bingo Sites That Accept Maryland Players
Bingo fans have united at online bingo halls in order to hit the cards, and this has been a wise idea on all accounts. If you want to sign up with these bingo sites you will be able to play for real money. Most of them carry bonuses, all of them can be trusted, and play is done directly through your browser. This is even easier than traveling to a live bingo hall.
Is Online Gambling Legal In Maryland?
Marylanders will find that online gambling is not actually a crime in the state of Maryland, as there has been no law that actually makes it illegal participate. While you will may find some that say this form of gambling is illegal, there is to date no evidence that you will be breaking the law by participating in these games. We has to say yes, online gambling is legal in Maryland. As always, contact an attorney if you are not 100% sure of the laws.
Are Online Casinos Legal In Maryland?
Having been asked "are online casinos legal in Maryland," we can simply say that there is no evidence that, out of all forms of gambling, online casinos are actually illegal. If you want to play these games, we can only tell you that you are able to participate without having to violate the law. Being that we are not attorneys, we cannot give you any 100% definitive answer over whether or not the games are legal.
Is Online Sports Betting Legal In Maryland?
Those who wish to bet on sports will find that most ways to do so are completely illegal. Rather than turn to a bookmaker who is illegally operating outside of the law in land based businesses, you will instead be able to play through the gambling sites that offer sports betting. Maryland residents will find that the options for gambling online are easily utilized because there is no law that has made it a crime for you to gamble online.
Where Is It Safe To Bet Sports Online In Maryland?
This is a great question to ask and it's warranted. Some online betting sites will not accept players from Maryland because of complications with deposits and withdrawals. If players can't get their money into these sites and it becomes too big of a headache as well as a risk to their payment processing, they will shut the state down. Luckily, this sportsbook, Bovada, is just one of many sites where it is safe to bet on sports in Maryland. For Maryland residents we recommend both BetOnline as well as Sportsbetting.ag as they have identical bonuses which give an extra 25% to $900 on every deposit you make. Plus, these two books always features lines for the Redskins, Ravens betting odds, Nationals game lines and so much more. The area is a hot bed of sports and these books cover them all.
Is Online Poker Legal In Maryland?
Poker fans have long contended with the possibility of being arrested for gambling online, but you will not have to deal with this in Maryland as there is no written ban on online poker. If you decide you wish to play online poker, you will have no problems actually doing so if you stick to the options we have at our disposal. As with any concept in a democratic society, you will find that the lack of a written ban means that online poker is probably not a criminal activity.
Will I go to jail for online gambling in Maryland?
If you decide to gamble over the Internet, you will want to keep in mind that you do not have to worry about the law. Let us remind you that no law has been written making it illegal to gamble online, so you will not have to stress over the possibility of being arrested if you decide to gamble online. With no arrest ever taking place over online gambling in Maryland, you should be safe from the icy grip of the law.