Betting On NFL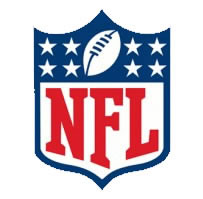 I know you've been considering it for the last several seasons, so allow me to assure you: Yes, you are ready to start betting on NFL football games. And really, why wouldn't you be? It's fun, it's easy, and it doesn't take a lot of cash to get started building your bankroll. All you've got to do is find a good sportsbook, drop a couple bucks in your account, and start betting on NFL contests.
Of course, some folks will be concerned about the legality of betting on the NFL, and that's fair. There's a lot of confusion out there when it comes to sports betting in general. But believe it or not, sports betting is largely legal in the United States, provided you adhere to a few basic rules and keep your private business private. So do your research, make a game plan, and pick some winners!
Current NFL Odds
Sunday, Jan 30th, 2022

49ers

Rams
Best Sportsbooks for NFL Betting
Is Betting On NFL Football Legal?
While federal sports betting laws in the USA like the Wire Act of 1961 and the Unlawful Internet Gambling Enforcement Act of 2006 (UIGEA) both purport to outlaw Internet-based sports betting, that's not actually been the case in practice. (And, with the Professional and Amateur Sports Protection Act (PASPA, 1992) finally getting overturned by the Supreme Court, it looks like those other federal laws are on shakier ground than ever.)
Instead, all these laws have done is force sportsbooks to move overseas, where they can operate freely outside of any US legal jurisdiction. Thus, not only is betting on NFL football legal, it's become one of the single biggest industries in the United States, all completely under the radar. Kind of like the 2007 New York Giants.
Can I Be Arrested For Betting On The NFL?
In Nevada, no. Everywhere else, yes. In theory, at least. Let's just say that you'd have to try really, really hard to make the authorities care (and even then, they probably wouldn't). The plain truth is that you are extremely unlikely to be arrested for simply betting on the NFL. In fact, there's no legal precedent for such an occurrence. Yes, lots of people have been busted for illegal gambling and the like, but folks popped for sports betting are always charged with broader, more serious crimes like insurance fraud, money laundering, and tax evasion.
If you stick to legal online sportsbooks like Bovada, BetOnline, SportsBetting, and 5Dimes, you won't be hassled or harassed for betting on NFL football. Just claim your appropriate income, pay your taxes, and rest easy. And if you're still worried about it, consider using a secure, anonymous cryptocurrency like Bitcoin or Litecoin to fund your sports betting activities.
How Much Money Is Bet On The NFL?
The NFL is, without question, the lord of the manor when it comes to US sports betting, and the amount of money that people bet on the league each week is staggering. Many estimates have the NFL being directly responsible for better than a quarter of the national sports betting scene.
Since that sports betting scene is worth roughly $500 billion annually, it isn't a stretch to reckon that the NFL accounts for $100 billion to $150 billion per year. Globally, more money is likely bet on soccer and cricket on aggregate, but nothing touches the NFL for sports betting on a per-game basis.
How Much Money Is Bet On The Super Bowl?
If the NFL is among the biggest draws for sports bettors during the regular season, the Super Bowl must be the biggest gambling event on earth. And it is! Steadily climbing by about $500 million each year, legal Super Bowl betting on the NFL championship has recently eclipsed the $6 billion mark for money moved in a single game. Better yet, there are no signs that this hunger to wager on football – particularly championship football – is going away anytime soon.
Where Can I Bet On NFL Games?
In America, you can only bet on sports if you're in Las Vegas, although with the PASPA repeal, you'll probably be able to bet on sports within your own state sometime before the 2019 NFL season kicks off. Besides that, the Internet has offered a workaround, allowing everyone in America – regardless of geographic location – to bet on whatever sports they wish.
With the proliferation of legal online sportsbooks, the American public is more active in sports betting circles than ever before. Indeed, the core concepts surrounding sports gambling are getting less and less taboo in society, with March Madness brackets and Daily Fantasy Sports leagues looming large in the public consciousness. So sign up at one of the following sites for free, pick a bonus, deposit a few bucks, and get betting. It's legal, fun, and potentially quite lucrative.
Best Sites For Betting on NFL Football
There are dozens (if not hundreds) of online sportsbooks for legal USA gambling out there that offer NFL action, but almost all of them are unreliable and untrustworthy. If you're going to spend your hard-earned money betting on NFL football, you'll want to go with a tried-and-true provider with a solid reputation and secure backend. Luckily, there are several to choose from.
Bovada, the industry leader, has a pedigree harkening back to the early days of the online poker and sports betting booms, and the company has never missed a single payout. BetOnline and SportsBetting are old stalwarts, too, anchoring the industry with their fair odds and slick user interfaces. Last but not least, 5Dimes is a real outlier. Though smaller in scope and reach than its competitors, 5Dimes sets itself apart via unique props and a wide array of alternative lines for most NFL contests. But regardless of which site or sites you choose to sign up with, you'll have an absolutely jam-packed NFL betting menu every day of the football season.
NFL Betting Types
There are many ways to bet on NFL football, and all the best sportsbooks offer the same general types of wagers. The most common NFL betting type is the spread, followed by the straight bet and the over/under bet. For a little added variety, bettors can place proposition ("prop") bets and futures bets, too.
NFL Spread Betting
Most NFL fans – from bona fide bettors to the most casual of observers – are likely familiar with the NFL spread. When you flip to the sports page or read a pregame write-up of a ballgame online, the spread is how the matchup is ultimately described. A handicapping method used by sportsbooks to entice equal money on both sides of the bet, the spread quantifies the favorite and underdog of any given contest (relative to how the betting public views said contest). An NFL spread might look something like this:
New Orleans Saints +9 (-110) at Green Bay Packers -9 (-110)
The above illustrates the point spread. Here, the Saints have a nine-point "head start," so a wager on the Packers to win means that the cheeseheads must win by a minimum of 10 points, or the bet is lost. Conversely, a bet on the Saints to "beat the spread" means they can lose by up to eight points and still pay out. Should Green Bay only win by nine points, the bet would result in a "push." Usually, this means that the sportsbook will refund the bets on both sides, but different books may have different push rules.
(In spread betting, the underdog will always be shown with a positive number, while the favorite will be shown with a negative number. The number in parentheses is not part of the odds; this only shows the "moneyline," or how much must be wagered to win $100. The built-in 10% is the sportsbook's take, also called the "vig.")
The NFL Straight Bet
Sometimes, bettors don't want to worry about handicapping sides, they just want to pick a winner. That's where the straight bet comes in.
New Orleans Saints (+225) at Green Bay Packers (-180)
Here, you just pick a team to win. A $100 bet on the Saints would win you $225 (not including the original wager), while a $180 bet on the Packers would yield $100. The moneyline (in parentheses) simply denotes the ratio of wager to winnings for a given team in a given matchup.
NFL Over/Under Betting
Whenever a contest seems too close to call, NFL bettors can fall back on the over/under bet (a.k.a. the "totals" bet). Here, your sportsbook will simply provide a combined point total for a given matchup, and you select whether you think the final scores will add up to be more or less than that total.
New Orleans Saints at Green Bay Packers O/U 60.5 (-110)
Let's say you bet the over, and New Orleans beats the Packers 41-27. You didn't expect the upset, but the winning and losing teams don't matter in over/under betting. Here, the final scores add up to 68, which easily clears the 60.5-point threshold. The over bet wins.
NFL Props And Futures
The previously listed items are undoubtedly the main avenues for betting on NFL games, but for gamblers who want more variety, there are props and futures bets to consider. These bets are not based on winners and losers; instead, they are more focused on individual and team events within a given contest or season.
As an example, you might make a prop bet for the Saints vs. Packers game that Aaron Rodgers will throw for at least 400 yards. Props can also extend to whole seasons, at which point they're more commonly called futures. A particularly common NFL futures bet requires gamblers to pick the upcoming Super Bowl winner before the season even starts.
Prop Bets On NFL Games
When it comes to making a decision on which bets you want to place on NFL games, prop bets will have everything thing you are looking for. This is where you will see different types of bets that relate toi indivisuual players or individual teams. This is where all bettors can use these different types of bets to flip any of their winnings. These prop bets are also on in the live in-game betting options as well. Each quarter can have different prop bets that may suit what a gambler likes or favor. Prop bets are also there for new bettors that would like to get of taste of betting before going all in. Those that follow an individual player may feel more comfortable with them rather than trying to disect the spread assigned to a team. Most of the time these bets are pretty easy to win and all players have to do is be confident on their picks. Online sportsbooks have these prop bets up everywhere and more will always be put up each quarter and each half of a game.
NFL Mobile Betting
There are many games to be played in the NFL and we all know that players can place all kinds of bets on them. These online sportsbooks will have all the prop bets on these games that are needed and wanted from NFL players. The best feature that these sites have is the mobile feature that means players can place their big bets on their Android or iPhone. This is a major step because some players are not just sitting at home at their laptops all day. With being able to use your phone to access your online sportsbook, all you got to do now is just have internet and everything will be a lot easier for players. There is no storage space needed so this means players don't have to erase anything on their phone to access their account. NFL mobile betting is the easiest way to stay on top of your bets during the NFL season.
NFL Live Betting
With the advent of the mobile Internet (and smartphones and tablets good enough to actually make the experience convenient), live betting on the NFL has really taken off. Utilizing real-time betting systems, legal online sportsbooks are able to offer in-game bets on every NFL contest. With this kind of betting, you can place extremely short-term props, like a wager that the next play will be a pass instead of a run, or that the current drive will result in a field goal rather than a punt, touchdown, or turnover.
Because of how quick these live props can go by, however, betting on NFL games this way requires a lot more attention than most other types. Live betting is a great way for NFL bettors to experience the tension of the game's flow in a way that passively watching it cannot hope to convey.
What NFL Teams Should I Bet On?
That's up to you. Look, there are several different paths to choose when it comes to setting up your strategy for betting on NFL football, and it'll take a little time to find some system that works for you. One basic piece of advice, however, is this: Do not bet on your favorite team's games. In order to ensure that you bet with your head and not with your heart, it's important to get your emotions out of your analyses.
Another simple tip is to only deal with known quantities. It is for this reason, for example, that I personally don't bet on Week 1 games, significant injury returns, or playoff games. One must always be wary of "any given Sunday," after all.
Or just bet on the Patriots. Whatever.