What Is The Legal Gambling Age?
While there are many factors that go into determining the legal gambling age, most states and gambling sites require that you are over the age of at least 18 or 21 for some sites/states. For gambling sites that are internationally regulated like Bovada, the age is set at 18 for the casino/sportsbook/Racebook that can be found on the site. However, if a player is playing in a state that already has set legal sports betting or legal casino age, the player must follow the law of that state.
Because not every single state has gambling age laws, online gambling sites default to 18 and up. These sites have the legal leeway to do so, being regulated and operated from an international location. Before placing any wagers at an online sportsbook or hitting the slots at an online casino, it is important for every player to check the laws for the required age in their local jurisdiction. As a general rule though, no players should have any trouble over the age of 21.
CHECK HERE FOR A LIST OF GAMBLING SITES THAT ACCEPT USA PLAYERS
USA Sportsbooks - USA Casinos - USA Poker Sites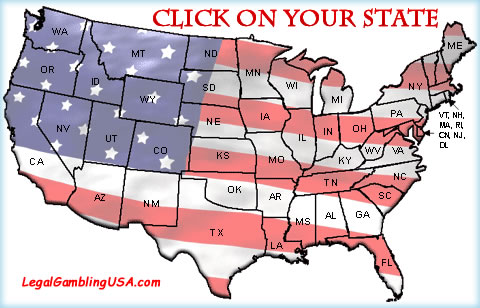 What's The Legal Gambling Age???
Alabama -

21

Hawaii -

21

Massachusetts -

21

New Mexico -

21

South Dakota -

21

Alaska -

18

Idaho -

18

Michigan -

21

New York -

18

Tennessee -

21

Arizona -

21

Illinois -

21

Minnesota -

18

North Carolina -

18

Texas -

21

Arknsas -

21

Indiana -

21

Mississippi -

21

North Dakota -

21

Utah -

21

California -

21

Iowa -

21

Missouri -

21

Ohio -

21

Vermont -

18

Colorado -

21

Kansas -

18

Montana -

21

Oklahoma -

18

Virginia -

21

Connecticut -

21

Kentucky -

21

Nebraska -

21

Oregon -

21

Washington -

18

Delaware -

21

Louisiana -

21

Nevada -

21

Pennsylvania -

21

West Virginia -

21

Florida -

21

Maine -

18

New Hampshire -

21

Rhode Island -

18

Wisconsin -

21

Georgia -

21

Maryland -

21

New Jersey -

21

South Carolina -

18

Wyoming -

18
Do Gambling Ages Differ Between Sites And States?

Barring a few exceptions, you will have to be 21 in order to legally gamble. This is the case in nearly every single state. Some states allow 18 year olds to gamble. Alaska, Idaho, Kansas, Maine, Minnesota, New York, North Carolina, Oklahoma, Rhode Island, South Carolina, Vermont, Washington and Wyoming all have gambling ages of 18.
Every other state in the Union has fixed their gambling age at 21, and you cannot get around this in any way. If you attempt to do so you are aiming at serious trouble, including fines, having your money confiscated, and possibly arrest, though the latter is not likely.
There is one point of confusion that is universal in online gambling. This lies between the age required by your gambling site and the gambling age required by your state. In some cases, one will allow gamblers to begin at a younger age than the other. In the event that these ages differ from one another, you have to go with the gambling age that is higher.
For instance - your casino allows 18 year olds, but your state requires you to be 21. That means you cannot join unless you are 21, as per your state's regulations. On the other hand, if your state will allow 18 year olds but that particular gambling site requires you to be 21, you will have to be 21 - regardless of your state's requirements. This is the only real point of confusion, and it can be easily bypassed.
Age Requirement For Online Gambling Sites
As you will come to find, there are gambling age restrictions at the gambling sites you visit. These gambling ages requirements will be stipulated in the terms and condtions section of the site, or some variation of the rules of the site. These requirements are very important, and strictly enforced by the sites themselves.
One thing we can tell you not to do is attempt to gamble underage - be it online or in a brick and mortar venue. Even if you can enter the website or join up with pme, you will ultimately be going down a path you cannot finish walking. If you join a gambling site that you are not old enough to play with, be aware that they are fully entitled to confiscate your money.
No one likes losing, and losing without even having a chance to win is never fun. We have compiled the legal gambling ages in every state, so we recommend you take a look at these before you start to gamble.
It's best consult your local laws to find out the gambling age after you have checked with, and at least are old enough to gamble at the online casino or sportsbook you have chosen. If you meet the online gambling site but not the state, you are still not "legally" allowed to wager regardless of where it operates. Getting caught illegally gambling online is not something that you want to have happen, as you will be stripped of accounts, money, and perhaps more.
We do not condone underage gambling and encourage all players to get informed. The age of gambling legally online is still a debated issue, with many states in the U.S. requiring bettors to be at least 21 years old. We do not foresee that changing in the near future though, if at all.
Find the legal gambling age for every state here.
Between the online casino, sportsbook, and Racebook, Bovada allows online gamblers to use their site starting at the age of 18 and up depending on the state the player resides in. Across the US, Bovada is one of the most popular online gambling sites because of the security of the site and the wide selection of poker tournaments, slot machines, sports betting odds, and more. There are big bonuses that can be redeemed through crypto and or credit card deposits for all new players of the site, with up to $750 up for grabs at the sportsbook at $3,000 at the casino.
PROS:
Established Reputation
Easy Deposits
Crypto-Friendly
Fast Withdrawals
CONS:
Limits  On Certain Markets
No DE, MD, NJ, NY, NV
Legal Age To Use Online Gambling Sites With Crypto
When using internationally licensed online gaming sites like Bovada, players can use cryptocurrency to deposit and withdrawal from their account, starting at 18 years old. As long as the player is cleared by the state and casino, crypto is a legal, secure and convenient way to fund an online gambling account and request any winnings from all bets/wagers. When using Bovada or other online internationally licensed sportsbooks that accept players 18 and up, the biggest bonuses can be redeemed through crypto deposits. Bitcoin is the most commonly accepted crypto but there are over 15 altcoins that online gambling sites across the US accept.
Cryptos Accepted At Online Gambling Sites
Bitcoin (BTC)
Bitcoin Cash (BCH)
Ethereum (ETC)
Tether (USDT)
Litecoin (LTC)
Solana (SOL)
Stellar (XLM)
Ripple (XRP)
Binance Coin (BNB)
Avalanche (AVAX)
Cardano (ADA)
Dogecoin (DOGE)
ApeCoin (APE)
Chainlink (LINK)
Polygon (MATIC)
Shiba Inu (SHIB)
Tron (TRX)