Legal Triple Crown Betting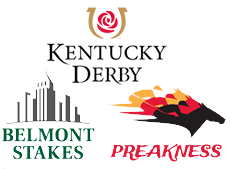 Horse racing betting in 2022 is extremely popular in the United States, with legal Triple Crown betting being the highlight of every horse enthusiast's year. Will the Triple Crown be won this year? Can there be a repeat Triple Crown winner? These are the questions that every fan of the iconic races asks themselves come May. The Kentucky Derby, Preakness Stakes, and Belmont Stakes are each exciting to bet on in their own right, which is why online sportsbooks provide hundreds of Triple Crown betting odds for each leg of the journey.
Betting the ponies online has become increasingly popular over the years because horse bettors are not limited to a particular track or betting venue. When you factor in the huge bonuses and free bets that you can get when using legal horse racing betting sites, it makes sense why so many horse fans are going the online route. Whether you are new to betting on horses or just want a quick refresher, you can find out everything you need to know about legal Triple Crown betting.
Is It Legal To Bet On The Triple Crown In The United States?
Triple Crown betting is legal in all 50 states. Pari-mutuel wagering is widely accepted in the United States, even if the state you reside in does not have a live horse racing track. Online racebooks add more convenience and benefits than betting at a local track or OTB location. You can bet from your home computer or mobile phone, plus there are more competitive Triple Crown betting odds. As long as you use a reputable online racebook such as Bovada or SportsBetting, you will have no problem getting started with legal Triple Crown betting.
Current Triple Crown Betting Odds
While the Triple Crown races are the biggest horse races that you could possibly bet on throughout the year, online betting sites might not have odds on them all throughout the year. That is because the pool of horses competing in each race could change up until the weeks of the race. Once any Triple Crown odds get posted on these online betting sites, you'll be able to find those odds here.
What Types Of Bets Can I Place On The Triple Crown?
If you have ever wagered at a local track, you will find that the same horse bets are available at online racebooks. There are certain bets, however, that are unique to horse racing betting sites. We will give you a refresher on legal Triple Crown betting types, plus go over what else you can find online.
Straight Bets
You have your Win, Place, and Show bets which are called straight bets. A Win bet is a wager on the horse that will finish first, a Place bet is on a horse to be in the top two, and a Show bet is on a horse to finish somewhere in the top three. If you bet "Across the Board", you are combining all three bets. If your horse finishes first, you collect all three payoffs. If the horses comes in second, you collect the Place and Show payoffs. A third-place finish would receive the Show winnings.
Exotics
The Exacta, Trifecta, and Superfecta all fall into the exotic category. With these horse bets, you must wager on the exact order that the horses finish. With an Exacta, you bet on the horse to finish first and the horse to finish second. Perfecta bets are on the finishing order of the top three spots, while a Superfecta must be correct for the 1st, 2nd, 3rd, and 4th positions. Naturally, these exotics have much higher payouts. If you "box" your bet, you can then bet on all possible combinations with those horses rather than having to predict the exact order.
Triple Crown Props
Triple Crown props are only available at online racebooks. These bets fall outside of the final result of the Kentucky Derby, Preakness, or Belmont. Instead, you can bet on other situations and scenarios, such as the winner of the Triple Crown. Each race will bring about its own props, and they can be on how a particular horse performs or on the field as a whole. Here are some of the common Triple Crown props that you might see at a legal Triple Crown betting sites.
Will Horse X Win The Belmont Stakes?
Top 3 Finish At Preakness Stakes For Horse X
Kentucky Derby Head-to-Head Matchup
Margin Of Victory
Will Horse X Win The Triple Crown?
Triple Crown Props
Where Can I Legally Bet On The Triple Crown?
You can legally bet on the Triple Crown at any US-friendly horse racing betting site. The best online racebooks are those that offer rebates, free bets, and other deposit bonuses. You should also be able to find Triple Crown betting odds that allow you to wager on the winner of the Crown, as well as the top horse in every race on the journey. Some of the best sites for legal Triple Crown betting are Bovada, BetOnline, and 5Dimes.
Bovada Triple Crown Mobile Betting
Bovada Racebook is one of the top sites for legal Triple Crown betting. The site has Triple Crown betting odds for each crown in the jewel, meaning you can bet on the Kentucky Derby, Preakness Stakes, and Belmont Stakes individually. Even better, Bovada offers a mobile racebook that allows you to bet the ponies anywhere, anytime. Just visit the Bovada website from your smartphone or tablet and you can access all of your standard account features.
To get started at Bovada Racebook, just make a deposit with one of their reliable payment methods. Bitcoin is the most reliable, with a minimum of $10 and a maximum of $5,000. There are no fees, and your bitcoin racebook deposit will never get declined. You can also deposit up to $1,500 with a Visa or MasterCard, though there may be a small percentage fee charged by your card issuer. Both racebook deposit options are instant and you can start wagering on the Triple Crown the same day.
BONUSES:
50% - $250 BONUS!
ACCEPTED IN:
No DE, MD, NJ, NV, NY
BetOnline Mobile Betting
This is where most players will have the the most fun when it comes to horse betting on the triple crown. BetOnline is one of the best online sportsbooks out there and have taken alot of local players from their local sportsbooks. Knowing that horse betting season is one of the most popular seasons, it was only smart for this site to have mobile features for players to have the chance to use their phone to place this horse bets. It is always good to have an option to look at your bets on your phone. This is where all players know that they can make a lot of money on the go and take advantage of that quickly. There are so many horse races to choose form and Betonline will have all options there for players to choose from. Making sure that players can get on their account at anytime is very important and needed.
BONUSES:
50% - $250 BONUS!
ACCEPTED IN:
ALL STATES - No NJ

MyBookie Mobile Betting
One of the biggest perks of betting on Triple Crown races with MyBookie is their new user bonus that will match your first deposit by 100% up to $1,000. You can get in on this bonus with all of the payment methods that they accept. Once you've already used up that bonus, you can also use their lifetime bonus as well that matches every deposit you make by 25% worth up to $250 that way you will always have funds in your account.
BONUSES:
$1,000 Betting Bonus
ACCEPTED IN:
Every state except NV, NJ, and NY