England Becomes Betting Favorite To Win 2020 Euros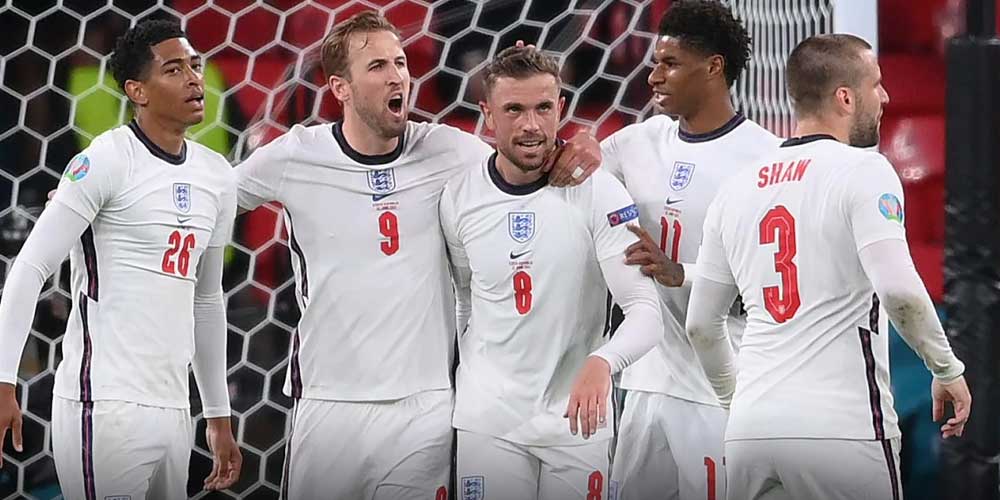 England is now the +185 betting favorite to win the 2020 Euros.
Spain has the next shortest odds at +300 with Italy close behind at +400.
Belgium (+700) is the only other team with odds short of +1000.
LONDON – After a thrilling win over Germany, England is now the odds-on favorite to win the 2020 Euros.
However, there's still plenty of competition left in the field in the form of Spain, Italy and Belgium.
Why Is England The Favorite?
England has arguably the easiest ride to the final of any team remaining in the tournament. England will play Ukraine in the quarterfinals and then the winner of Denmark and the Czech Republic.
England would be able to avoid what's thought to be the top talent remaining in the field and is likely why the team is atop the odds board.
Euro 2020 Winner Odds
England +185
Spain +300
Italy +400
Belgium +700
Denmark +1100
Czech Republic +2800
Switzerland +2800
Ukraine +4000
Legal gambling sites seem to think that England has the best shot of reaching the finals, and therefore winning the tournament as a whole. It's a fair point to be made, but considering the value attached to England's name, there may be better bets on the table.
Who Could Pull Off The Upset?
Naturally, sports betting enthusiasts would look towards Spain as they hold the next shortest odds. However, their inconsistencies may not bode well for their chances to take home the title.
Spain scored just one goal in their first two matches combined but have since rattled off five goals in each of the last two. Maybe the team has turned the corner, but maybe not. Regardless, there are likely still better betting options out there considering value.
🇧🇪 Belgium's Golden Generation vs. Mancini's free-flowing Italy 🇮🇹

Quarterfinals looking sweet 🤩 pic.twitter.com/j3aFVdvyNA

— ESPN FC (@ESPNFC) June 27, 2021
The winner of Italy and Belgium should be in a great spot to make a run for the championship. The teams have both been playing well with Italy outscoring opponents 9-1 and Belgium doing so 8-1.
This will likely be the most anticipated quarterfinal match and the winner, projected to be Italy on sports betting sites, will face the winner of Spain vs Switzerland for a trip to the championship game.
Given the value on both teams, it's a fair strategy to bet on them both before the game as the winner will likely see their odds drop by a significant amount.