New Jersey Casinos Opening With Increased COVID Restrictions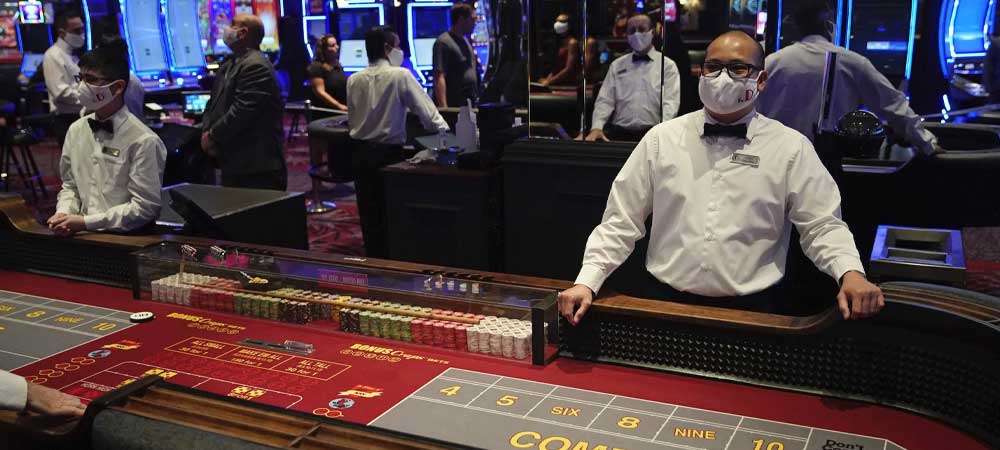 New Jersey Casinos are reopening with numerous restrictions designed to limit the spread of COVID-19.
There is no smoking, drinking, or eating allowed inside of New Jersey casinos upon reopening.
Governor Phil Murphy banned indoor dining saying crowds weren't behaving responsibly enough.
ATLANTIC CITY, N.J. – New Jersey casinos are continuing their march towards reopening after closing their doors in March due to the still present coronavirus pandemic.
The state will allow casinos to open on Thursday while only allowing 25% of the capacity in the building.
This move comes right before the 4th of July weekend which could provide casinos with a much-needed boost in revenue after a three-month hiatus.
When the doors of New Jersey casinos open to customers for the first time it will be a different experience for legal gamblers.
The restrictions put in place by New Jersey Governor Phil Murphy for casinos to open back up include a ban on indoor dining and a ban on alcohol. Furthermore, casino patrons will not be allowed to smoke indoors, and casino workers will have to undergo extra screenings to work.
This will likely be a trend among most casinos opening back up across the United States as governments try to eradicate COVID-19 from the population.
One reason that New Jersey casinos feel comfortable opening back up is that new COVID-19 cases are among the lowest in-state.
With the latest national data, our ranking for new cases dropped to 47th among ALL STATES.

We've cut new cases by 95% from our peak.

This is a good place to be at the moment – especially given the dramatic increases other states are seeing. pic.twitter.com/x0J0ILybWC

— Governor Phil Murphy (@GovMurphy) June 30, 2020
The new normal at many casinos nationwide will be more sanitation stations and limited populations of people gathered at playing tables as well as slot machines. The new rules in place haven't stopped many of the casinos in state itching to open back up.
New Jersey's highest grossing casino, the Borgata Hotel Casino & Spa, is the only casino that will not be reopening its doors this weekend citing the governor's ban on indoor dining as a major part of the reason.
"Our guests expect a special experience when they come to our property and if we cannot provide that level of hospitality, we feel it best that we remain closed until such time that the Governor lets us know it is safe to offer food and beverage," said a statement from Borgata.
While the new restrictions will deter some gamblers from entering Atlantic City casinos, the reopenings will allow one of the US's biggest gambling economies to begin its journey back to pre-pandemic levels.