Slots.lv Casino Review
Players will find a ton of things to like about the newly launched site Slots.lv. It's only been around since July of 2013, but Slots.lv is quickly becoming one of the most talked about gaming sites in the industry. And this is for good reason, because it's backed by the same company that runs Bovada, which offers sports betting, poker, and casino games. Slots.lv gives players a wide variety of gaming options, spanning slots, table games, and specialty games.
Check out the most important details about Slots.lv and what players can expect when visiting the site, below. Among the topics discussed span things like who can play, how to make a deposit and get paid, the bonus offers, and plenty of talk about the games that can be played for real money! It's important to note that all things in this review have been verified, experienced, etc... by the LegalGamblingUSA.com crew - all the information is reliable.
Who Can Play At Slots.lv Casino?
There are many countries that are accepted to play at Slots.lv, among them include the United States. Players living in the U.S. are able to sign up and create accounts here at the site. There are just four states in which players cannot create new accounts if they live in the U.S. They are Delaware, Maryland, New Jersey, and Nevada. Outside of these three states, U.S. residents of legal age can participate.
The age to play at Slots.lv is 18 years old as mandated by the site, or the age to gamble in your local jurisdiction. What that means is that in areas where the age to gamble is 21, that age requirement will need to be met.

Slots.lv Casino Bonuses
One of the first things that players might notice about Slots.lv are the bonuses that they advertise right on the front page. Players will be able to receive $500 when they sign up and deposit. Slots.lv does not make it mandatory that you accept these casino bonuses. As the player, you and only you will have the choice to take it or not.
There are two bonuses presented. A slots bonus for players who enjoy playing slots can have $500 in free cash. Slots.lv will match $1 for $1 up to $500 on deposits. With this slots bonus, bettors will have a 25X rollover. For example, if a player deposits $100 and receives a $100 bonus, both the deposit and that bonus will need to be played 25 times. From there it will be eligible to be received as a payout. This bonus can be had up to 10 times.
Table games are not left out in the bonus department at Slots.lv. The $500 bonus is applied in this section as well. However, the amount of times that this bonus can be had is just twice. Moreover, the rollover requirement is 40X.
| BONUS | Amount - Bonus Code | Get Bonus |
| --- | --- | --- |
| Slots Bonus | 100% To $500 (10x) - HELLOSLOTS | |
| Table Games Bonus | 100% To $500 - HELLOGAMES | |
Slots.lv Casino Games & Operating System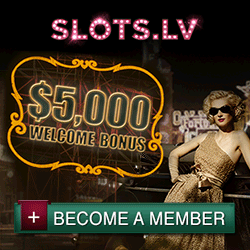 Players will want to check out all of the online casino games offered at a site to even see if they first want to create an account. In addition to that, how those games operate and the overall quality of the site is equally as important. For Slot.lv, they implore Real Time Gaming software, and there is none better. RTG has authority over all aspects of Slots.lv, and the site is better for it. The software is the leading figure in online gaming, and Slots.lv has taken full advantage of all that it offers.
There are 234 total games at Slots.lv. Of those 234 games, there are 130 slots. You can imagine that many of the games would be slots, just look at the domain name. There are 61 progressive slots within those 130.
Table games make up 22 of the different options. Among them, popular games like blackjack, roulette, and more are available.
The second-most games behind slots though are video poker. There are 77 video poker gaming options, with the final five specialty games like bingo.
Casino Deposit Methods Accepted At Slots.lv Casino
The big question on the table, how do players fund their accounts at Slots.lv? Well that answer is simple and easy. There are three different casino deposit methods to choose from. For American players, all choices are available to them - something not always available depending on the casino.
The most popular way to deposit at Slots.lv is through a Visa card. This Visa option can be used with any card having their logo. This includes a gift card, prepaid card, and of course a debit card. Visa options are very easy to deposit, and require information like any online transaction.
The other types of deposit options are grouped under the term 'rapid transfer'. They are two types of ways to wire money electronically. One is a Western Union transfer, the other is a MoneyGram transfer. Both of these options instantly fund an account at Slots.lv, and allow players a different choice from a credit card.
Slots.lv Payout Options - How Long Do Payouts Take?
You should be familiar with Western Union and MoneyGram as seen in the deposit options. That's good to know because they are also relevant when it comes to payouts. In fact, both a Western Union transfer and a MoneyGram can be used to receive a withdrawal from Slots.lv. There is one other option, which is a check through the mail.
For the two wire transfers, payouts can be received anywhere from 36 to 38 hours. They are quick methods to get your winnings to you, though the more a player withdraws the more fees that can come attached.
A check can receive a free payout once per 30 days which is nice. It can take anywhere from 10 to 20 days to be received. The sending address must match that of the account holders in their information.
Slots.lv Casino Customer Support

Questions can always arise and Slots.lv knows this. As such, they try to make it easy on account holders and prospective players to get into contact with them. Use their online contact form feature right on site, where your questions and comments can be sent. They say on site that the goal is to respond within four hours, but it's usually much quicker - a true sign of the best legal casinos online.
The customer service phone is 1-855-446-3770. This is available 24 hours a day, seven days a week for any questions as well.