Legal Online Gambling For Maine Residents
With the growth of the online gaming industry, many are wondering what this means in relation to legal online gambling for Maine residents. Though gambling expansion has been coming to Maine over the past few years, the government has not come to regulate Internet gambling. Despite the lack of regulation, the legalities of online gambling in Maine have not yet turned this activity into anything criminal. We have found that potential gamblers can play these games without any complications. Regardless of what you are looking for, you will be able to find various options available for our readers. We are going to explore the laws, the options you have available for playing, and even how you can protect yourself when doing so.

Online Gambling Age For Maine Residents
Prospective gamblers in Maine will have to adhere to certain age restrictions when it comes to gambling. You have to be at least 21 years of age to access casino gaming, poker rooms, and online sportsbooks. You can be 18 for the state's lottery, dog and horse racing, and online bingo. Lastly, you can begin to gamble at live bingo halls at the age of 16.
Maine Online Gambling Laws
When it comes to online gambling in Maine residents should know that they still have quite a few legal gambling avenues available to them. When looking at the Maine Criminal Code 17-A, Chapter 39 there is nowhere that defines online gambling as illegal. The lax gambling laws in Maine have given those who gamble at online sportsbooks, casinos, and racebook many legal avenues to win real money. By sticking to the gambling sites on this webpage Maine gamblers are ensuring themselves that they are playing at a legal and reliable gambling site.
One of the most popular ways to bet on sports in Maine is using the internet. Sports betting in Maine has been a topic of discussion in the legislature and a sports betting bill was passed in 2019. However, in 2020 Governor Janet Mills struck down the bill via veto. The process of bringing a regulated online sports betting market to Maine will have to wait for action in the 2021 legislative session. One silver lining for Maine gamblers is that as online gambling becomes more prevalent in the New England area of the United States, expect Maine to eventually follow suit. 
Gambling Sites That Accept Maine Residents
There are various gambling sites in 2021 that accept Maine residents and we have tested them extensively in order to find gambling sites that are worth using. Should you decide to stick to the gambling sites we have found, you will be able to play through quite a few different games. Sports betting, poker, casinos, bingo and more can all be found by way of online gambling.
Bovada: One Of The Most Popular Sportsbooks In The world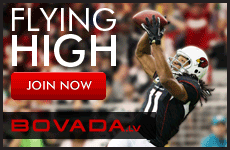 Even on fishing boats, players can connect online to the best overall gambling site for Maine residents. Bovada serves all the customers in Maine, whether on land or on sea. The online casino features a virtual red room service that delivers virtual lobster while dishing out the best online cardrooms and sportsbooks. This full sportsbook offers betting on all sports, such as the NFL, NCAA, NBA, and NHL. These bets are always 100% legal and safe for bettors. Bovada has been in business for over 20 years providing excellent betting experiences to millions of users all over the world.
Bovada has an online platform for gaming and betting that is legal for residents of the United States. The UIGEA and PASPA only affect those betting sites that reside within the US. Bovada is just over the northern border in Quebec, Canada, and provides a legal and trusted option for betting online. Safe betting is important to the Bovada and security is their number one priority. This online sportsbook takes its security seriously and requires all accounts be verified before payouts to protect its users' accounts and finances. Go To Bovada!
BONUSES:
50% - $250 BONUS!
ACCEPTED IN:
No DE, MD, NJ, NV
| Rank | Casino | Highlights | Rating | Visit Site |
| --- | --- | --- | --- | --- |
| 1 | | 100% Up To $3,000 Read Review | | Visit Bovada |
| 2 | | 100% Up To $1,000 | | Visit Ignition |
| 3 | | 500% Up To $5,000 | | Visit Slots.lv |
| 4 | | 100% Up To $4,000 | | Visit Cafe Casino |
| 5 | | 200% Up To $2,000 | | Visit SlotoCash |
| 6 | | 200% Up To $1,000 | | Visit Cherry Jackpot |
| 7 | | 40% Up To $4,000 | | Visit Lucky Red |
| 8 | | 150% Up To $3,000 Read Review | | Visit Las Vegas USA |
| 9 | | 150% Up To $3,000 Read Review | | Visit Sun Palace |
| 10 | | 100% Up To $1,000 | | Visit CasinoMax |
| Rank | Sportsbook | Highlights | Rating | Visit Site |
| 1 | | 50% Up To $250 Read Review | | Visit Bovada |
| 2 | | 50% Up To $1000 | | Visit BetOnline.ag |
| 4 | | 50% Up To $1000 | | Visit SportsBetting.ag |
| 5 | | 50% Up To $1000 | | Visit MyBookie |
| 6 | | 50% Up To $300 | | Visit Xbet |
| Rank | Poker Room | Highlights | Rating | Visit Site |
| 1 | | 100% Up To $500 Read Review | | Visit Bovada |
| 2 | | 100% Up To $1000 | | Visit BetOnline.ag |
Online Casinos That Accept Maine Residents
Casino gamblers who do not wish to wait for a new live casino to open up in Maine will find that they can turn to various online casinos in order to begin playing. Some of the online casinos that accept Maine residents include Slots.lv, Café Casino, and Lucky Red Casino. You will find that the RTG casinos are among the most impressive, and these are the ones we recommend to our users above any other.
Online Sports Betting Sites That Accept Maine Residents
The fact Maine has no professional sports organizations that call the state home doesn't prevent residents from gambling on their favorite MLB, NBA, NHL, and NFL teams. Even if looking to gamble on boxing, horse racing, or your favorite UFC fighter Maine residents have a trio of online sportsbooks available to them in Bovada, BetOnline, and MyBookie. These three online sports betting sites have been serving the sports betting needs of Maine sports bettors for decades while providing a legal and safe gambling environment. If looking to bet from your mobile phone each of these sites brings their full array of betting lines right to their favorite Android or Apple devices.
Online Poker Sites That Accept Maine Residents
Some of the most competitive poker sites that accept Maine residents include BetOnline and SportsBetting. Both sites feature large online poker rooms that are ideal for players of all experience levels. There are also sizeable deposit bonuses and exclusive promotions for even more poker action. When you want the biggest tournaments and 24/7 poker, join any of the top online poker rooms for Maine residents.
Online Bingo Sites That Accept Maine Players
Bingo halls are sprinkled throughout Maine but those that don't want to travel to play bingo in person are in luck. There is a sea of bingo sites that accept players that reside in Maine and we've done the groundwork to find you the best online bingo platform to gamble at. Of all the bingo sites Bovada offers one of the most all-encompassing bingo experiences in online gambling. Whether wanting to play 30-ball or 80-ball bingo Bovada allows gamblers in Maine to choose between those options and more. The experienced bingo players in Maine will appreciate the international types of bingo styles Bovada offers, these include South American, European, and American bingo games.
Is Online Gambling Legal In Maine?
As regulars in the online gambling community and dilettantes of the law, we have done extensive research into the reality of the legal status of online gambling in Maine. Provided you do not break any other laws, financial or tax laws, in particular, you will not have to worry about being faced with criminal penalties for gambling online.
Maine does not currently have any laws which regulate or restrict the use of online gambling sites. Without these laws in place, it is safe to assume that online gambling in Maine is legal. Residents who enjoy gambling at online casinos, poker rooms, and horse racing betting sites, as well as other forms of online gambling, can rest easy knowing that they are well within their legal rights to do so in the state of Maine.
Is It Safe To Gamble Online In Maine?
Yes, it is safe to gamble online in Maine. Gamblers in Maine have a variety of legal online avenues to gamble safely and without fear of breaking local laws. Whether wanting to bet on sports, play slots at an online casino, or play bingo online those living in or visiting Maine are safe to gamble online and if sticking to the sites we have suggested on this webpage you'll have nothing to worry about.
Are Online Casinos Legal In Maine?
Maine doesn't offer a variety of land-based casinos and this is what has pushed many gamblers to use the internet to find legal online casinos. There is nowhere in Maine's law that has outlawed online casinos. Gamblers in the Pine Tree State can use online casinos without having to worry about local law enforcement pressing charges against them, as no one has been arrested for using an online casino while in Maine. Gamblers in Maine are free to use the internet to win real money at online casinos. However, we recommend sticking to the online casinos we have outlined on this page, as these provide gamblers in Maine with a secure and legal platform to gamble on.
Is Online Sports Betting Legal In Maine?
Online sportsbooks are not illegal in Maine, the sites are just unregulated. Since these sportsbooks are licensed offshore, you will not be criminally penalized for wagering on sports through these mediums. Maine could choose to formally legalized and regulate state-licensed sports betting sites, but right now offshore online sportsbooks are both safe and available.
Is Online Poker Legal In Maine?
The online poker industry has taken more heat than nearly any other. If you decide that you wish to take to the virtual felts, you will find that Maine has not made it a crime to do so. Especially considering the fact that this form of gaming is considered a game of skill more than it is a game of chance, you will have nothing to worry about when it comes to playing poker on the Internet.
Online Horse Racing Betting Sites That Accept Maine Residents
If you're looking for an online horse racing betting site that accepts Maine residents, start looking at offshore racebooks. These international sites allow residents from all fifty states to wager on horse racing events from all over the world. Maine residents will never have more opportunities than they have at an online, offshore racebook. Not only will they have a large selection of lines on races, they'll also offer a bigger variety of wager types and a higher volume of races to bet on, both in the US and across the world. Bovada, BetOnline, and SportsBetting all offer horse racing betting for Maine residents. These sites are legal, safe, and the best option for horse racing betting enthusiasts who live in Maine.
Deposit Options for Maine Residents
When depositing funds into your online gambling account in Maine, we recommend using bitcoin. This digital currency is the fastest and easiest way to credit your account with the amount you want. Bitcoin is an independent currency, which means that it won't be subjected to the same restrictions credit cards and bank wire transfers might be. You'll never have to worry about declined payments from bitcoin.
Bitcoin is also fast – it only takes a few minutes to make a deposit, if that. The only method that comes that close is credit cards, which, as we've stated before, can come with problems that are easily avoided when you use bitcoin. On top of being fast, you also have larger deposit limits than almost any other funding method. Players can deposit from $10 to $25,000 depending on the site. You really can't lose when it comes to depositing with bitcoin. In fact, some gambling sites even add extra money into your account when you bank with bitcoin.
Mobile Gambling Apps In Maine
Mobile gambling has become one of the most popular ways to gamble in Maine. The convenience of being able to play your favorite online casino games, bet on sports, or play blackjack from any Apple or Android device is what has led to mobile gambling app push. Online gambling sites like Bovada and BetOnline feature mobile-friendly platforms that can be accessed through any mobile phone, tablet, or laptop web browser. Doing this works better than an app because it allows you to gamble without having to sacrifice space on your device and never having to wait for an update to access your favorite ways to gamble.
Maine Gambling FAQ's
Does Mobile Gambling Work On Apple and Android?
Yes, it does. Mobile gambling sites can be accessed through the browser, which means they'll work with both operating systems. It's just one of the many reasons why online gambling sites don't invest in an app, rather they condense their sites in order to make them accessible through a mobile device. You can still do all of the same things you would on the computer, just a little more handily when you're on the go.
Is There A Fee For Using My Credit Card?
There are some gambling sites that charge a small percentage fee of up to 9% for using your credit card, but it may be waived on your first deposit. Since most of these sites are located overseas, your bank might choose to add a fee to your credit card statement for making a "purchase" with an international vendor. This does not always occur, but if it does, it is the responsibility of the bettor and not the gambling site to pay this fee. Other than that, you shouldn't run into anything of that nature, though.
How Old Do I have To Bet To Bet At An Online Racebook?
In Maine, the legal gambling age is 18 when it comes to betting on horse racing. Online racebooks generally require you to be that age as well before you are able to lay money down on a race. Maine residents under the age of 18 should refrain from betting on horses at online racebooks.
Can I Play Poker For Real Money?
Yes, at online poker rooms you can play for real money. These sites allow players to create accounts and then fund those accounts if they so choose. If you don't want to place any money on the game but still want to pay a few hands, you also have this option as well. You won't get nearly as much action as when you play for real money, however. Payouts can be requested at any time when playing for real money at online poker rooms.
How Can I Increase My Wager Limits?
When you are betting at a sportsbook that has wagering limits that you want to exceed, you have a couple of options. First, you can contact the book through any of their forms of communication and work with someone to adjust the limits for you. Most books will be happy to do this when asked. If you don't want to do that, most books will have an option to place the lay the same bet multiple times without limit. While this creates multiple bets on your ticket, it totals out to what the payout would be if you placed a single bet with the same amount you wagered multiple times. Sort of a backdoor way to get what you want.
Will I go to jail for online gambling in Maine?
Mainers frequently question whether or not they risk arrest when it comes to online gambling, but the simple truth is that you do not have to worry about going to jail in the event that you decide to gamble over the Internet. No one has ever been arrested for gambling online in the state of Maine and it is unlikely to happen in the future.