Legal Online Gambling For Maryland Residents
Legal online gambling for Maryland residents has been increasingly popular over recent years. Since we have a focus on online gambling, we are here to explain the legalities of online gambling in Maryland above anything else. We have done what we can in order to bring our readers a clear view of the laws, the rules, and the requirements of online gambling in the state of Maryland. This includes state-level legislation as well as rules enacted by the federal government. As you will find out as you continue reading, there are not many of each. If you are going to try to gamble on the Internet, you will want to do so as safely as possible. Our goal is to make sure you are safe throughout your entire gambling experience, so you should have nothing to worry about anything other than playing the games that you wish.
Online Gambling Age For Maryland Residents
All states have age requirements for online gambling, and you will want to make sure you adhere to these age requirements before you decide to start gambling. If you want to play casino games you will have to be 21, and the same applies to poker and sports betting. This encompasses both online and land-based gaming choices. If you are 18 you do have a few choices. The state's lotto and live or online bingo halls can all be accessed at the age of 18.
Maryland Online Gambling Laws
Currently, Maryland's 2023 online gambling laws are not something you have to worry about, as they do not actually exist. There is no law in the state of Maryland that has anything to do with online gambling. This may be some form of legislative oversight, or it may simply be because there has yet to be a need to ban or regulate online gambling in the state. For now, you can rest assured that there are no restrictions on online gambling, at least none as far as we have found. If you are truly hesitant to gamble online, you can further explore Maryland Criminal Law.
The absence of online gaming laws could certainly change in the future, especially in the case of sports betting. In 2020, Maryland's voters approved of sports betting, with 67% of the electorate voting to legalize it. However, the infrastructure and regulatory framework for Maryland's sports betting is still up in the air, with legislators debating various forms of legalization, and a result likely to come in 2023.
Gambling Sites That Accept Maryland Residents
Due to the relaxed state of the laws in Maryland, you will find that many forms of gambling are at your disposal. Maryland residents can very easily participate in a number of options. There exists casinos, poker rooms, sportsbooks, bingo halls, and many more options. Residents of Maryland will find that there are plenty of ways to sign up and participate at these legal gambling sites. We are going to share with you a number of options for play, but only those which have passed our rigorous testing.
Bovada: Winning Big At The Casino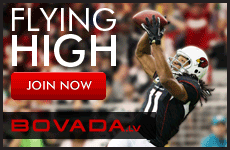 For those who have a Bovada account, this is one of the best decisions that they have made! Bovada has it all and other bettors need to consider joining as well. This online casino play gives many bettors chances to win big as well! All you have to do create your account and you will have access to it all. Being a new Bovada account does have some perks to it as well. There will be plenty of promotions that will help new users get started with there account. Big time bonuses will help players put their money in casino games like blackjack and slots. This is a chance you don't want to miss so make sure you sign up soon as you get the opportunity! Go To Bovada!
SportsBetting: Bet On Ravens, Terps And More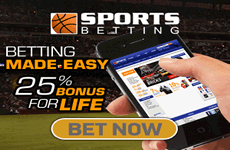 If Maryland residents have a sweet tooth like I do, they should try out the sweet deals that SportsBetting has on sports, poker, skill/table games, and arcade-style slots. SportsBetting was named the best overall gambling site, that's sweet as honey, right there. SportsBetting is not forbidden fruit and won't sugarcoat the facts, it is legal to place bets on their site. SportsBetting accepts gamers from all over the US, and as long as you are 18 years old you can play.
SportsBetting is free to join and to show good faith they want to "give you some sugar." New members that make their first qualifying deposit can get up to $1,000 of a sugar rush to their accounts with the 50% welcome bonus. To claim your bonus all you have to do is enter the promo code located on the promotions page, and it's like taking candy from a baby. SportsBetting has a variety of other bonuses, and rewards for all wagering types, you'll be like a kid in a candy store. Once you're a member and you start winning, you'll be another pro-wagering confectionery genius at SportsBetting. Go To SportsBetting!
BetOnline: NCAA, NFL, MLB, And NBA Betting Odds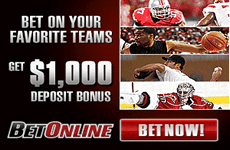 So is BetOnline legal in Maryland? It sure is, and this is one of the main reasons it is our featured gambling site. BetOnline offers their users one of the most versatile gambling sites online, and this is because they have explored every option for gambling on the market. They have poker, and this comes with a solid 100% match to $1,000 on every deposit you make. But, this is not where the bonuses end. There are promotions for everything that BetOnline offers like sports betting and in their online casino. BetOnline has built a reputation of integrity and they will never sacrifice this in order to make a buck. With deposits made easily by way of Bitcoin, money orders, American Express, MasterCard, Visa, and bank wire transfers, you will not have to worry about anything other than playing the games as your finances should all be kept safe. Go To BetOnline
Online Casinos That Accept Maryland Residents
Our favorite online casinos that accept Maryland residents are Aladdin's Gold and Lucky Red Casino. With a little luck, you will find that there are huge winnings that can be earned by way of these casinos. If you decide to join up with Maryland's casinos, you will never have to travel or risk your safety just to find these games.
Online Sports Betting Sites That Accept Maryland Residents
While sports betting was legalized in the state of Maryland, the infrastructure is not available yet, so there are no sportsbooks in the state that are accessible. This means that bettors will still stick to the offshore options. That said, betting on sports in the state of Maryland is easy enough. You will find that there are plenty of options available for you, and you will be able to hit these lines without any trouble. We have made sure to only look into the most trusted sportsbooks out there, and we can assure you that all of these are viable options for play. The top online sports betting sites for Maryland residents are MyBookie and BetOnline.
Online Poker Sites That Accept Maryland Residents
Online poker is one of the primary options available in the state. If you decide to visit the options we have to show you, you will see that big bonuses, easy to use software, and a most trustworthy reputation can be found universally through our recommended poker sites. While we do not recommend that many poker rooms, those that we do recommend are at the pinnacle of quality. The leading online poker sites that accept Maryland residents are BetOnline and SportsBetting.
Online Bingo Sites That Accept Maryland Players
Bingo fans have united at online bingo halls in order to hit the cards, and this has been a wise idea on all accounts. If you want to sign up with these bingo sites you will be able to play for real money. Most of them carry bonuses, all of them can be trusted, and play is done directly through your browser. This is even easier than traveling to a live bingo hall. Downtown Bingo is one of the best online bingo sites that accept Maryland players.
Is Online Gambling Legal In Maryland?
Marylanders will find that online gambling is not actually a crime in the state of Maryland, as there has been no law that actually makes it illegal to participate. While you may find some that say this form of gambling is illegal, there is to date no evidence that you will be breaking the law by participating in these games, as we know of nobody in the state who has been arrested or prosecuted for using an online gambling website. Given this situation, it seems as though online gambling is de facto legal in Maryland. As always, contact an attorney if you are not 100% sure of the laws.
We have looked through the Maryland Code and there is not one mention of using the internet to gamble. With no laws to penalize or punish bettors, there is no reason not to use reputable gambling sites. The code does mention that visiting a local book is strictly prohibited, and honestly going that route is extremely unsafe. That is why MD gamblers should use offshore sites that are regulated and licensed to accept MD residents.
Being that the sites operate from countries such as Costa Rica, Panama, and the UK, they are not subject to the same restrictions as US operators. This means that not only are they able to offer competitive odds, they're able to offer more of them. There are sites for slots, betting on the Triple Crown, or wagering on Baltimore Ravens betting odds. No matter the type of gambling that interests you, you can find a trustworthy gambling site to use.
Are Online Casinos Legal In Maryland?
There is no explicit law legalizing online casinos in Maryland, and there does not seem to be any desire to enforce any law regarding them. This leaves the offshore casinos in a bit of a gray area, where they are allowed to operate mostly due to being outside of the reach of US law enforcement, but nobody seems particularly interested in stopping the current arrangement. Online casinos have no plans to be legalized in Maryland, unlike online sportsbooks, which are legal but have not been set up yet. This means that online casino players in Maryland still visit online casino websites. We know of nobody who has been arrested or prosecuted for the use of an online casino in the state.
Is Online Sports Betting Legal In Maryland?
Maryland has legalized online sports betting, but the state has not set up a regulatory framework for it yet. This means that until the legislature hammers out exactly what they want sports betting in Maryland to be, the best option for MD bettors will still be to visit the online sportsbooks that are located offshore. These sportsbooks are solid options for any bettor, even in states with legalized and state sanctioned sports betting. With good odds, books like BetOnline and MyBookie are well regarded among gambling enthusiasts across the United States. MD's bettors can still access these sportsbooks to wager on teams like the Terrapins.
Where Is It Safe To Bet Sports Online In Maryland?
This is a great question to ask and it's warranted. Some online betting sites will not accept players from Maryland because of complications with deposits and withdrawals. Fortunately, there are still plenty of online sportsbooks to choose from. For Maryland residents, we recommend both BetOnline and Sportsbetting.ag as they have identical bonuses which give an extra 50% to $1,000 when making your initial deposit. Plus, these two books always feature lines for the Baltimore Orioles, Ravens betting odds, Washington Nationals game lines and so much more. The area is a hotbed of sports and these books cover them all.
Is Online Poker Legal In Maryland?
Poker fans have long contended with the possibility of being arrested for gambling online, but you will not have to deal with this in Maryland as there is no written ban on online poker. If you decide you wish to play online poker, you will have no problems actually doing so if you stick to the options we have at our disposal. As with any concept in a democratic society, you will find that the lack of a written ban means that online poker is probably not a criminal activity.
Online Horse Racing Betting Sites That Accept Maryland Residents
makes sense that residents join one of the best online horse racing betting sites. The online racebooks that accept MD players offer the best horse betting odds and even better promotions. When you place straight or exotic horse wagers, you can enjoy cash back rebates on all wins and losses. There are plenty of Preakness Stakes betting odds and live streams on all of the Triple Crown races. The online racebooks that we recommend for MD bettors are 5Dimes Racebook and BetOnline Racebook.
How Do Deposits Work At Online Gambling Sites?
You will need to make your first deposit before you can start winning real cash at an online gambling site. Each site will have its own cashier that offers a variety of convenient banking methods. All you have to do is select your preferred method, initiate the transfer, and wait for your funds to be credited to your account. The fastest way to make a deposit is with the digital bitcoin currency. It is the most secure option, and your financial info is kept relatively anonymous because you transfer the funds from your BTC wallet. There is no fee for using bitcoin, and depending on the site you can deposit anywhere from $10 to $50,000 in XBT.
Other popular methods include credit cards and bank wires. The site may accept Visa, MasterCard, or American Express, and you can instantly deposit between $20 and $5,000 depending on the type of gambling. Bank wires are the best deposit option for high rollers because there is no limit to the amount you can send.
Maryland Legal Gambling FAQs
Does Maryland Gambling Work On Apple And Android?
Maryland gambling works on both Apple and Android devices. Many times, there is no download required and you can just visit the site from your mobile device. If a download is required, the gambling site will have separate apps that you can download for each device. You will find that the mobile gambling sites are user-friendly and easy to navigate. You can enjoy many of the same features that you do on the desktop site, including making deposits, playing games, redeeming bonuses, and requesting withdrawals. Mobile betting is available on iOS and Android smartphones or tablets.
What Types Of Games Are There At Online Casinos?
One of the perks of using an online casino is that there is a wide range of games available. The categories include table games, slots, and even video poker. Within the slots category, there are classic slots, iSlots, and 3D slots. That means you can try your hand at blackjack or roulette and then play Aztec's Millions progressive jackpot. Online casinos have real money casino games for every type of Maryland player.
What Does PASPA Stand For?
PASPA, which stands for the Professional and Amateur Sports Protection Act of 1992, was a federal law that was overturned on May 14th, 2018. The law made it illegal for nearly every state in the US to authorize sports betting, with only a few exceptions. Nevada, Delaware, Oregon, and Montana received exemptions due to their regulated sportsbooks and/or sports lotteries. Maryland, like most states, was unable to offer land-based sportsbooks as a result of PASPA. Now that PASPA has been repealed, every state has the opportunity to offer regulated sports betting.
Will I go to jail for online gambling in Maryland?
If you decide to gamble over the Internet, you will want to keep in mind that you do not have to worry about the law. Let us remind you that no law has been written making it illegal to gamble online, so you will not have to stress over the possibility of being arrested if you decide to gamble online. With no arrest ever taking place over online gambling in Maryland, you should be safe from the icy grip of the law.