Legal Online Gambling For Minnesota Residents
Minnesota is not a state that is heavily opposed to online gambling, and you will find that the law is generally on your side. With live casinos, card rooms, and even racetracks, you will find that the gambling scene in Minnesota is very active. We have explored the legalities of online gambling in Minnesota in order to determine whether or not players can participate, and we are pleased to tell you that it is free and legal to do so provided you use an offshore gambling house or bookmaker. If you follow our advice, you shouldn't have any issues or problems at all with gambling on the Internet.
Online Gambling Age For Minnesota Residents
Part of the laws of gambling are age restrictions, and we have explored the age requirements in addition to the other requirements in place. In the state of Minnesota, you can start gambling as soon as you hit the age of 18, whether you wish to play the lottery, the horses, bingo, or gamble in the state's many tribal casinos. Incidentally, you only have to be 18 in order to sign up at all the offshore sportsbooks and casino sites that serve MN residents, as well.
However, please remember that while it isn't illegal to sign up at these sites under the age of 18, doing so will violate the terms of service and cause your account to be permanently banned and your financial balance to be forfeited. Do not, under any circumstances, sign up underage at any online gambling site.
Minnesota Online Gambling Laws
In Minnesota, you will not have to contend with too many overwritten gambling laws. Minnesota has not yet written anything specific pertaining to online or Internet gambling, and their gambling laws don't even include either of those words. Sports betting on the Internet is similarly undefined. As such, you will not have to contend with anything more than other than where you wish to play.
Minnesota is currently undergoing a push to legalize sports betting, with SF 410, proposed by State Sen. Karla Bigham, making it clear that MN has a lot to gain by doing so. Bigham has been vocal about her own sports betting, stating that she often bets on sports despite Minnesota not sponsoring it, and that Minnesota, by legalizing and regulating it, can get a cut of the market.
We have found the state statutes in Minnesota to be fair toward online gambling, and you can read the laws yourself to verify our position on the matter. Sections 349.11 et seq. and 609.75 et seq. are the operative portions of the Minnesota Statutes for your consideration.
No MN resident has ever been arrested or even fined or cited for using the Internet to place wagers on sports, play poker, or enjoy digital casino classics and slots. This is a safe, legal activity, and all the top sites allow residents from Minnesota to play these real-money games at their leisure.

Gambling Sites That Accept Minnesota Residents
Minnesota residents have access to hundreds of gambling sites, and these cover a fairly wide range of options. However, most of these sites are untested and unestablished in the gaming community, and some are outright scams. That said, there are several high-value, legitimate offshore gambling websites out there, and we have found that MN gamblers can very easily build up a substantial bankroll through any of these gambling sites.
What's more, we have tested each of our top choices personally in order to give our readers advice on only the best services available, which is why the list has dwindled down to only a handful of sites under each kind of gambling. These are the best 2021 Minnesota gambling sites on the planet.
Bovada: Live In-Game Betting On Mobile Devices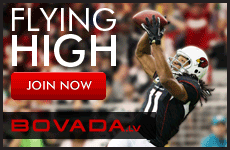 Many players ask us whether or not Bovada is legal in Minnesota, and we pleased to tell you that it absolutely is. In fact, MN residents are able to join up with Bovada very easily in just a matter of minutes. It is, by most user accounts, the single best sportsbook and gambling service available in the Gopher State.
If you sign up with Bovada, deposits can be made in a number of ways. The most popular way is to simply use a Visa, Mastercard, or American Express credit or debit card. However, users can also use international pre-paid cards as well. Bovada supports Bitcoin and Bitcoin Cash, as well, and these have become extremely popular in the last couple of years, as they bypass all the standard avenues of banking, meaning you can typically get better rates and lower fees. Regardless of how you fund your Bovada account, each of these methods makes it simple to play, and Bovada even offers a generous $250 welcome bonus for new Minnesota customers to play with.
For casino players, poker players, and horseplayers, Bovada has you covered there as well. That's right, Bovada's not just for sports betting – all major forms of gambling can be enjoyed through one account with Bovada. This makes them one of the best choices for gambling over the Internet, as you do not have to bounce between multiple sites to access all your favorite pastimes. Go To Bovada!
BONUSES:
50% - $250 BONUS!
ACCEPTED IN:
No DE, MD, NJ, NV
BetOnline: The Best Place To Bet On The Golden Gophers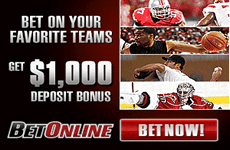 Minnesota residents were given a poll recently on which betting site they liked the most, and the results weren't particularly surprising: BetOnline was voted as having the best overall Internet gambling value in the state. And why not? After all, BetOnline is a trusted and completely legal betting site that has been serving Minnesota gamblers for over 20 years. Membership to BetOnline is free, and you only have to be 18 to sign up and play.
BetOnline has a stellar, industry-leading sportsbook, and they've also got all the newest and most popular mini-games, slots, table games, and poker types available anywhere. Even better, BetOnline gives its members special promotions for each type of gambling they prefer, as well as welcome bonuses that can add big bucks to your initial bankroll. While there are many such bonuses, the most popular one is for the sportsbook. This special promotion is a 50% welcome bonus and can add up to $1000 to your account the moment you make your first deposit!
Loyal and seasoned members can qualify for the 25% reload "Bonus for Life" program, which is also good for up to $1000 of extra funds for your bankroll. To claim any of BetOnline's outstanding promotions, simply enter the promo code that is located on the BetOnline bonuses page. Check this page often, as the codes – and options – change periodically. Happy betting, you high roller! Go To BetOnline!
| Rank | Casino | Highlights | Rating | Visit Site |
| --- | --- | --- | --- | --- |
| 1 | | 100% Up To $3,000 Read Review | | Visit Bovada |
| 2 | | 100% Up To $1,000 | | Visit Ignition |
| 3 | | 500% Up To $5,000 | | Visit Slots.lv |
| 4 | | 100% Up To $4,000 | | Visit Cafe Casino |
| 5 | | 200% Up To $2,000 | | Visit SlotoCash |
| 6 | | 200% Up To $1,000 | | Visit Cherry Jackpot |
| 7 | | 40% Up To $4,000 | | Visit Lucky Red |
| 8 | | 150% Up To $3,000 Read Review | | Visit Las Vegas USA |
| 9 | | 150% Up To $3,000 Read Review | | Visit Sun Palace |
| 10 | | 100% Up To $1,000 | | Visit CasinoMax |
| Rank | Sportsbook | Highlights | Rating | Visit Site |
| 1 | | 50% Up To $250 Read Review | | Visit Bovada |
| 2 | | 50% Up To $1000 | | Visit BetOnline.ag |
| 4 | | 50% Up To $1000 | | Visit SportsBetting.ag |
| 5 | | 50% Up To $1000 | | Visit MyBookie |
| 6 | | 50% Up To $300 | | Visit Xbet |
| Rank | Poker Room | Highlights | Rating | Visit Site |
| 1 | | 100% Up To $500 Read Review | | Visit Bovada |
| 2 | | 100% Up To $1000 | | Visit BetOnline.ag |
Online Casinos That Accept Minnesota Residents
Minnesota residents who do not wish to play in a retail casino can jump into the games directly on their computers via the Internet.  All of these websites are located offshore, but they are legal to use. There are plenty of game options, too, including every single game you'd find in a land-based Vegas-style casino. If you decide to play with these offshore, online casinos, you will find that they offer their users plenty of options for gaming.
We have found that these casinos make some players wary due to the fact that they are all computer-based and operate outside of Minnesota's regulatory framework, but we can tell you that they all offer high and legitimate payouts, and they are 100% legal and dedicated to fair gaming and customer service above all else. Sites like Café Casino, Ignition Casino, Slots.lv, Lucky Red, BuzzLuck, Manhattan Slots, Old Havana, Aladdin's Gold, and a select few others are the best choices for casino gaming fans in Minnesota.
Online Sports Betting Sites That Accept Minnesota Residents
While Minnesotans wait for their sportsbooks to be state-approved, there are plenty of functionally legal options for online sports betting in Minnesota. We have tested quite a few different sportsbooks, and we have narrowed the list down substantially to show you only the best that we have ever encountered. Those who do not have any experience with sports betting will especially like our favorite sportsbooks, because not only do they have the most varied betting boards, they also offer valuable signup bonuses to their first-time members.
The best sportsbooks in the business, without a doubt, are Bovada, SportsBetting, BetOnline, MyBookie, XBet, BetDSI, and BookMaker. Through these offshore websites, you will always enjoy a first-rate gambling experience. These sites have over 100 years of combined experience serving MN residents, and they each offer cutting-edge technology, data security, and guaranteed payouts. Accept no substitutes!
Online Poker Sites That Accept Minnesota Residents
Poker players can turn to the Internet to participate in the best poker rooms and tournaments by following our advice. For the most part, the sportsbook sites listed above (Bovada et al.) offer live-dealer games where you can play against others in real-time, while the more casino-centric sites (Slots.lv, etc.) offer themed video poker options for more casual poker players.
Online Bingo Sites That Accept Minnesota Players
Bingo players can also participate in some of the finest gambling options, as bingo sites are available online. And thanks to the simplicity of the game, bingo is a great way for new gamblers to learn the ropes of account management and bonus selection.
Of the all-in-one gambling sites, 5Dimes has the best dedicated bingo section, but Downtown Bingo is the top choice for hardcore bingo players and offers the most comprehensive selections of games and bonuses on the Internet.
Is Online Gambling Legal In Minnesota?
Minnesota residents will find that there are very few indications that online gambling is illegal in their state. Minnesota's legislature has yet to actually write a specific ban on online gambling, which generally means that online gambling is legal. We have found no evidence that the offshore gaming options on the Internet are illegal for MN residents, but we do not recommend you do anything you are not comfortable with. In the end, you may want to contact a lawyer for reassurance, as they are the only ones who can actually tell you whether or not you can legally gamble on the Internet in Minnesota.
For a large part of the state's history, Minnesota online gambling laws have really not existed because nowhere in their statutes does it mention the online aspect of gaming. While this is still the case today, it's clear that Minnesota's lawmakers have historically been opposed to the legalization of online gambling. In 2009, the Minnesota Department of Public Safety's Alcohol and Gambling Enforcement Division repeatedly requested that Internet service providers block some 200 online gambling sites. But they received vigorous backlash from the public and ultimately withdrew those requests. Since then, there have been no new laws in the state that attempt to control online gambling in Minnesota. This is in large part because most states rely on federal laws to cover those bases.
These federal laws include the Professional and Amateur Sports Protection Act (PASPA, 1992), the Interstate Wire Act (1961), and the Unlawful Internet Gambling Enforcement Act (UIGEA, 2006). However, PASPA was the most egregious and limiting of these, and it no longer exists, having been overturned by the US Supreme Court in 2018. As a result, MN is free to institute its own sports betting laws, and – provided that goes well – it is easy to see that such newfound enterprise and freedom would be applied to all forms of online gambling throughout the state.
The Wire Act is still in effect, but it does not include Internet gambling in its scope (having been restricted solely sports betting operators), so that law is irrelevant to online gamers. The UIGEA is also still in effect, but it doesn't do much to deter individual players, either, instead going after US-based financial institutions that knowingly process gambling payments. Needless to say, despite the silly rigmarole of all these laws, nobody has ever been arrested for using legal offshore gambling sites in Minnesota.
Is It Safe For Players To Gamble Online In Minnesota?
Without anything specifically keeping Minnesota residents from using online gambling sites, there is no need to have concern of whether it is safe or not to gamble online in Minnesota. Without laws explicitly criminalizing the activity, there couldn't possibly be any enforcement over "illegal" online gambling, and therefore it is safe for all Minnesota residents.
While it is safe to participate in online gambling by playing at offshore casinos and sportsbooks, running an online gambling site is a whole different story. Operating a gambling site for profit from inside the state of Minnesota opens a host of legal issues that the state will relentlessly pursue, so it isn't worth the risk. You should never run a gambling enterprise without all the appropriate state licenses to do so.
Are Online Casinos Legal In Minnesota?
Since online gambling has not specifically been made illegal, you do not actually have to worry about much other than which casino to choose. The statutes are chalk full of words such as "cards and dice" and other clauses that generally cover casino gaming, but the truth of the matter is that you should never have to be worried about complications arising from potentially criminal problems, as online gambling isn't part of the Minnesota law books.
Is Online Sports Betting Legal In Minnesota?
If you want to bet on sports, it is impossible to do so legally in Minnesota without turning to the Internet. This is why it is of key importance that you understand the legal status of online sports gambling in the state. Fortunately, if you use the sites we recommend, you will not be breaking any laws betting on sports in MN.
In the future, thanks to PASPA's overturning, local sportsbooks may offer brick-and-mortar or online sports betting options to MN residents. However, the legislature has made no moves on this to date, and it might be another few years before this industry really takes off in the state.
Is Online Poker Legal In Minnesota?
Minnesota residents are able to build up a bankroll through the poker grind by turning to the digital felts. If you decide you want to participate in the games, you will not face any legal problems simply for anteing up at the tables online. We have found that, despite the laws related to gambling in the state, there is nothing specifically related to online poker in MN.
Online Horse Racing Betting Sites That Accept Minnesota Residents
There are several online horse racing betting sites that accept Minnesota residents, and as long as you are using a racebook on one of the sites we have reviewed on this page, you are sure to have an incredibly enjoyable experience betting on the ponies. The best sportsbooks all have robust racebooks, and they each offer bonuses, rebates, and mobile betting as well. If you are interested in betting on horses, then legal online racebooks are absolutely the way to go.
Can I Bet On Horse Racing In Minnesota?
Minnesota state horse racing laws are covered in Chapter 7869 of the Minnesota state statutes. This section states that pari-mutuel wagering on horse racing is legal in Minnesota, and there are several different tracks at which you may place bets. That being said, these tracks restrict you quite a bit because there are only active for a few weeks each year.
Online gambling sites are way to go for substantially increased horse betting opportunities, and they are 100% legal as long as they are licensed and regulated from outside of the United States. The sites we review on this page all have excellent racebooks that accept Minnesota residents.
Deposit Options For Minnesota Residents
The deposit options for Minnesota residents are dependent on the online site you are frequenting. The top options for most sites in terms of depositing are credit and debit card transactions, but Bitcoin has been making an argument for itself over the last several years, and a huge segment of the industry is listening. Some sites also offer wire transfers and money orders as well, but money sent via these routes typically take much longer to process and show up in your account.
Mobile Gambling Apps In Minnesota
One of the most unique and groundbreaking aspects of the best online gambling sites in Minnesota is the mobile options they now possess. Mobile gambling options in Minnesota allow players to place wagers from the palm of their hands, as everyone can access mobile versions of their top sites from their smartphones or tablets. The convenience of online wagering is already an incredible selling point in and of itself, and mobile betting just makes it that much more compelling. Best of all, these mobile sites are cross-platform, so they work seamlessly on iPhone, iPad, Android devices, Windows Mobile devices, Amazon Fires, and more. If you have an Internet connection and a modern browser, you can gamble online from any of the 10,000 Minnesota shorelines you're exploring.
Legal Minnesota Gambling FAQs
Is Shopping Lines Really Worth It?
Shopping lines is very important when betting in Minnesota (or anywhere else, for that matter). Regardless of what you are betting on, you want to make sure you are getting the best odds for your money. If know you want to bet on a specific game or outcome and you just bet on the first site you see, then you could be missing out on more favorable odds that could win you more money. Never turn down an opportunity to get the most out of the money you are wagering with. For this reason, you should always consider joining multiple offshore sports betting sites.
How Long Is A Furlong?
One furlong is the equivalent to 220 yards, or 1/8 of a mile, on a racetrack. Typically, you will see major horse racing tracks vary from 9 to 12 furlongs, though younger horses might earn their stripes on shorter races in the 6-furlong range.
How Many Furlongs Is Churchill Downs?
The Kentucky Derby at Churchill Downs is 1.25 miles long, which equate to 10 furlongs (or 2,012 meters). It is the second longest track in the Triple Crown series, as it is a half-furlong longer than the Preakness but shorter than the 12-furlong Belmont Stakes.
Can I Bet On Sports and Casino Games On The Same Site?
Yes, this is one of the best things about online gambling sites. The top offshore options provide sportsbooks, casinos, poker rooms, and racebooks so that you can sign in once and control all of your various bets from the same easy-to-use account dashboard.
Will I go to jail for online gambling in Minnesota?
Hundreds of thousands of online gamblers come from Minnesota, and we have never once heard of one of these players being arrested for gambling online. This puts you in a solid position, as you do not have to worry about anything other than playing you favorite games and wagering on your favorite players and teams. Arrest is simply not a realistic risk. You can easily play all the games the top sites have to offer without having to worry about these legal problems. Plus, Vikings don't ask for permission!