Legal Online Gambling For New Hampshire Residents
While online gambling is not yet legalized in New Hampshire, residents of NH do have various options at their disposal when it comes to gambling online. The legalities of online gambling in New Hampshire are regularly debated, and we are here to clear up a few misconceptions. While state-sponsored sports betting is legal in New Hampshire, that has not extended to all forms of gambling. New Hampshire has some of the strictest gambling laws in the US, with zero commercial or tribal casinos located in the state. Currently, the only forms of online gambling through the state are the DraftKings online sportsbook, and the state lottery. Fortunately, there are international online betting sites that are available to NH residents. We have also included some information regarding what gambling options exist and even how old you have to be before you can start playing.

Online Gambling Age For New Hampshire Residents
Before you start gambling, you may want to be privy to the age requirements in place. It would be imprudent to just jump into play without being of legal age, and this is not something we can recommend. If you are 18, you can play most options - poker, bingo, and the state's lottery. You can even bet on horses at the track. As there are no commercial or tribal casinos in New Hampshire, there is no brick-and-mortar location inside the state borders to enjoy casino gaming at any age.
All that said, you can play all the casino amusements you wish – for real money! – at legal offshore gambling sites, and you can also take part in sports betting the same way. Best of all, whereas the legal age to gamble or bet on sports is typically 21 in most states that offer these pastimes, all the best online gambling sites only require their customers to be 18 to participate in the full gamut of their gambling choices.
New Hampshire Online Gambling Laws
While New Hampshire's code of laws does indeed have a whole section related to gambling, they have not actually covered online gambling on their list of statutes. New Hampshire has not made any law specifically banning online gambling, but they have not written any law specifically authorizing online gambling either. The only thing they have approved is online sports betting, which is available through the DraftKings sportsbook.
Luckily, there are no laws in place that prevent residents or visitors from using international online betting sites. Even if NH had laws in place banning online gambling providers from operating in the state, those providers operating outside of the US entirely would not be in violation of domestic American laws. For more information on NH gambling law, be sure to read Section 647:2 of the state's Criminal Code and check out the mandates of their Gaming Regulatory Oversight Authority.
Gambling Sites That Accept New Hampshire Residents
Residents of New Hampshire will have various options available for gambling on the Internet. These include, but are not limited to, sportsbooks, casinos, poker rooms, and bingo halls. Some of the sites out there even combine multiple forms of gaming, if not all of them. No matter what you are looking to play, we are sure you will find a site that hosts your game of choice. Below, you can find a list of the best New Hampshire gambling sites in 2021 for all types of betting.
Bovada: One Of The Safest Sportsbooks Online For Decades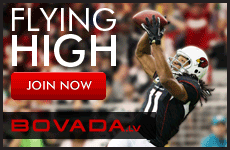 New Hampshire's state motto is "Live free or die." Well, I don't know about the "die" part, but I think everyone can relate to the first part. I live free by pursuing my interests in a safe and moral manner, and one of those interests is making bets at Bovada. Bovada was named the best overall gambling site in New Hampshire, an accolade it seems to get almost every year. You might be thinking, "I've never heard of Bovada before, is it legal to bet online?" The answer to this question: Yes, it is absolutely legal to place bets at Bovada. This legal gambling site is based out of Kahwanake, Canada, and has over 20 years' experience. They have gained a trustworthy reputation through outstanding customer service, guaranteed payouts, and dedication to being the best in the business at everything they do.
Bovada has all the deals, specials, and bonuses that make sure you get the most bang for your buck. That's why Bovada has been around so long – it wouldn't stand the test of time if it wasn't living up to its reputation. New NH members qualify for Bovada's $250 welcome bonus to put towards their sportsbook bankrolls, and there are plenty of other bonuses available, too. If you get your friends to join, you'll qualify for Bovada's refer-a-friend bonus, which can earn you up to $100 in free-plays for every friend you get to sign up. If you are new to betting, take a minute to look around Bovada before signing up, and you will be convinced. I'm positive you will find something that piques your interest. Like another famous saying goes, "You only live once!" Go To Bovada!
BONUSES:
50% - $250 BONUS!
ACCEPTED IN:
No DE, MD, NJ, NV
BetOnline: Pull Your Phone Out And Make A Bet From Anywhere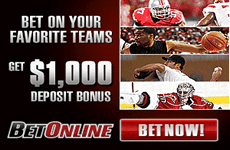 If you are from New Hampshire and are looking for something fun to do, I suggest you check out BetOnline. BetOnline is a premier all-in-one gambling site for novice bettors and seasoned vets alike. BetOnline is completely legal and well-respected in the US and international gaming communities. BetOnline accepts new members from the New Hampshire area as well as the rest of the US, and tens of thousands of NH residents call it home every sporting season. NH residents have to be 18 years of age or older to sign up and make wagers at BetOnline, and newcomers who join today can take advantage of BetOnline's 50% deposit match welcome bonus worth up to $1000.
BetOnline has the biggest collection of wagering options you'll find anywhere. From sports betting on your favorite teams and placing entertainment and political bets to playing poker, cranking the slots, enjoying classic table games, and even betting on the ponies. If you can bet on it, you can bet on it online at BetOnline! Go To BetOnline!
| Rank | Casino | Highlights | Rating | Visit Site |
| --- | --- | --- | --- | --- |
| 1 | | 100% Up To $3,000 Read Review | | Visit Bovada |
| 2 | | 100% Up To $1,000 | | Visit Ignition |
| 3 | | 500% Up To $5,000 | | Visit Slots.lv |
| 4 | | 100% Up To $4,000 | | Visit Cafe Casino |
| 5 | | 200% Up To $2,000 | | Visit SlotoCash |
| 6 | | 200% Up To $1,000 | | Visit Cherry Jackpot |
| 7 | | 40% Up To $4,000 | | Visit Lucky Red |
| 8 | | 150% Up To $3,000 Read Review | | Visit Las Vegas USA |
| 9 | | 150% Up To $3,000 Read Review | | Visit Sun Palace |
| 10 | | 100% Up To $1,000 | | Visit CasinoMax |
| Rank | Sportsbook | Highlights | Rating | Visit Site |
| 1 | | 50% Up To $250 Read Review | | Visit Bovada |
| 2 | | 50% Up To $1000 | | Visit BetOnline.ag |
| 4 | | 50% Up To $1000 | | Visit SportsBetting.ag |
| 5 | | 50% Up To $1000 | | Visit MyBookie |
| 6 | | 50% Up To $300 | | Visit Xbet |
| Rank | Poker Room | Highlights | Rating | Visit Site |
| 1 | | 100% Up To $500 Read Review | | Visit Bovada |
| 2 | | 100% Up To $1000 | | Visit BetOnline.ag |
Online Casinos That Accept New Hampshire Residents
Online casinos are some of the most fun and exciting ways for you to gamble online. While NH does not have any state-sponsored options, there are plenty of international online casinos that are legal and safe to use. Our top choices are home to some of the highest jackpots, biggest bonuses, and best games anywhere, land-based or Internet-based alike. No matter what form of game you are looking for, these casinos will host it. Table games, slots, video poker, keno, and many more are all found through these gambling sites.
The top services currently accepting NH residents are online casinos like Lucky Red, BuzzLuck, High Noon Casino, Aladdin's Gold, Slots.lv, and more. You really can't go wrong with any of these excellent gambling services, and signing up is fast, free, and 100% legal.
Online Sports Betting Sites That Accept New Hampshire Residents
Sports betting is pretty much only available through the Internet in New Hampshire. With the Professional and Amateur Sports Protection Act (PASPA) finally being overturned by the Supreme Court, land-based sports betting could become a reality in the state in the future. Currently, the DraftKings online sportsbook is the only state-approved online sportsbook in NH. The DraftKings book has great reviews, and can be accessed via the DK app or online website.
Those looking for an additional way to bet on sports without driving out of state to a locale that offers such a product at a brick-and-mortar venue can access the international online sportsbooks. Sites like Bovada, BetOnline, SportsBetting, MyBookie, and XBet are all legal to use in NH and have been for years. These sites have been serving NH sports bettors for the better part of a combined hundred years, and over 100,000 state residents use them each and every year.
Online Poker Sites That Accept New Hampshire Residents
Various poker rooms are available online, and we have tested many of them in order to make sure our readers are going to be betting only through safe and secure gambling locations. Our top poker room picks have all been individually tested by industry watchdog organizations for quality and fairness, and only those that passed with the highest marks made it into our midst.
As a rule, you'll typically find live-dealer, multiplayer online poker rooms at the above sports betting sites. However, many players prefer video poker games, which offer a more solitary, themed experience. For these players, the casino-centric sites – Lucky Red, Aladdin's Gold, etc. – are the best choices, as they generally have more expansive options when it comes to these sorts of games.
Online Bingo Sites That Accept New Hampshire Players
While bingo is not the most popular form of gambling, particularly among the younger crowd, it is still a great way for players to earn some money while gambling online. If you are going to play bingo online, make sure you do so through sites that will legitimately pay you. If you decide to run with the bingo halls we have highlighted, we can assure you that you will be treated fairly every step of the way. The best all-in-one gambling site that has a bingo hall is 5Dimes, but for a hardcore bingo experience – and the best daily bonuses in the business – you'll want to check out Downtown Bingo.
Is Online Gambling Legal In New Hampshire?
Online gambling is legal in New Hampshire as long as you use a reputable site. There are no laws written in the New Hampshire Revised Statutes that prohibit gambling at an offshore online gambling site. Like most states, there is no actual mention of the internet when it comes to New Hampshire gambling laws. That being said, you should never go to a local bookie to place bets because there are laws that strictly prohibit the activity. Using a trustworthy site is the best way for NH residents to start gambling on horses, sports, and casino games. You can use any of the sites that we recommend when you want to have an enjoyable and completely legal online gambling experience.
Who Is Allowed To Gamble Online In New Hampshire?
Anyone who is at least 18 years old can gamble online while living in the state. This is the arbitrary age that most online gambling sites that welcome New Hampshire residents adhere to, even if New Hampshire law says otherwise. Failure to meet these basic guidelines will not land you in legal trouble, at least not when gambling online, however they could result in an underage player being denied payment when it comes time to verify identity and all that good stuff that gambling sites typically require. If you don't want your funds confiscated and your account banned, never gamble at online, offshore sites while under the age of 18.
Are Online Casinos Legal In New Hampshire?
New Hampshire residents can legally participate in online casinos, as there are many legal Internet-based casinos in New Hampshire. You will not be faced with arrest if you decide to play through these gambling sites, though there is still a risk - the ever-present risk of losing in any casino, be it online or at live-based gambling location. If you can come to terms with gambling's inherent risks, you have nothing else to worry about.
Is Online Sports Betting Legal In New Hampshire?
Yes, you can legally bet on sports in New Hampshire through the state-sponsored DraftKings sportsbook or through international online sportsbooks. The DraftKings book was opened in 2019 and features odds on all of the major sports around the world. The international sites have been around for decades, and also provide top-notch sports betting services. Both forms are legal, so be sure to explore all of your options to pick the best site for you.
Is Online Poker Legal In New Hampshire?
Even though poker has been declared a game of skill rather than a game of chance, some are still under the impression that it is illegal to play online. This is simply not the case, as even federal attorneys have stated that online poker is not a crime. You will not face prosecution for playing this game online.
Can I Bet On Horse Racing In New Hampshire?
You can bet on horse racing in New Hampshire without issue. Pari-mutuel horse racing is legal in the state, though there are only a small number of tracks to choose from. Horse enthusiasts in the state thus mostly turn to horse racing betting sites where there are multiple ways to bet on the ponies and earn cash.
With online racebooks (the best of which are located at our listed online sportsbook sites), You instantly have access to more than 80 different Thoroughbred and harness racetracks across the country and even internationally. You can still spend the day at the races, as there are plenty of live horse racing streams on the Internet. Additionally, horseplayers can view horse racing results and get free horse picks when using an online racebook, as well as bonus rebates for every wager placed.
New Hampshire Gambling FAQS
How Do Deposits Work At Online Gambling Sites?
The deposits at online gambling sites work the same regardless of if you are wagering on the Patriots betting odds, betting the ponies, or playing Rise of Poseidon slots (or doing any of the thousands of other things that these sites offer). You will be prompted to make a deposit after creating your account, and there are plenty of funding options to choose from via the Cashier page. The most popular deposit method is Bitcoin, largely because of its reliability and speed. You can transfer up to $25,000 in a single transaction at most sites, and there are never any deposit (or withdrawal) fees. Just transfer your BTC, and you can begin wagering in less than 15 minutes.
If you are interested in high roller gambling, you can use bank wire transfers which have no maximum. Your bank will charge a fee to initiate the transfer, but it is usually minimal compared to the amount you are sending. Other common deposit options include money orders, MoneyGram, Western Union, and checks. You can verify the various fees, minimums, and maximums with your preferred site's cashier service.
Do Bitcoin Sportsbooks Offer Mobile Betting?
The best sports betting sites are always up to date with the latest technology, and that is why the best Bitcoin sportsbooks always offer mobile betting. Mobile betting allows you to wager on your favorite sports from anywhere, at any time. With a few quick swipes on your iPhone or Android device, you can make a Bitcoin deposit, claim a bonus, and bet on the NFL or any other sport. The mobile platforms at Bitcoin sportsbooks are compatible with a wide range of devices, including iPhones, Androids, Blackberry devices, iPads, Amazon Fire tablets, and Windows phones and tablets. You can join a BTC online sportsbook and start betting on sports from the palm of your hand. Most of these sites also accept alternative cryptocurrencies called altcoins, including popular ones like Ethereum, Litecoin, Bitcoin Cash, DASH, and more.
How Can I Legally Bet On The 2017 Kentucky Derby?
You can legally bet on the Kentucky Derby at virtually any online racebook of your choosing. The first leg of the Triple Crown is highly-anticipated every year, which is why you will start to see Kentucky Derby betting odds well before the first weekend in May. Online racebooks will also have the latest horse racing news, insights, and free horse picks to help you make strategic wagers. You can even start betting on the Kentucky Derby prep races leading up to the main event. When you want Derby Day betting odds without having to travel to Churchill Downs, you can use legal horse racing betting sites.