Legal Online Gambling For Ohio Residents
Legal online gambling in Ohio is not hard to come by with several gambling sites to choose from. Each of these Ohio gambling sites caters to their users trying to ensure that they have the best possible experience regardless of which form of gambling they are playing through bonuses, reward programs, and other great benefits. Some of the gambling sites in Ohio that you can use include sportsbooks, racebooks, casinos, and poker rooms amongst several others.
How Old Do I Have To Be To Gamble In Ohio?
In order to gamble of any sort in Ohio, you need to be at least 21 years of age to use casinos, poker rooms, and sportsbooks. If you want to play bingo or bet on the horses, you will need to be 18 years old.
Ohio Online Gambling Laws
The online gambling laws in Ohio are pretty straight forward in terms of what legal online gambling you can do in Ohio. To put it simply, you can use any Ohio legal gambling site that you find, especially the ones that we touch on, on this page. That is because they each have rules and regulations that are set in place by themselves without any U.S. laws stopping them.
As far as state-regulated gambling as a whole in Ohio, there are 11 retail casinos, three retail racebooks, and both online and retail sports betting that launched in January 2023.
Gambling Sites That Accept Ohio Residents
You have several gambling sites in Ohio that you can pick and choose from ranging from online casinos to poker rooms, online sportsbooks, and even online bingo halls. Each of the legal Ohio gambling sites comes with different perks and benefits to using them as well which are mostly highlighted by promotions.
Bovada: Online Casinos And Sports Betting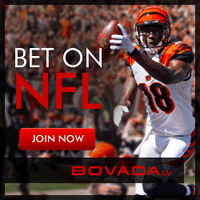 On top of having sporting events for its fans to place their bets on, with the online casino on Bovada, there is nothing that you can't place a wager on your favorite online betting site. Having a live dealer there makes you feel as if you are actually at a casino! All the things you can do at a casino you can do on Bovada and all you will be doing are sitting at home on your computer or your mobile device. Already having mobile betting, being able to do casino online is a huge bonus for those players who have an interest in both sports and casino gambling. Make sure to sign up and check out all the betting options included the online casino. Go To Bovada!
BONUSES:
50% - $250 BONUS!
ACCEPTED IN:
No DE, MD, NJ, NV
BetOnline: Future Bets On Ohio St. Repeat Attempt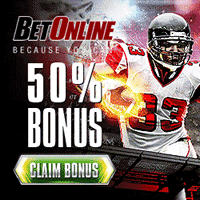 An explanation of Ohio's state flag starts with the blue triangle, which represents the hills and valleys of Ohio's landscape, and the stripes are its roads, rivers, and streams. The 13 stars around the "buckeye" of the flag represent the original states of the Union. If BetOnline had its own flag like Ohio, then it would probably boast a design representing its status as one of the original and best overall gambling sites in the betting community. Maybe it would be a great white with a razor blade (a sharp shark, get it?). At any rate, BetOnline is a legal betting site for all Ohio residents. BetOnline takes its players' respect and loyalty seriously, and that's why it's been around for decades. Operating out of Panama City in the Republic of Panama, BetOnline is among the most trusted overseas gambling sites in the US, with millions of members nationwide.
BetOnline is available to all OH bettors that are over the age of 18. Ohio residents have been enjoying BetOnline's many betting options for years, and those options have grown considerably over time. BetOnline offers the most comprehensive sports wagering options, live poker tables, casino games, and pari-mutuel racebook bets in the industry. Player testimonials speak for themselves, so raise your white flag and give in to BetOnline, simply the best and most original gambling destination on the Internet. New OH members who sign up ASAP can take advantage of BetOnline's 50% match bonus on their first deposit, which can be worth up to $1000 in free-plays. That's high roller territory! Go To BetOnline!
| Rank | Casino | Highlights | Rating | Visit Site |
| --- | --- | --- | --- | --- |
| 1 | | 100% Up To $3,000 Read Review | | Visit Bovada |
| 2 | | 100% Up To $1,000 | | Visit Ignition |
| 3 | | 500% Up To $5,000 | | Visit Slots.lv |
| 4 | | 100% Up To $4,000 | | Visit Cafe Casino |
| 5 | | 200% Up To $2,000 | | Visit SlotoCash |
| 6 | | 200% Up To $1,000 | | Visit Cherry Jackpot |
| 7 | | 40% Up To $4,000 | | Visit Lucky Red |
| 8 | | 150% Up To $3,000 Read Review | | Visit Las Vegas USA |
| 9 | | 150% Up To $3,000 Read Review | | Visit Sun Palace |
| 10 | | 100% Up To $1,000 | | Visit CasinoMax |
| Rank | Sportsbook | Highlights | Rating | Visit Site |
| 1 | | 50% Up To $250 Read Review | | Visit Bovada |
| 2 | | 50% Up To $1000 | | Visit BetOnline.ag |
| 3 | | 50% Up To $1000 | | Visit SportsBetting.ag |
| 4 | | 50% Up To $1000 | | Visit MyBookie |
| 5 | | 50% Up To $300 | | Visit Xbet |
| Rank | Poker Room | Highlights | Rating | Visit Site |
| 1 | | 100% Up To $500 Read Review | | Visit Bovada |
| 2 | | 100% Up To $1000 | | Visit BetOnline.ag |
Online Casinos That Accept Ohio Residents
There is a large number of online casinos in Ohio that you can use and they are meant to give you the real Vegas feeling with all that they have to offer. One, in particular, Ignition Casino, has hundreds of slot games to choose from in addition to live dealer table games as well as big paying promotions that can earn you up to $3,000 in risk free funds.
Ignition Casino
Bovada Casino
Slots.lv
Café Casino
Sloto'Cash
Lucky Red Casino
Online Sports Betting Sites That Accept Ohio Residents
Ohio online sportsbooks are easy to come by and all of them have some great odds to get in on as well as plenty of other benefits. Looking at Bovada sportsbook specifically, they are often considered as one of the best Ohio online sportsbooks with several hundreds of odds to choose from aside from the normal gamelines. You can bet on player props for both professional and collegiate games, game props, and futures odds just to name a few. One of their top bonuses that people use includes their $250 first deposit match.
Bovada Sportsbook
MyBookie Sportsbook
BetOnline Sportsbook
XBet Sportsbook
SportsBetting Sportsbook
Online Poker Sites That Accept Ohio Residents
Ohio online poker sites are extremely beneficial as you will never have to wait any lines or deal with crowded tables when playing. There are always seats available at any of the online poker rooms that have cash games. As for their tournament, you won't be disappointed either as some sites, like Ignition poker room, pay out well over $1 million each year in tournament winnings.
Ignition Poker Room
Bovada Poker Room
BetOnline Poker Room
Online Bingo Sites That Accept Ohio Players
Playing bingo in Ohio can be done with several legal bingo sites. These sites offer more than just one game of bingo also. They have bingo games with different themes and objectives so that you remain entertained the whole way through your game. One of the top online bingo sites in Ohio has to be Slots.lv and based on their promotion alone that gives you up to $1,000 for signing up.
Slots.lv
Cherry Jackpot
Club World Casino
Aladdin's Gold
Is Online Gambling Legal In Ohio?
Yes, online gambling is legal in Ohio when using any of the sites that are on this page. They each have their own rules and regulations in place that make them legal to use not only in Ohio, but throughout the United States as a whole. With their own regulations in place, you will not have to worry at all about getting in any sort of trouble.
Can I Use Online Casinos In Ohio?
Yes, you can, and without any hesitation whatsoever. There is nothing that is stopping you from using the online casinos that are available in Ohio as they are legal based on both their own regulations and there not being anything in place by the federal government that says otherwise.
Is Online Sports Betting Legal In Ohio?
Online poker is legal in Ohio only through one of the sites that are listed on this page. There are no state-regulated online poker sites that operate in Ohio right now. The online poker rooms you'll find here though are legal to use in the eyes of the United States government without any laws prohibiting you from using them.
Is It Safe To Wager On The Buckeyes While Living In Ohio?
Online sports betting on the Ohio State Buckeyes is definitely a viable option for those who live near the campus or even in the state. Bottom line, there are several sports betting sites that allow residents from Ohio to join and wager on anything they want, including Buckeye football, basketball, and more.
If we had to choose just one, we'd have to recommend SportsBetting, just because of their lifetime deposit bonus promo that all players get right now when they sign up. Plus, Sportsbetting.ag makes it very easy to use their site by having easy-to-read lines, a vast help section (for new bettors), and deposit methods that will work for anyone living in Ohio, regardless of their financial situations. And you will be happy to know that SportsBetting is located off of US soil and therefore is safe and legal for users in Ohio.
All that said, there is no reason to limit your options to a single sportsbook. By joining multiple books, you give yourself an immediate gambling edge, because you can effectively shop lines for the very best deal available on every bet you want to make.
Is Online Poker Legal In Ohio?
Residents of Ohio will find that online poker is legal in Ohio, based solely on the premise that that which is not illegal is in fact legal. Ohio residents have access to a number of types of poker, including Texas Hold 'em and various other popular games like Seven Card Stud, Omaha, Razz, HORSE, and the like.
What Online Ohio Racebooks Can I Use?
There are several online racebooks in Ohio that are available to you and they have tons of different horse races that you can bet on and accept plenty of different horse racing bets as well. Any of the odds that you would find at a retail racebook can be found on all of the legal Ohio racebooks.
Can I gamble on Horse Races in Ohio?
You can gamble on horse racing in Ohio, though if you are doing it within the state, your options are somewhat limited. There are several horse racing tracks in the state of Ohio that accept wagers for races, but it's important to remember that those tracks have seasons, and they do not run races year-round. If you are looking for a consistent option to bet on horse races in Ohio, then online racebooks have to be the way to go. As long as they operate outside of the United States, which all the top sites do, then you are safe to enjoy horse gambling activities at the sportsbook sites of your choice.
Mobile Gambling Apps In Ohio
While none of the Ohio gambling sites on this page have downloadable apps, to use them, all you'll need to do is enter the sites URL and log in on your mobile device as you would on a computer. There is a benefit though to not having to download an app and that is that it won't take up any space on your device. That said, you can enjoy using your favorite gambling sites from anywhere. These are some of the devices that you'll be able to use them with:
iPhone
Android
Samsung Galaxy
iPad
LG Wing
Microsoft Surface
Ohio Betting FAQ's
Is fantasy sports betting legal in Ohio?
With the passage of HB 132 in December 2017, the Ohio legislature formally legalized Daily Fantasy Sports (DFS) in the state. While DFS services are available in most states, the majority of those have no specific laws concerning the practice. Ohio, however, has made it clear that DFS sites and services are 100% legal in the state. With PASPA's elimination and this DFS precedent, it seems like only a matter of time before OH also formally legalizes full-blown online and land-based sports betting in the state as well.
What is live betting?
Live betting is offered at most of the top sportsbook sites, and it allows players to place bets on games or matches that have already begun. If you aren't as confident as you would like to be when deciding on betting on an event, you can wait and see how the momentum of the game is going before placing your wagers. It's kind of like hedging your bet in this regard, but live betting (aka in-game betting) can also allow you to wager on fleeting in-game events, like whether or not a pitcher's next toss will be a ball or a strike. These kinds of live prop bets have become extremely popular over the last few years, and all can be accessed by your mobile device anywhere you've got a reliable Internet connection.
How old must I be to gamble online?
Most of the more popular online gambling sites require their players to be at least 18 years old, but players should check with their state gambling laws to see what their age requirements are if they have concerns. The legal gambling age in Ohio is 21 years old for casino gaming on land, but it is technically legal to wager online at offshore casinos and sportsbooks once you've turned 18.
Will I go to jail for online gambling in Ohio?
Nowhere in the state of Ohio's statutes is there a law that says online gambling is a crime. Additionally, we have seen no evidence that anyone has ever been arrested for online gambling in the state. If you are really afraid of going to jail for online gambling in Ohio, you can relax - this is not a crime. Still, you can always consult a local lawyer to put any legal concerns to rest.