Legal Online Gambling For Utah Residents
When it comes to legal gambling for Utah players, the state does not offer many options. This is where legal Utah gambling sites come in handy. What we have to show you is the legalities of online gambling in Utah in 2023, as well as where you can gamble if you decide to. We are sure you can find an option that will fit your needs, which is a good thing due to the fact that there are no land-based gambling options in Utah. The Internet is the only option available to those residing in or visiting Utah have if looking to gamble online legally.
Online Gambling Age For Utah Residents
Before you get involved in USA legal gambling, it is important to have understanding of the gambling age in your state. For Utah residents, there is no regulated market, meaning no laws in place. Therefore, most legal gambling sites that take Utah players require that you are at least over the age of 18 but some may require to be 21 and older.
Utah Online Gambling Laws
The laws of gambling in Utah have made it so there are no options for you to play in the state, in live settings at least. The legislature has, however, done nothing to make it a crime for you to play the games online. With a lack of any clear-cut law, it is very difficult to actually to determine the legal status of online gambling in Utah. Suffice it to say that nobody has ever faced negative legal consequences for doing so, and there are nearly half a million avid gamblers in the state that use these online sites every year. For more information about Utah's staunch and restrictive gambling laws, please read over Utah Code 76-10-1102 et seq. here.

Gambling Sites That Accept Utah Residents
Utah residents that don't want to travel to the neighboring state of Nevada to gamble will find the internet features a plethora of gambling sites ranging from sports betting, to online casinos, and poker rooms. On this page, you'll find the best gambling sites on the internet that we thoroughly vetted to ensure the sites are providing a fair and legal gambling environment for all involved.  The sites we have listed on this page are the best gambling sites accepting players based in Utah. We claim they are the best for various reasons, including big bonuses, easy deposits, favorable odds, and fair play. Fair play and integrity were the two main points of scrutiny when we came to each of these gambling sites, so you can always know that you are going to enjoy a fluid gaming experience while never having to worry about not receiving payouts or breaking local laws. For more casino-centric experiences that focus just on table games and video poker, you can check out sites like Lucky Red, the High Noon Casino, Slots.lv, Aladdin's Gold, and other service providers with reputations for fairness, prompt payouts, great bonuses, and awesome customer service.
Bovada - Online Casino With Live Dealer Games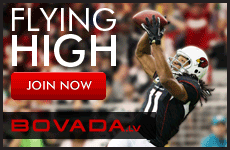 Your best way to collect more money is via Bovada. These online sportsbooks aren't just for sports! You have plenty of things you can bet on and there is also an online casino there as well for those who like to go to casinos! All the things you can do at the Las Vegas and out of state casino, you can do on the online casino here on Bovada! This is a great bonus and it includes having a live dealer! This is great and you still have blackjack and slots that you can play. There are plenty of games that can be played at this online casino feature! This is where you have the chance to capitalize on making a lot of money. Go To Bovada!
BONUSES:
50% - $250 BONUS!
ACCEPTED IN:
No DE, MD, NJ, NV
| Rank | Casino | Highlights | Rating | Visit Site |
| --- | --- | --- | --- | --- |
| 1 | | 100% Up To $3,000 Read Review | | Visit Bovada |
| 2 | | 100% Up To $1,000 | | Visit Ignition |
| 3 | | 500% Up To $5,000 | | Visit Slots.lv |
| 4 | | 100% Up To $4,000 | | Visit Cafe Casino |
| 5 | | 200% Up To $2,000 | | Visit SlotoCash |
| 6 | | 200% Up To $1,000 | | Visit Cherry Jackpot |
| 7 | | 40% Up To $4,000 | | Visit Lucky Red |
| 8 | | 150% Up To $3,000 Read Review | | Visit Las Vegas USA |
| 9 | | 150% Up To $3,000 Read Review | | Visit Sun Palace |
| 10 | | 100% Up To $1,000 | | Visit CasinoMax |
| Rank | Sportsbook | Highlights | Rating | Visit Site |
| 1 | | 50% Up To $250 Read Review | | Visit Bovada |
| 2 | | 50% Up To $1000 | | Visit BetOnline.ag |
| 3 | | 50% Up To $1000 | | Visit SportsBetting.ag |
| 4 | | 50% Up To $1000 | | Visit MyBookie |
| 5 | | 50% Up To $300 | | Visit Xbet |
| Rank | Poker Room | Highlights | Rating | Visit Site |
| 1 | | 100% Up To $500 Read Review | | Visit Bovada |
| 2 | | 100% Up To $1000 | | Visit BetOnline.ag |
Online Casinos That Accept Utah Residents
Using legal online casinos in the only current option for gamblers in Utah. There are thousands of online casinos that would likely accept players from Utah, but we've found three of the industry-leading online casinos. These online casinos are 100% safe and legal for those residing in or visiting Utah to use and feature classic casino games like blackjack, poker, craps, and slots. At Bovada, Slots.lv, or Café Casino Utah gamblers can get the Vegas-style casino experience without ever having to leave Utah or the comfort of their homes.
Online Sports Betting Sites That Accept Utah Residents
Regulated sports betting might never come to residents in Utah as lawmakers don't seem to have legalizing any form of gambling on their priorities list in legislative sessions scheduled for 2023. This has allowed online sportsbooks to become a legal gambling avenue for Utah sports bettors for decades. Narrowing down the available legal sports betting sites for Utah residents there are three that stick out from the rest of the pack. MyBookie, Bovada, and BetOnline all have mobile betting features that allow Utah sports bettors to gamble on the latest odds from their Apple or Android devices. Whether wanting to bet on the Utah Jazz or the Utah Utes college football team, all three of these online sports betting sites provide futures, game lines, and player prop on those local teams and more.
Online Poker Sites That Accept Utah Residents
Dedicated online poker rooms are not something that we promote very often, as most of them are simply not worth it. If you are going to play legal online poker, however, there are definitely still sites out there that will allow you to do so in a safe and secure environment. In addition to the aforementioned sportsbooks, which all have live-dealer and multiplayer poker tables and tournaments, you can elect to go with one of the dedicated casino sites (Lucky Red, etc.) if video poker games are more your bag. Regardless of which site or style you choose, of course, you're guaranteed to have a good time.
Online Bingo Sites That Accept Utah Players
Bingo players in Utah need not fret about not having a place to win real money playing bingo at. Since bingo halls are not permitted by law in Utah the internet is the go-to place for bingo players in the Beehive State. Bovada has an industry-leading bingo suite that allows players to decide between playing 30-ball and 80-ball bingo. Even if those bingo options do not satisfy a player at Bovada, users can further customize their bingo experience. In total, at Bovada there are 11 different ways for Utah residents to play bingo using the internet. That type of variety is not found at other online bingo sites.
Is Online Gambling Legal In Utah?
Players are always asking the question, "Is online gambling legal in Utah". While the laws make it illegal for land-based gambling operations in the state, there is nothing that has been codified into the law that makes legal Utah gambling sites unavailable.
Gambling laws in Utah are some of the most detailed there are in the country, as UT is one of only two states that does not have any form of legal gambling whatsoever. While the law makes it clear that it is illegal to "promote gambling" in the state, this is directed at advertisers and operators, not individual players. Still, many who read UT's gambling laws assume that players are also targeted, and depending upon one's interpretations, this could be construed to be legitimate. Again, if you have any questions or concerns re the legality of Utah gambling over the Internet, you should consult a local lawyer.
That being said, players can still enjoy legal online gambling sites as long as they are using licensed and regulated options that operate outside of the country. While Utah has plenty of laws that ban forms of gambling, one thing they don't mention is the word "online" or "Internet" gaming.
As far as federal laws go, the Professional and Amateur Sports Protection Act (PASPA, 1992), which was only recently struck down by the Supreme Court, is why US gambling sites were largely located offshore. However, despite PASPA – and even with PASPA now no longer in effect – it seems unlikely that the UT legislature would have made gambling and sports betting legal in the state any time in the past. Still, a residual side effect of PASPA is that, as long as a gambling site is operating offshore and provides legal gambling for Utah players, you are safe to enjoy that site.
Is Bovada Legal In Utah?
Yes, Bovada is legal in Utah and offers many different ways to gamble online. Recently, Bovada has lifted its restrictions against residents of Utah and now everyone who wants to play in the company's online casino, bet sports in their sportsbook, or match skills in their online poker rooms are allowed to do so. This is awesome news, as Bovada is a recommended gambling site for any of the aforementioned gaming types, plus they have one of the biggest international racebooks of any gambling site that takes Utah residents.
Are Online Casinos Legal In Utah?
You will probably never see a live, land-based casino in Utah, but you will have access to online casinos as long as you have an Internet connection. No clear-cut law has been written regarding online casinos, so the question of their legality is not one that can be answered with 100% certainty. The one major takeaway here is that nobody has ever been fined or arrested for gambling over the Internet in UT, and you are not likely to be the first.
Is Online Sports Betting Legal In Utah?
The laws regarding sports gambling are fairly confusing. Beyond federal laws, there are also the various state laws that pertain to land-based gambling. Depending on your legal interpretation of the Utah Code, online sports betting could be legal in the state. However, even if it technically isn't, we can basically assure you that you are not going to jail for betting on sports on the Internet, so do not worry about this.
Is Online Poker Legal In Utah?
Utah residents who are looking to play a game of poker may not even legally congregate in their homes to play the games (but they do this anyway). That said, not everyone has a reliable poker night on their schedules, and many folks won't find real-life players to play against locally. Naturally, the Internet serves as a viable alternative due to there being no UT laws that make it a crime for you to play poker over the Internet. With a huge selection of live-dealer and real multiplayer poker tables and tourneys, online poker in UT is the only way to play!
Online Horse Racing Sites For Utah Residents
Those of you still looking for legal horse racing sites that accept Utah residents to use should make sure you are getting the most out of the site you choose. All of the best options provide players with odds on every big race there is as well as a solid listing of some smaller race tracks as well. You also want to make sure you are being offered opportunities to win back money, whether it be in bonus form or a rebate option. These are standard benefits from the top sites so don't miss out on what you are owed.
Can I Bet On Horse Racing In Utah
Betting on horse racing in Utah is permissible if you are using an offshore online gambling site. We mentioned already that Utah does not allow any form of gambling at all, so your horse racing betting has to be enjoyed at an offshore site where the state laws do not have any jurisdiction. The best online racebooks for UT residents are located at the big sportsbooks that serve the region, including Bovada, SportsBetting, and the others mentioned above.
Best Funding Methods For Utah Online Gambling Sites
The best funding methods at legal gambling sites that allow Utah players is really all about what your preference is. The most popular methods for depositing money into your account are typically debit and credit card deposits, but Bitcoin and money orders are gaining more and more popularity as time goes on. Again, though, it's all about personal preference, so you have to decide which method is best for you. For us, Bitcoin is the clear winner, but that might not be best for everyone. Fortunately, all the best UT betting sites have several different options suitable for players of all financial means.
Mobile Gambling Apps In Utah
There are mobile gambling options in Utah at each of the sites that we have provided on this page. Mobile gambling allows bettors to place their wagers from their iPhones, Android phones, iPads, or other tablets. As if gambling on the Internet wasn't already as convenient as you could imagine, mobile gaming just upped the ante bigtime! Best of all, you don't even need to download an app to use these on-the-go features. Instead, just visit your online gambling site of choice from your mobile device's browser, and you'll automatically get free access to the most efficient betting experience imaginable. With mobile betting, you can do everything you can do on the desktop site, just more quickly and more conveniently, from anywhere you happen to be.
Utah Gambling FAQ's
Is there a fee for using my credit card?
Most sites do not have any deposit fees, but there are likely going to be small fees for using a credit card when withdrawing money at a gambling site. Some card providers will also charge a small international transaction fee of 3% to 7%.
Is gambling on the internet legal?
Legal gambling for Utah players is fully available as long as you stick to the sites we have recommended on this page. They are all legally licensed and regulated betting sites, operating wholly outside of US legal jurisdiction and bound by the mandates of their home countries. Nobody has ever been arrested in Utah for using an offshore sports betting or gambling website.
What are the hours of operation?
Most sites allow you to place bets 24/7 with no limitations. In fact, their customer service is also available 24/7 so if you have any questions you can contact them whenever.
Will I go to jail for online gambling in Utah?
Though most forms of gambling are illegal in Utah, there is not an explicit, written prohibition against online gambling in Utah. As such, you are not going to get arrested for using legal Utah gambling sites. There is no known legal consequence to this form of adult entertainment. We have not seen any record of an arrest related to online gambling in the state.ss