Alabama's Defense Better Than Georgia's in National Championship Game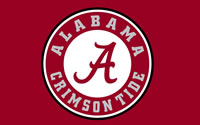 Destiny seems to be on the side of the Crimson Tide going into next Monday's College Football National Championship game.
As much as Georgia fans would love to believe they've got a serious chance to upstage Alabama, there doesn't seem to be much hope that Nick Saban will fail cement his legacy with a Bear Bryant-tying sixth national championship win. Nothing is written in stone, but the National Championship Vegas odds and those found at online sportsbooks – as well as the general consensus of dedicated football analysts points to an Alabama win, if perhaps not a decisive one, come Monday night. As it stands, Alabama (12-1) has moneyline odds of -180 to defeat Georgia (13-1) in the All-SEC championship game, though the odds against the spread of 5 points listed at Bovada.lv are even at -110, so the temptation is to say this one really may be too close to call.
That's just on paper though. The reality is that Alabama is the de-facto best team in the country for the last decade for good reason: practically no part of its game is lacking – particularly its exemplary defnse - even in down years (and, no, Auburn fans, crazy upsets don't disprove this fact). Even though Georgia's pass protection has got to be better than Clemson's abysmal showing against Alabama on New Year's Day, the Bulldogs didn't look incredibly strong on offense against Oklahoma at the Rose Bowl either, which doesn't bode well in the face of the scorching Alabama defense.
So just how is Alabama likely to dust off 'Dawgs? For starters, if Georgia's tight ends slip even a little, true freshman QB Jake Fromm is toast, so the Bulldogs should really look at stacking their line to keep the 'Bama defense off him as best they can – but don't count on it working 100 percent of the time. Secondly, even though a new run-based Alabama offense will probably run into some trouble against a fast Georgia defense, the Tide's own defense is so much stronger the Sooners' that if it comes down to who can stop the run better the game will be no contest for 'Bama. Finally, there's the matter of experience at this stage, and Alabama as a team (to say nothing of Saban versus his protégé and former defensive coordinator Kirby Smart) simply has more of it where it counts.
Pretty much the only chance Georgia has in this battle of conference rivals is to lean heavily on its dynamic running game and hope for the best. Fortunately for Georgia, seniors Nick Chubb and Sony Michel and freshman D'Andre Smith will give Alabama – which failed to convincingly take down the last four regular season foes it faced – some pause. Even then, if the Bulldogs hope to be successful in this endeavor they will have to hem in the equally good Crimson Tide offense on the ground, which, given the chinks in Georgia's defensive armor, could prove problematic.
Practically speaking, LegalGamblingUSA thinks an Alabama/Georgia clash in the National Championship is a mirror-match, but in that match the Tide just has too much momentum as it rides the crest of the wage in this momentous stage of the Saban era. The Bulldogs are likely to go from strength to strength in coming years and may even claim its first championship since 1980 in the near future, but next Monday isn't going to be the night they do it.