Betting On The Super Bowl Like A High Roller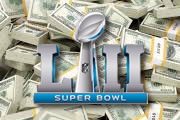 Every year, we roll our eyes after hearing about the lucky guy in Vegas who made millions off of betting on the Super Bowl. Though there is no way to guarantee a win, there is still something exhilarating about placing a big bet on the Super Bowl and watching it pay out in the end. While we cannot give you the magic formula for deciding to bet on the NFC or the AFC, we can tell you how and where to make the biggest Super Bowl bets.
Finding A High Roller Super Bowl Site
You should first understand the true definition of a high roller before you delve into the nitty-gritty of betting. Though there is no exact amount that defines a big spender, online sportsbooks generally consider a high roller a person that will place at least $5,000 on a single wager.
High roller Super Bowl bettors need to consider a few different factors when choosing the right online sportsbook. First and foremost, just because you are about to make a large Super Bowl bet does not mean you should skimp on value. Look for Super Bowl betting sites that will give you the most bang for your buck, such as 5Dimes with their reduced juice lines.

Check out the wagering limits set in place by the online sportsbook. You do not want a sports betting site that only allows $1,000 to be bet on the Super Bowl. Instead, find a Super Bowl betting site like BetOnline that allows up to $10,000 or more for certain Super Bowl wagers. Keep in mind that some bookmakers are willing to increase wager limits for high rollers if you reach out to customer service.
You will also want to make sure that the online sportsbook has a good reputation when it comes to payouts. Getting your Super Bowl winnings should be just as easy as making your initial deposit, and you should never have to wait months no matter which withdrawal method you choose.
No-Limit Super Bowl Deposits
When you want to place the largest Super Bowl bets, look for online sportsbooks with high limits. As a high roller, being able to deposit large sums of money at once make the process much easier. That way, you can make a single deposit and start wagering without having to make multiple transactions.
This can vary slightly by the sportsbook, but bitcoin and bank wire transfer will typically be the best deposit methods for high roller Super Bowl betting. With bitcoin high roller deposits, you can fund your account with up to $50,000 almost instantly. A major benefit is that there are no deposit fees, and bitcoin is relatively anonymous. Just send the coin from your BTC wallet to the address provided by the sportsbook.
Bank wire is the traditional currency used by high rollers being that there is no limit on the amount that can be deposited. This is the only deposit limit at sportsbooks such as BetOnline and SportsBetting that has no cap, and your minimum deposit will typically need to be at least $1,500. Bank wire transfers will incur fees from your originating bank and the online sportsbook.
The Best High Roller Super Bowl Site
When considering the best high roller Super Bowl site, Bookmaker.eu is the first online sportsbook that comes to mind. LegalGamblingUSA knows this online sportsbook has the largest bitcoin deposit maximum of any site, with up to $50,000 accepted in one deposit. You also get free bitcoin payouts for life. Bookmaker.eu also has some of the best wagering limits for the Super Bowl. You can bet up to $50,000 on Super Bowl sides, $10,000 on totals, and $10,000 on the moneyline. If you're interested in Super Bowl props, the site also has a $500 maximum which is much higher than most sportsbooks.
Bookmaker.eu is not the only site to use for making huge bets on the Super Bowl. BetOnline accepts bank wire transfer deposits without any maximum limit. 5Dimes is another high roller sportsbook that is known for increasing limits when it comes to big spenders. Keep in mind that you have options for betting on the Super Bowl and can always join multiple online sportsbooks.
| Legal Betting Sites | Bonuses | Features | Visit Site |
| --- | --- | --- | --- |
| | 50% - $250 | Casino Games | |
| | 50% - $1,000 | Poker / Casino Games | |
| | 50% - $1,000 | Poker / Casino Games | |
| | 100% - $500 | Poker / Casino Games | |
| | 50% - $520 | Live Dealer Casino | |