Carolina Panthers Fire Offensive Coordinator Mike Shula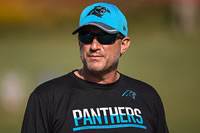 Mike Shula, who began as a quarterbacks coach for the Panthers in 2011 before transitioning to the role of offensive coordinator in 2013, was let go on Tuesday afternoon. This comes only a few days after head coach Ron Rivera signed a two-year contract extension.
Shula had a hand in many of the successes of the Panthers franchise during his seven-season tenure, most notably the grooming of 2015 NFL MVP Cam Newton. During the same season, Carolina went 15-1 for a spot in the Super Bowl and had the No. 8 offense. However, the overall story shows that the Panthers have had an inconsistent-at-best offense, ranking 20th in 2014, 25th in 2016, and 17th in 2017.
The Panthers offense was up and down under Shula, even with a star quarterback at center and the acquisition of N. 8 overall draft pick Christian McCaffrey. In 2017, the Panthers offense averaged 323.7 yards per game (No. 19), 22.7 in points per game (No. 12), 192.3 in passing yards (No. 28), and 131.4 in rushing offense (No. 4).
As part of the offensive overhaul, the Carolina Panthers also relieved quarterbacks coach Ken Dorsey. Dorsey joined the franchise in 2013 and spent a total of five seasons as the QB coach. He was a former NFL player and also spent time as the quarterbacks coach for the University of Miami.
The new offensive coordinator of the Carolina Panthers is expected to be a veteran that will hopefully utilize a simpler offensive strategy. LegalGamblingUSA thinks the odds for the Carolina Panthers to make another playoff game, and potentially a Super Bowl appearance, will also be bolstered by playing to Cam Newton's strengths. A deep dropback passing game could make all the difference for the betting odds on the Carolina Panthers for the 2018 NFL season.