Gov. Christie Says N.J. May Have Sports Betting By Super Bowl LII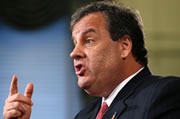 In a recent interview, Governor Chris Christie was able to shed some light on the current state of sports betting in New Jersey, and gave his prediction that sports betting could be legal by the start of the upcoming NFL season.
Inconsistencies In The Law
The Republican governor sat down on WFAN's Boomer & Carton where a local caller asked for the latest on the N.J. sports betting case. You may recall that in May, Acting Solicitor General Jeffrey Wall recommended that the Supreme Court deny N.J.'s appeal for legalized sports betting. Gov. Christie expressed his frustration with the federal government's inconsistencies concerning their opinions on certain aspects of the law.
"They pick and choose. For instance, the Obama administration said it was OK to legalize recreational marijuana even though marijuana is still illegal on the federal level, but the Obama administration said 'No' on gambling."
Though the US Drug Enforcement Administration (DEA) notified lawmakers in April that it would be reviewing marijuana's classification, it is still legally listed as a Schedule I drug. Despite this, marijuana has been legalized in eight states and the District of Columbia.
The Issue Of PASPA
Sports gambling is illegal on the federal level by way of the Professional and Amateur Sports Protection Act of 1992 (PASPA). The law banned sports betting in nearly every state, with the exception of Nevada, Montana, Delaware, and Oregon.
Though the main focus of NJ's case has hinged around PASPA being unconstitutional, Christie explained that SCOTUS would not need to repeal the law to accomplish their goal. He stated that the court could instead grant New Jersey the power to decide whether or not sports betting is allowed in the state.
"If they say that states should make the decisions, New Jersey voters have already decided by a two-thirds vote that they want sports gambling, and so that's what we'd do in our state."
A Positive Outlook
Rather than focusing on the SG's brief suggesting that the case go unheard, Gov. Christie described what would happen if SCOTUS eases up on the sports betting ban.
He stated that should the High Court rule in his favor, legalized sports betting at Monmouth Park Racetrack "would be open inside a week" for residents of the state.
The Supreme Court is expected to make their decision by the end of June, meaning that legalized sports betting could be coming to the Garden State before year's end. Governor Christie predicts that the ball will move quickly if the court decides to relax the sports betting ban, stating that residents would be able to bet on the NFL season "certainly in time for the Super Bowl."