Former App Store Standout Doodle Jump Hops Onto The Casino Floor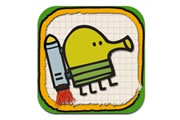 Because of the telecom world's more or less locked-down ecosystems and sandboxed-app approaches, the mobile tech and gambling industries don't often overlap. We're still several years out from being able to log onto the App Store to download the newest Bovada update and streamline our bet-on-anything-anywhere-anytime lifestyles. In the meantime, a curious thing has happened: App properties are making their ways onto the casino floor. Remember Doodle Jump? For a long stretch back in the early 2000s, Doodle Jump – a quirky little one-touch platform game – sat perched atop the App Store, and people couldn't get enough. The game went multiplatform, garnering more than 250 million downloads in the years since, and come 2018, it will be featured on Gamblit Gaming's game and G-Sports platform in casinos nationwide (presumably hitting Las Vegas first out of the gate, with California and Oklahoma not far behind).
Matt Turetzky of developer Lima Sky believes this approach will bring a new and compelling aspect to Doodle Jump (and, by extension, other mobile properties that are sure to follow the model). He says that "real-money wagering will add another level of excitement and engagement" to the property without abandoning the core gameplay elements and presentation that made the game such a big hit among casual users. No doubt, the decision was influenced by other gaming properties like Rovio's Angry Birds, which in recent years has branched out into a bona fide arcade mainstay at places like Dave & Busters. The main difference, really, is that Lima Sky is unsatisfied with being a glorified toy and teddy bear vendor. Doodle Jump wants to attract casual users with the promise of actual cash money.
And it is those very casual users that this project is targeting, hoping to bring a younger generation into the world of casino gambling. Whether or not a nearly 10-year-old IP that hasn't seen the top of the mobile charts in several years is really the way to go to meet those lofty goals is anyone's guess. Still, for those that have actually played Doodle Jump, there's no denying that the frustratingly difficult skill game is a perfect fit for the casino "house edge" philosophy and the addictive "one-more-try" mentality of gamers of all kinds.
LegalGamblingUSA.com believes Doodle Jump will finally make it to cloud nine. And maybe – just maybe – it'll take you along for the ride.