Funniest Super Bowl 52 Props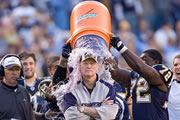 One of the best things about the Super Bowl – except for the actual game itself – is that all the top online sportsbooks for legal gambling in the USA like Bovada and BetDSI have hundreds upon hundreds of bets for the big game. Sure, you can wager on the standard propositions like how many TDs Tom Brady will throw or who will score first or which team will win the coin toss, but those are pretty common and not particularly creative. Fortunately, there are a bunch of weird and wacky bets on the boards, too. To that end, here are some of the funniest Super Bowl 52 props to be posted so far:
From The Bovada Super Bowl 52 props menu:
Will Donovan McNabb's vomiting incident from Super Bowl 39 be mentioned during the broadcast? (Yes +170, No -250)
I can't imagine it won't be. Take the free money.
Will Tom Brady's jersey be stolen again? (Yes +1000)
This seems unlikely, and since there's no "No" option, even at -10000 or something outlandish like that, there's really no benefit in putting any cash on this one. Of course, a teammate might always play a practical joke for the sake of nostalgia. Would that count?
Will "Nipplegate" be said during the broadcast? (Yes +500, No -900)
Nobody on NBC's Super Bowl 52 broadcast crew has the balls to say "nipple," especially considering the current sociopolitical environment in the entertainment industry.

From The BetDSI Super Bowl 52 props menu:
Total times "Dilly" is said during the broadcast (over 12.5 -130, under 12.5 +100)
Take the over. If you think this whole "Dilly" thing is already played out, you don't know Super Bowl beer commercials. Here are some alternate odds, though: Total times I will hear "Dilly" being said during the broadcast (over 1 +145, under 1 -110). Note that I am exceptionally fast with the mute button on my remote. Note that I also command a vig at my sportsbook.
Will there be a wardrobe malfunction? (Yes +1500, No -4000)
Not unless it's a retro-ironic gag. And even then, it'll probably be on some innocuous part of some dude's anatomy, like a torn shirtsleeve in a nod to the old Timberlake/Jackson stunt. And that shouldn't count, as an orchestrated event that goes as planned is hardly a "malfunction." Maybe a player will lose a shoe. (BetDSI really needs to have better parameters attached to its Super Bowl props.)
Will Tom Brady announce his retirement after the game? (Yes +1200, No -2500)
LOL, no.
Well, he will eventually retire, and that'll certainly happen sometime after Super Bowl LII, but he's not announcing it at the podium after the game. Maybe after his 8th Super Bowl win or something, but not yet. No, you haters, definitely not yet.
| Legal Betting Sites | Bonuses | Features | Visit Site |
| --- | --- | --- | --- |
| | 50% - $250 | Casino Games | |
| | 50% - $1,000 | Poker / Casino Games | |
| | 50% - $1,000 | Poker / Casino Games | |
| | 100% - $500 | Poker / Casino Games | |
| | 50% - $520 | Live Dealer Casino | |