Is Betting On The Preakness Legal?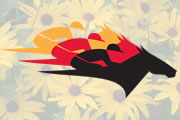 Is betting on the Preakness legal? Well, yes, as long as you know what you are doing. Legal Preakness betting can be enjoyed at the actual Pimlico track but for those of you who aren't going to the race, the best options are to use legal online horse racing betting sites. The United States does have certain federal restrictions on betting money online but most of them only apply to sports. Another federal restriction called the Interstate Horse Racing Act separated horse racing from other sports gambling and made it legal throughout the country.
That being said, states can still control their own horse racing laws and do not have to abide by the Interstate Horse Racing Act if they don't want to. This is where online offshore Preakness betting sites come into play. These sites offer Preakness betting opportunities from outside of the United States so they do not fall within the state or federal laws. The top sites are safe to use as long as they are licensed and regulated and they accept players from all over the United States. No matter where you decide to bet, you will be offered plenty of betting lines on every horse entered in the Preakness Stakes when using sites of that nature.
Can I Bet On The Preakness In Any State?
Even though the Interstate Horse Racing Act allows for thousands of people to enjoy gambling on the Preakness and other horse races, the law isn't an all-encompassing power. The wording of the law still gives states final say as far as whether or not they want to allow legal horse racing gambling in their state. There are a significant number of states that do exactly that and have banned horse racing altogether. So again, that's why the online offshore racebooks are such a great option, because for a lot of people…they are your only legal option.
Preakness Stakes Details
The Preakness Stakes is run on the third Saturday of May every single year at the Pimlico Race Track in Baltimore, Maryland. It is the second race of the Triple Crown series and is measured at 9.5 furlongs, or 1 and 3/16 miles. It's been running since way back in 1873 and is nicknamed the "Run for the Black-Eyed Susans" due to the blanket of flowers that are draped over the winning horse that is designed to resemble the Maryland state flag.
2017 Preakness Stakes
The 2017 Preakness Stakes will be the 142nd running of the race and it will take place on Saturday, May 20th. The 2017 Preakness Stakes favorites include Kentucky Derby winner Always Dreaming, Classic Empire, Lookin At Lee and Irish War Cry. You can place bets on your favorite Preakness participants at your favorite legal Preakness racebook today and enjoy legal USA gambling.