NBA Commish Adam Silver Eyes Sports Betting Options Based On Microtransactions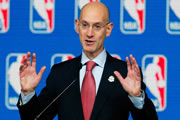 NBA Commissioner Adam Silver will be the first one to admit that he is "not a technologist," but that certainly does not mean that the wily exec has lost grips with the expectations of his market.
Silver is especially on top of things when it comes to demands of NBA fans when it comes to sports betting. Indeed, his was the first of the major pro sports leagues to really get out in front of the growing sentiment from the public in favor of wagering on sports several years ago, signaling a reverse to the longstanding trend of league opposition to sports betting. The NBA, and later the leadership from Major League Baseball and, most recently, the American PGA Tour, collectively pivoted hard in favor of sports betting legalization, sending their combined lobbying powers far and wide into nearly a dozen key states looking to regulate the practice.
Though the individual states in question – which range from New York to California and many places in between – are at varying stages of passing sports betting regulatory laws of their own, none of them will be able to take effect unless the U.S. Supreme Court decides to strike down the federal law prohibiting sports betting nationwide. However, with so much public momentum behind wagering on sports (really more like the loss of perceived stigma around the hobby) it seems like only a matter of time – and not much time at that - before the Professional and Amateur Sports Protection Act of 1992 (PASPA) is done away with one way or another. With that in mind, Silver and his counterparts in the other major professional leagues are looking at ways to monetize the sporting public's goodwill toward sports betting, and Silver himself is probably the shrewdest of them all when it comes to getting a sizeable slice of the sports wagering pie.
The newest idea put forward by the NBA commish is to have pro basketball more closely integrate its microtransaction model of viewer subscriptions into its long term plans for sports betting. The league has already started experimenting with offering snippets of live in game content (sometimes as short as five minutes' worth at a time) to viewers in small, more affordably increments than a full season subscription price. Silver's contention is that the continuous surge of interest in and support for sports betting dovetails nicely with the monetization and fan engagement possibilities afforded by offering micro-betting opportunities if they were incorporated into digital game broadcasts based around the concept of micro-subscriptions.
"Under this notion of microtransactions, let's sell the fan what it is they want," Silver told reporters over the weekend. "[The NBA} didn't begin this just as a business opportunity. It began as an opportunity to engage more fans."
There is definitely a high degree of truthfulness and solid data to back up Silver's aims of offering sports betting opportunities based around microtransactions, as the commish is wont to cite the positive example of a similar system reaping huge handles for sportsbooks based in Europe. Then there is the effect of the internet to consider: the pervasiveness of quick and easy access to reliable high speed wireless internet is what led to the rise of offshore sports betting websites – the same legal sportsbook sites that reap the majority of the $150 billion-$250 billion in annual American sports betting handle. Silver has indicated, and rightly so, that one of the primary new sources of sports wagers comes from live in game betting options offered by the sportsbooks in Europe (several of which, like Bovada and 5Dimes, serve US players).
With the in game wagering option selected, fans can simultaneously watch a live sports broadcast and place live bets with constantly updated odds, which only adds credence to the perception of this method being used as a way to boost fan engagement with professional sports. Maintaining the interest of what was once a veritably unlimited font of support from die hard sports fans is, of course, going to be an even more crucial aspect of successfully running the major pro leagues nowadays. Nobody knows this better than National Football League Commissioner Roger Goodell, who for years was mum on the subject of sports betting (and still is to a large degree), refusing to comment on the hobby as a way to boost fan interest, but nevertheless saw weekly viewership rating slashed due to controversy after controversy.
No, it definitely appears that Silver is right, and that the future of sports betting – particularly of regulated sports betting in the US that is also supported by the pro sports leagues - will invariably take on some element of live wagering in conjunction with pay-per-minute broadcast subscriptions. Taking things a step further, Silver has speculated that the kinds of bets he would like to see offered in this hypothetical micro wager situation wouldn't be limited to continuously updated but still traditional types of betting lines. That is to say bettors would not likely be limited to placing wagers on outcomes like one team winning or losing (straight up or moneyline bets), the margin of victory (betting the spread) or the total combined score of both teams (over/under betting). Instead, bettors could look forward to getting in on what are essentially micro prop bets like which players would score the most points in the next quarter or if a particular player could make several consecutive free throws.
For all the probable good that could be in store for sports bettors using the NBA's microtransaction-based betting system, were it to be implemented, there appears to be a bit of a hitch on the horizon for the plan going forward. That would be resistance from the league's legal teams, which are even now lobbying hard in statehouses across the country for control of bettor user information and wagering data, among other concessions as part of an officially approved "blueprint" for regulatory legislation the leagues can get behind. One of those concessions the joint lobbying arms of the NBA, the MLB and now the US PGA Tour are hoping to get at the state level is the right to restrict certain types of wagering on events of the league's choosing.
The primary reason the leagues' legal teams are asking for the states to give them the authority to restrict wagering on certain events and certain kinds of bets is because live betting in particular makes it especially difficult to ensure that contests are free from cheating. If the leagues have long contended that sports betting by its very nature constitutes at least some appreciable degree of a threat to the integrity of sporting events, then it only makes sense that they would campaign hard for any state level regulatory legislation to limit the varieties of wagers most susceptible to being fixed. If it is really Silver's vision to incorporate live in game betting into broadcasts based on the microtransaction model, then that grand design probably is in direct contradiction to what he and his counterparts in the MLB and PGA Tour have directed their lobbyist and lawyers to push back against.
With the possibility of the U.S. Supreme Court voting to strike down PASPA, which restricts sports wagering to Nevada, Delaware, Oregon and Montana in an apparent violation of the other 46 states' rights to determine their own policies regarding gambling, looking more and more like a certainty, the NBA needs to get its head on straight. Demands from state legislatures for things like "integrity fees" worth potentially 20 percent of a state's sportsbook revenues and unilateral control over the kinds of wagers allowed during matches have already shown themselves to be non-starters in New York, Kansas and elsewhere.
LegalGamblingUSA thinks if the leagues are legitimately interested in profiting monetarily from expanded viewership and increased fan engagement as a result of a more broadly legal sports betting situation in the US, probably the best tack they can take is to chart a course they all can agree with. Even though Silver has some workable ideas backed up by empirical evidence, that will not matter too much if the guys in the boardroom have a different plan than the guys pushing for league-friendly legislation on the statehouse floors.