Shallow Football Fans Are A Richard Sherman Fantasy?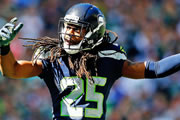 The Seattle Seahawks suffered a spate of injuries in Week 4's lopsided win against the struggling Colts, which is an unfortunate cost of doing business in the NFL. However, when vapidly asked by some robotic sports reporter how players react to their teammates going down, the media got a weird bit of Richard Sherman fantasy football ranting in response. Sherman – ever the victim of imaginary slights – answered the pointless question with some equally pointless nonsense about how fantasy football "dehumanizes" NFL players. Instead of empathetic fans feeling devastated and emotionally drained because some poor multimillionaire has to struggle rehabbing his injury in his mansion, Sherman says fans are only thinking "Oh man, he's messing up my fantasy team."
Look, fans have always responded to injuries from a team-first perspective. Whether that team is the professional outfit they root for every gameday or the fantasy team they put together in their buddy's garage, the impetus is the same. When an athlete goes down, everyone's immediate reaction is to question and analyze how that injury will affect a given team's chances to win. And it might be news to Sherman, but all the coaches he plays for? They think exactly the same way. And so do the bettors who lay down hundreds of billions of dollars on sports in America.
Also, what kind of crummy fantasy football is Sherman playing? If – like him – you're only familiar with year-long fantasy leagues, allow me to introduce you to Daily Fantasy Sports. With DFS, such inevitable player injuries don't "mess with your fantasy team" because each game comes with a new draft. You pick against a salary cap and compete with others who might have the exact same starters as you. That's the beauty of DFS, that injuries (and suspensions) are effectively mitigated long-term. And though scrapping injured players might be a whiny Richard Sherman fantasy, it's a welcome DFS reality.
LegalGamblingUSA knows most US residents can get in on Daily Fantasy Sports action at DraftKings and FanDuel, the two largest DFS operators in the country. There, players can compete with each other in various paid leagues and win cash payouts for finishing in the top spots. Tournaments are rotated frequently, and new user enrollment bonuses can net you free entry into some of the larger events. So if you don't want to worry about injuries and emotions and all that other crap you have to deal with in outdated Richard Sherman fantasy leagues, you don't have to. Unlike Sherman (Charmin?), you can sign up to play Daily Fantasy Sports instead.
Just don't draft Sherman. He's injured.