Follow The Leader: Steps Toward Regulated Sports Betting In US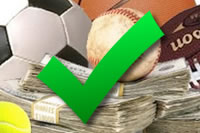 What started out as just a battle for New Jersey has now created a ripple effect all over the United States. Legalizing sports betting is now a topic of discussion in circles that would have been unfathomable a decade ago. Public opinion polls, statements from professional league spokespersons, and even POTUS have chimed in with their views on regulated sports betting expansion.
While the road has just begun and the future is still uncertain when it comes to the New Jersey case, it does seem as if we are on the path to more widespread legal sports betting operations. When we look back on the measures that have been taken to legalize other forms of gambling and compare it to the steps that are currently being taken by NJ, there are a few different strategies that can be taken to further the sports betting movement.
Introduction Of New Sports Betting Products
Think about the video gaming terminals and riverboat casino operations that exist today. Both of these were created as workarounds to satisfy gambling needs that were being prevented by small legal technicalities. Video gaming terminals are not considered slots for legal purposes but function in the same way, and a state with riverboat casinos may not be able to legally have commercial casinos but both venues function in exactly the same way.
By creating new products that look, feel, and perform like sports betting, but still fit into legal constraints, we are normalizing the notion of sports betting. Take for example the new fantasy sports product FastPick that allows players to make fantasy parlay wagers on select matchups. FastPick is the closest you can get to legal sports betting in the US without going to Las Vegas but it meets all the rules of traditional fantasy sports. As fantasy sports continue to increase in popularity and more products like these enter the market, the line between the two types of betting will continue to be blurred.
More Fantasy Sports Bills
Not a month in 2017 has gone by where a state did not introduce new fantasy sports legislation. While not every state has created laws that specifically make daily fantasy sports legal, when looking at the overall legislative picture daily fantasy sites are able to accept players from the majority of states. States like Florida and Texas that have had a difficult legal history with gambling and DFS are even working on introducing regulatory measures.
According to a poll conducted by Ipsos Public Affairs for the Fantasy Trade Sports Association (FSTA) in 2016, there were an estimated 57.4 million fantasy sports players in North America. Another study by Eilers & Krejcik Gaming found that players spent an estimated $3.26 bln on DFS that same year. This is why legislators are slowly but surely working toward regulating fantasy sports. Its acceptance and legalization can be viewed as a step in the right direction regarding sports betting.
Legal Action From Third Parties
New Jersey has been battling PASPA for years, and it has finally gotten the attention of its peers. In November of 2016 West Virginia, Wisconsin, Louisiana, Mississippi, and Arizona filed amicus briefs with the Supreme Court in support of NJ during their sports betting case. The American Gaming Association also showed their support and have continued to be active proponents of the legal sports betting market in the U.S.
We also know that several sports leagues, such as the NBA and MLB, have shown an openness to conducting research regarding legal sports betting.
All of these efforts have not gone unnoticed, with states like New York, Michigan, and South Carolina even introducing legislation to legalize sports betting. N.J. may not have reached a victory just yet but they have surely laid the framework for other parties. With continued legal action on both the sport and fantasy fronts and the implementation of legal betting products, we could see legal gambling for the USA in the coming years.