What's Next For DraftKings and FanDuel?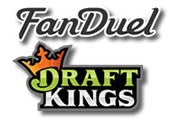 In a somewhat surprising turn of events, the Federal Trade Commission has decided in a unanimous (2-0) vote that they will move to block the merger of US-based Daily Fantasy Sports site DraftKings and Scotland-based FanDuel. They were joined in this action by California Attorney General Xavier Becerra and District of Columbia Attorney General Karl A. Racine.
CEOs Nigel Eccles (FanDuel) and Jason Robins (DraftKings) released a joint statement after the announcement was made. "We are disappointed by this decision and continue to believe that a merger is in the best interests of our players, our companies, our employees and the fantasy sports industry."
It is unknown whether the two companies will fight this in court or if they'll cease their efforts at this juncture. The only official course of action that has been taken is DraftKings asking a federal court to file an injunction on their behalf against the FTC action while the two companies decide what their next step should be.
DraftKings issued another email to its employees after sending out its joint statement. "We…are working with our legal team and FanDuel to chart the best course of action, which could include going to court to make our case about the benefits of the proposed merger." The decision to go to court will not be made lightly, as both companies have a few things to consider, namely the effect it would have on their already struggling finances.
The merger was proposed as a solution to the financial troubles that both companies were having. According to a report by Axios, neither company has been profitable in years. Each spent hundreds of millions on television ads trying to convert customers while still stuck in a very gray area where the law was concerned. After that, they spent even more money lobbying for regulations across the country, something they're going to have to keep doing for years to come if they want every US state to have legal paid-entry daily fantasy sports.
This spending, coupled with heavy taxes and licensing fees in the few states that have legalized them and a market that is continuously in flux due to legal ambiguity, has dropped both companies into the red, FanDuel more so than DraftKings. The same report from Axios stated that ""If completion of the Transaction does not occur, the value of FanDuel Shares as well as the FanDuel Group's ongoing business may be adversely affected." Which is a rather calm way of saying FanDuel really needs this deal to happen or they're going to go down in flames.
The companies have a couple of things they need to do in the meantime, at least to stay afloat for longer than a couple years. They've got to cut costs, but more importantly, they need to create a much more meaningful source of revenue. Their plan is to break into the larger overall fantasy market. A report presented to the Fantasy Sports Trade Association stated that in the US and Canada, about 59.3 million people play fantasy sports. If FanDuel and DraftKings can convert even a percentage of those players, they might start seeing a change in profitability.
If the two can't figure how to cut costs and become profitable again, there really seems to be only one course of action going forward. One company will be able to outlast the other and come out on top. LegalGamblingUSA believes only time will tell what's in store for these companies.