Chris Godwin Props for Receiving Yards, Receptions Vs Lions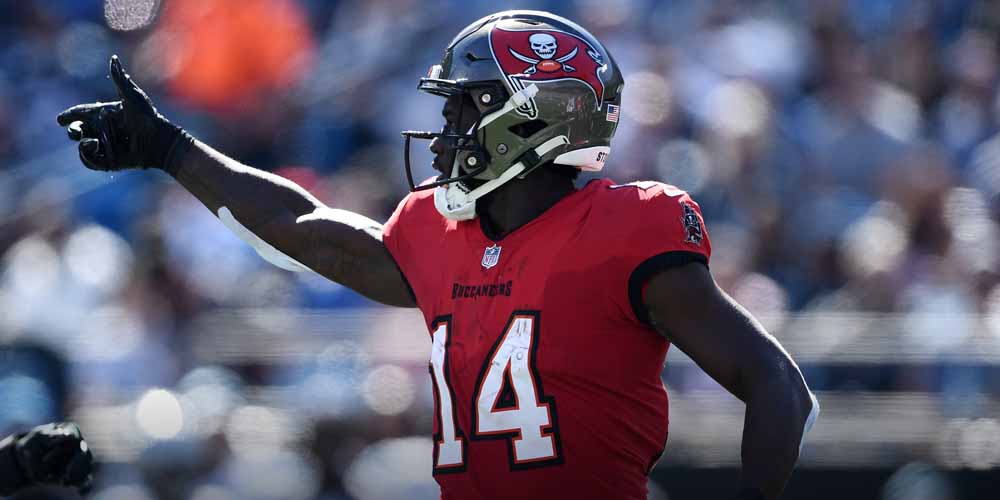 Chris Godwin's receiving yards projection is 58.5 yards against the Detroit Lions.
There are -135 odds favoring Godwin to record under 5.5 receptions in Week 6.
Godwin has -125 odds to record a reception over 20.5 yards on Sunday.
TAMPA, Fla. – Chris Godwin of the Tampa Bay Buccaneers faces the Detroit Lions secondary in Week 6 with a 58.5 receiving yards projection. Godwin had 114 receiving yards against the New Orleans Saints in his last game.
It was Godwin's only game going over his legal online gambling projection of 58.5 receiving yards this season.
Chris Godwin Receiving Yards Prop
Over 58.5 Receiving Yards -115
Under 58.5 Receiving Yards -115
The Detroit Lions defense is vulnerable to receivers. They've allowed an average of 203.5 receiving yards to wide receivers in the last two games.
The Lions allowed both Tyler Lockett and DK Metcalf to go over 58.5 receiving yards in their Week 2 matchup. Mike Evans' presence as the top receiver won't stop Godwin from going over his receiving yards projection on Sunday.
Godwin Receptions + Longest Receptions Props Vs Detroit
Chris Godwin has +105 odds to go over 5.5 receptions against the Lions. Godwin's only game with over 5.5 receptions was against the Saints with Mike Evans leaving in the second quarter.
Chris Godwin Receptions Prop
Over 5.5 Receptions +105
Under 5.5 Receptions -135
The +105 odds at Florida online gambling sites are enticing but Godwin went under this number in three of four games this season. With Evans good to go for Sunday, it's best to stay away from Godwin's receptions prop.
Chris Godwin Longest Reception Prop
Over 20.5 Yards -125
Under 20.5 Yards -105
Mike Evans is typically the deep threat in this offense, but Chris Godwin logged a 42-yard reception in Week 4 against the Saints. Godwin recorded a reception over 20.5 yards in half his games this season.