All Three Delaware Racetrack Casinos Will Offer Nation's First New Legal Sportsbooks On June 5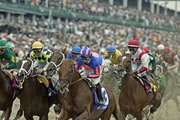 It is official: Delaware will be the first state in the nation to open the first legal sportsbooks since the Supreme Court overturned the Professional and Amateur Sports Protection Act a little more than three weeks ago.
The First States' three casinos – Delaware Park, Dover Downs Hotel & Casino and Harrington Raceway & Casino – all of which double as resorts and horse racing tracks, will be included, and all three will start taking action on sports 1:30 p.m. on the dot come Tuesday, June 5. Betting lines will be offered on all major professional sports, including baseball, football, hockey and basketball (just in time for the bulk of the NBA Finals, which is going on right now). Additionally, Delaware residents will be able to bet on golf, soccer and auto racing, all of which have a sizeable presence in the state and enjoy a good deal of fan support from all over the nation.
Pretty much the only kind of sports betting that won't be permissible on June 5 – though there is no reason to believe that this and any other kind of temporarily unavailable sports wagering activity is permanently off the table – are sporting events directly involving teams based in Delaware. As most astute sports fans are no doubt aware, there are not exactly dozens of teams from the First State (which is also, appropriately, in this case, known as the "Small Wonder") vying for national attention, so this is a comparatively minor downside.
Delaware owes much of its success in rolling out the nation's first new legal sports betting venues outside of Nevada to the fact that it was one of four states that was not prohibited from offering some form of wagering on sports by PASPA. The First State, along with Nevada, Montana and Oregon, already had laws to legalize sports betting on the books when PASPA took effect at the start of 1993, whereas the other 46 states – including New Jersey, which actually did most of the fighting to get PASPA overturned – did not and were therefore banned from passing any such laws for more than a quarter of a century. Accordingly, Delaware did not have the long row to how that the Garden State did in getting sports betting expansion passed through its legislature, nor did it technically, necessarily need to wait on PASPA to be struck down by the highest court in the land before its casino operators could begin accepting bets on sporting events.
Indeed, Delaware Gov. John Carney has gone on the record as saying that his state already had sufficient laws in place to start offering sportsbooks at its three racinos as soon as possible. That stands in contrast to the difficulty faced by New Jersey, which, despite its heady victory over the coalition composed of the pro sports leagues, the NCAA, do-gooder activist groups worried about the corruption of public morals and the shadier elements of the Las Vegas gambling establishment, tried to open a sportsbook by Memorial Day but couldn't. Chalk it up to an internal debate between the upper and lower houses of the state legislature over the exact rules and regs that will govern sports betting in New Jersey, but whatever the case might be, Delaware won that race by a few days anyway.
"Delaware has all necessary legal and regulatory authority to move forward with a full-scale sports gaming operation, and we look forward to next week's launch," Carney wrote in a general release to media representatives on Thursday. "We're hopeful that this will bring even more visitors into Delaware to see firsthand what our state has to offer."
LegalGamblingUSA knows this is huge news for Delaware, which not only had to beat New Jersey to the punch, but also got its sportsbooks up and running faster than states like West Virginia, Connecticut, Pennsylvania or even Mississippi. No hard feelings though, as only a few of these states will really be in direct competition with each other, and all made a good account of themselves as far as becoming one of the earliest adopters of sports betting in the post-PASPA paradigm.
What's more, Delaware could very soon be bringing out a number of different sports betting options to, further strengthening its position as not just the first state other than Nevada to fully implement a sportsbook or several, but also an industry leader on the East Coast. The Delaware Attorney General's Office said Thursday that the man himself "has determined that there are no legal obstacles to full-scale sports betting" in the First State, which means players there could very soon be looking at getting in on some college football action, for instance.
| Legal Betting Sites | Bonuses | Features | Visit Site |
| --- | --- | --- | --- |
| | 50% - $250 | Casino Games | |
| | 50% - $1,000 | Poker / Casino Games | |
| | 50% - $1,000 | Poker / Casino Games | |
| | 100% - $500 | Poker / Casino Games | |
| | 50% - $520 | Live Dealer Casino | |