Declared Derby Winner Flips Betting Results In Favor Of Churchill Downs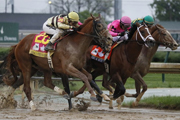 Finishing first, Maximum Security was favored at 4-1 to win the event.
Instead, Country House (65-1) was given the title after jockey filed an objection.
Twin Spires will be issuing refunds for those who bet on Maximum Security to win.
LOUISVILLE, Ky. – In one of the most controversial finishes in the history of sporting events, the unofficial winner of the Kentucky Derby was disqualified after a hyper-lengthy review.
The horse who led the pack from start to finish, Maximum Security, outran the entire field but was called for a penalty after coming out of his lane during the last turn, influencing the paths of the other horses.
This was the first time in the history of the Kentucky Derby that the winner was disqualified due to a lane violation. The only other horse to have won the event but was stripped of their title was Dancer's Image in 1968, due to a failed drug test.
The disqualification came well past the 2-minute event's conclusion, as the review of the complaint lasted for just under 30 minutes.
However, making their decision, the horse known as Country House was replaced as champion.
If Maximum Security remained as the victor, trainer Jason Servis would have joined his brother, John (who trained Smarty Jones in 2004), as the only brothers in Kentucky Derby history to have trained Derby champions.
While this was an event to remember, it will also go down in history as one of the biggest betting swings ever.
Favored at 4-1 when the gates opened, Maximum Security was expected to lead the pack, as his strength in muddy and wet tracks was well known and discussed.
With a win, the Kentucky Derby would have had to pay out many more bettors, instead of being able to collect the majority of the handle from the second least favored horse.
Country House was 65-1, meaning the few that were crazy enough to take those odds were rewarded with a payout 65 times their money.
LegalGamblingUSA knows while the decision was controversial to say the least, Twin Spires, the official gambling app of the Kentucky Derby, issued refunds (up to $10) for those who bet on Maximum Security to win the race.
The Kentucky Derby itself did not issue any refunds.
Bettors aren't the only ones who threw up their arms losing all hope. Maximum Security co-owner, Gary West, missed out on the $1.86 million prize for winning the event, but will pursue an appeal.
"The appeal has to be filed within 48 hours so we'll be filing that today," said West to NBC.
According to West, Maximum Security will not be competing in the Preakness States, that takes place on May 18 in Baltimore, Maryland.
| Legal Betting Sites | Bonuses | Features | Visit Site |
| --- | --- | --- | --- |
| | 50% - $250 | Casino Games | |
| | 50% - $1,000 | Poker / Casino Games | |
| | 50% - $1,000 | Poker / Casino Games | |
| | 100% - $500 | Poker / Casino Games | |
| | 50% - $520 | Live Dealer Casino | |