DraftKings And Caesars Deal Will Expand Mobile Sports Betting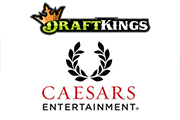 BOSTON – DraftKings has now partnered up with Caesars Entertainment to provide mobile sports betting options in multiple states.
Notes About The Deal
The press release by DraftKings indicates that this deal with Caesars will allow DraftKings Sportsbook to access states where Caesars land-based casinos operate. Caesars will receive an ownership stake in DraftKings and Caesars will also get access to a customer database.
Thanks to this deal, DraftKings can now offer its legal US gambling such as sports betting to 13 different states. DraftKings has been operating its online sportsbook in New Jersey and has seen huge success over its competitors in the state.
What It Means For The Affected States
DraftKings will need to apply for an online gaming license in states that have legal sports betting and online gaming. Which means states like California, Illinois, Arizona, Indiana, Iowa, Louisiana, Maryland, Missouri, and North Carolina will not suddenly have legal sports betting even though DraftKings can operate there. However, this deal will provide the groundwork for online and mobile wagering if lawmakers legalize sports wagering in these states.
Now for the other states that the deal is a part of, it is a different story. The other states that are included in this deal are Pennsylvania, Mississippi, New Jersey, and Nevada. All four of these states have legalized sports betting and they have sportsbooks operating.
All of these states have a different way of how they implemented online wagering. Some states will let you access mobile wagering options anywhere in the state while others require you to be within a casino to do so.
The New Jersey Example
As previously stated, New Jersey already has an online option that includes DraftKings. Using DraftKings online sportsbook is currently the most popular method of online sports wagering there. In New Jersey, you are able to access the DraftKings online sportsbook no matter where you are in the state. It is likely that due to the success the company has seen using this method, the same will be offered in the other states.
Problems With Nevada
The only problem that DraftKings could have with this deal is having to deal with Nevada. In the past, Nevada has actually banned daily fantasy sports (DFS) sites from the state, including DraftKings. Nevada has considered DFS as gambling and the state requires DraftKings to acquire a license to operate in the state. It is unclear how this will affect DraftKings operations in the future.
Some of the states in the list that does not have legal sports betting does not have a federal basis to go off of on how to implement mobile sports betting. Thanks to this deal, lawmakers suddenly have a framework to go off of. This could make legalizing sports wagering much easier for states who are wanting to legalize sports wagering. Not only that, but this deal could make mobile betting on sports much more accessible for states that already have sports betting.
| Legal Betting Sites | Bonuses | Features | Visit Site |
| --- | --- | --- | --- |
| | 50% - $250 | Casino Games | |
| | 50% - $1,000 | Poker / Casino Games | |
| | 50% - $1,000 | Poker / Casino Games | |
| | 100% - $500 | Poker / Casino Games | |
| | 50% - $520 | Live Dealer Casino | |