Horse Racing Needs To Take Notice Of What Sports Betting Can Offer Gamblers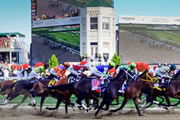 Horse racing odds are not fixed, making gamblers venture to other forms of wagering.
Racebooks and statistical information are charged to bettors for a small fee.
Legal sportsbooks are taking away business from the horse racing industry.
Tallahassee, Fla. – The horse racing industry is starting to take notes from the growing legal sports betting market that is set to conquer the entire gambling industry.
When it comes to wagering, horse racing bettors are stuck in the old ways of submitting action, but not really knowing their final payout until the gates open.
Take the 2019 Kentucky Derby favorite, Game Winner, for example. Opening at 5-1 odds (+500), bettors could have laid $100 down on the 3-year-old thoroughbred to win, profiting $500.
However, as the odds have moved to the current 9-2 odds (+450) (and likely even down further, once the gates open), that same $100 bet could actually only be worth $450. Let's say he becomes 3-1 odds, that bet is now worth $300.
This fluctuation is common in both pari-mutuel wagering and sports betting; however, in sports betting the odds are locked at the price you selected. But now, the horse racing industry in considering doing something of the same.
"If we don't adjust, I personally think sports betting has a very good chance to destroy most of the horse racing gambling," said Craig Bernick, President of Glen Hill Farm in Ocala, FL. Bernick is also on the Board of Directors for the Thoroughbred Idea Foundation.
But Bernick doesn't mean the ability to wager on horses, but literally the entire horse racing industry. Unlike sports betting, horse racing is fueled by people who bet on the races, whereas professional sports teams (generally) make a profit without help from gambling.
"Sports betting does not generate pay for the product that it takes bets on. That product has other forms of revenue," explained Alex Waldrop, CEO of the National Thoroughbred Racing Association.
Throughout the world, Australia has adopted the fixed-odds strategy and has proven to do so successfully. But another major changed is needed for horse racing to not fall into obsolescence – free data.
Anytime you attend a track or want information about the upcoming races, you must pay a fee for the information. On the flip side, sports bettors literally have thousands of websites or books that they can access for free.
With this, there is no surprise that the industry is losing power. Take Washington State for example, which, in 1985 saw $46.5 million kept from horse racing (or 21% of the entire gambling market). Flash forward to the 2016's numbers and horse racing accounted for only $21.7 million (or roughly 1% of all gambling income).
LegalGamblingUSA believes that assimilation is needed in the pari-mutuel wagering industry now more than ever.
| Legal Betting Sites | Bonuses | Features | Visit Site |
| --- | --- | --- | --- |
| | 50% - $250 | Casino Games | |
| | 50% - $1,000 | Poker / Casino Games | |
| | 50% - $1,000 | Poker / Casino Games | |
| | 100% - $500 | Poker / Casino Games | |
| | 50% - $520 | Live Dealer Casino | |