Sportsbooks Set Nike As The Favorites To Sign Zion Williamson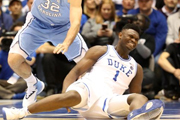 Zion Williamson suffered a knee injury on February 20, 2019, while playing against UNC due to a sneaker malfunction from his Nike Shoes.
Williamson is projected to be the number one pick in the upcoming 2019 NBA Draft.
Odds favoring Nike were listed on BetOnline on April 3, 2019.
While only days away from college basketball's coveted Final Four event, fans, experts, and bettors have their sights elsewhere. The Final Four will have big shoes to fill as all the attention now is geared towards Nike and how they are favored by online sportsbooks to sign Zion Williamson to a massive deal.
Interest in the topic came back in February when the Duke freshman suffered a knee injury due to one of his Nike shoes completely falling apart while playing against rival school UNC.
The odds were updated earlier this week by globally recognized sports betting website BetOnline. The site has Nike favored to sign the Duke Blue Devil at (-150) betting odds.
While Adidas was formally the favorite, they now fall to second place at (+175) betting odds, followed by Puma at (+400), Under Armor at (+2000), and New Balance at (+2500).
When trying to determine how these odds were configured or which company to bet on, you see each company has signed major NBA superstars to massive contracts. Nike signed both Lebron James and Kevin Durant shortly after being drafted to the league.
Adidas signed last year's NBA MVP James Harden to a 13-year deal worth over $15 million annually. Puma, who has not signed a player since Vince Carter back in 1998, signed four different top prospects in last year's NBA draft.
Under Armor, while mostly recognized as a football company, managed to sign Steph Curry in 2013 to a contract that runs until 2024. The deal even came with equity in the company.
And while New Balance may not come to mind when thinking of the NBA, the shoe company recently signed Kawhi Leonard to an endorsement deal last year.
While each company has a viable chance to sign Zion Williamson, all signs point to Nike holding the advantage. Nike designed a specific set of shoes for Williamson, which he wore for the remainder of the season even after suffering an injury with a previous pair.
To add to that, according to a report from ESPN, 67% of NBA players wore sneakers from either Nike, or it's subsidiary Jordan Brand during the 2017-2018 season.
The popularity of Nike among basketball players is undeniable and Zion Williamson's choice to wear the brand's footwear even after a catastrophic incident shows his likeness to the company, making Nike as seemingly the only logical bet to make.
LegalGamblingUSA knows while Zion Williamson has yet to officially declare for this year's NBA draft he hinted at his intentions during a press conference following Duke's Elite Eight loss to Michigan State. "There's obviously a high chance that I'm going to enter the draft," he said.
This year's NBA draft will take place on Thursday, June 20 following the end of the NBA Finals. Look for one of these companies to sign Williamson shortly afterward if he decides to go pro.
| Legal Betting Sites | Bonuses | Features | Visit Site |
| --- | --- | --- | --- |
| | 50% - $250 | Casino Games | |
| | 50% - $1,000 | Poker / Casino Games | |
| | 50% - $1,000 | Poker / Casino Games | |
| | 100% - $500 | Poker / Casino Games | |
| | 50% - $520 | Live Dealer Casino | |