Package Of Three New Gaming Bills Filed In Florida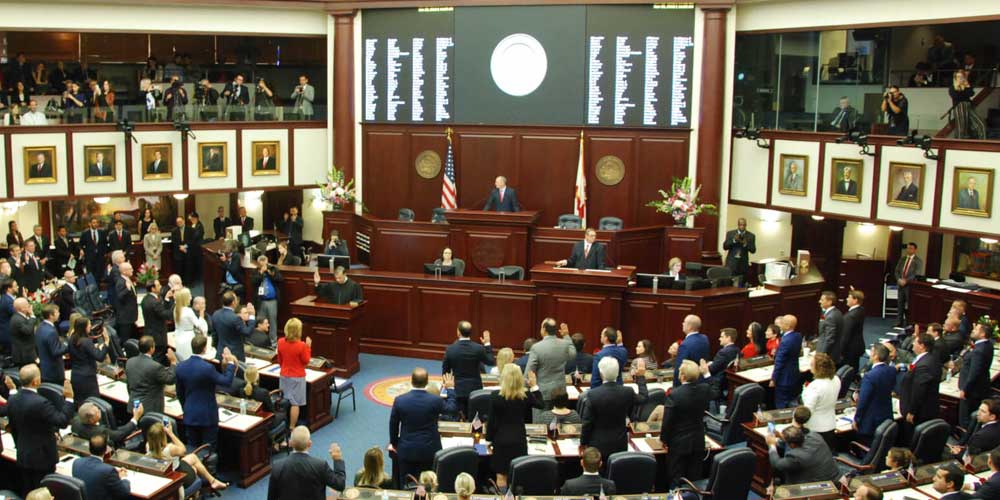 Three gaming bills to create a gaming control commission in Florida were filed on Wednesday and will be heard in the Senate on Monday.
FL SB 392 that would regulate a mobile and retail sports wagering industry in Florida has not progressed in the legislature, having had its first and last introduction in March.
The Florida Legislature adjourns on April 30.
TALLAHASSEE, Fla. – Three new gaming bills have been filed in Florida on Wednesday to be heard in the Senate Committee of Regulated Industries on Monday.
The trio of measures each plays a part in how gaming would be regulated in the Sunshine State but sports betting itself is not mentioned within any of the proposals. It is expected that legislation regarding sports wagering in Florida will surface in the coming days as this gaming package has just made its way onto the scene.
Regulated sports betting has been an uphill battle in Florida due to the Seminole Tribe of Florida having exclusivity on any and all expansions of the gambling market in the state. This could also be the case for the new package of bills that will be heard on the House floor come Monday, with possible opposition coming their way.
Florida Gaming Bills In 2021
Senate Bill 392 would have a sports wagering industry regulated by the Florida Lottery with a limitless number of retail and mobile operators made available statewide to offer betting on sports. It was filed in December and introduced to the Senate Regulated Industries Committee on March 2. No further movement has been made since.
With no traction coming from sports betting legislation in Florida, maybe these new bills will make some headway for the gambling industry of the Sunshine State.
Senate Bill 7076, Senate Bill 7078, and Senate Bill 7080 are the three bills with their upcoming hearing on Monday to change how the gaming market in Florida works. This package would like to create "The Florida Gaming Control Commission" to be able to enforce rules and regulations in the state where gambling is concerned.
Other areas will undo the required live race requirement when it comes to pari-mutuel horse racing and jai alai but all establishments with this style of gaming will not be affected in the areas of games like slot machines and its current licensing status.
Is There Any Hope For Florida In 2021?
Florida gaming is a hard industry to try and expand upon. Brandes' proposal would have allowed retail and mobile sportsbooks if it had been given the chance to move through the legislature. These new gaming bills could have a shot at passage, although it would need to happen quickly as the Florida Legislature adjourns for 2021 on April 30.
The biggest hurdle will be trying not to receive a ton of opposition to be able to create "The Florida Gaming Control Commission" because the Seminole Tribe of Florida is not included in the creation of the Commission and at this point in time, gaming is exclusively their area in the Sunshine State.