Sports Betting Takes Center Stage At Sports Decision Makers Summit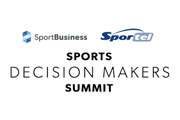 The main focus of the Sports Decision Makers Summit was sports betting.
Discussions were held on how sports betting could drive fan engagement.
The future of sports betting was also talked about during the summit.
MIAMI – Speakers at the Miami Sports Decision Makers Summit talked about various topics surrounding sports betting on Monday.
Fan Engagement
One of the main topics that were discussed during the Sports Decision Makers Summit was fan engagement. Chief Revenue Officer of Blitzer Sports & Entertainment, Adam Davis, spoke about this topic. Blitzer owns a few professional sports teams, such as the New Jersey Devils, the Crystal Palace Football Club near London, and the Philadelphia Seventy-Sixers.
Blitzer has made some agreements with William Hill, a sports betting provider, to further engage fans with their teams. One of the ways they can engage fans through sports betting is simply sending out an email to their fans and asking who is going to score first at the game or who will have the highest points at the end of the first half.
By asking questions like these, the sports teams can lead their fans to sports betting apps or locations operated by William Hill or whoever else they are partnered with. The sports teams can email fans back and tell them that they made the right call and they could actually bet on it if they wanted to.
What The Future Might Hold
The overall future of sports betting was discussed as well. The overall sentiment is that the United States sports betting is already far more complicated than the United Kingdom wagering. Each state in the US can decide for themselves how they want to regulate sports betting. There is no federal framework for betting on sports in the US.
LegalGamblingUSA knows his makes things a bit more complicated for sports betting operators. States like New Jersey have very few barriers to overcome to open a brand-new sportsbook. But states like Pennsylvania have higher taxes and fees associated with sports betting which makes it harder for new sportsbooks to open.
Some of the speakers at the Summit want to get involved with the legal process by lobbying lawmakers to not have restricting barriers to open up a sportsbook. In the end, the speakers believe that there will be widespread sports betting within the next five to ten years in the United States.
| Legal Betting Sites | Bonuses | Features | Visit Site |
| --- | --- | --- | --- |
| | 50% - $250 | Casino Games | |
| | 50% - $1,000 | Poker / Casino Games | |
| | 50% - $1,000 | Poker / Casino Games | |
| | 100% - $500 | Poker / Casino Games | |
| | 50% - $520 | Live Dealer Casino | |