Three Major Markets Unlikely To Pass Sports Betting Legislation In 2019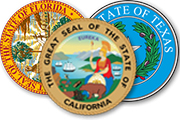 Florida, Texas, and California don't seem ready to pass sports wagering laws this year.
There are more than 11 million active sports bettors living in these three states.
Lobbying by existing casinos is the main issue blocking sports betting legalization.
TALLAHASSEE, Fla. - Three of the largest sports wagering markets – Florida, Texas, and California – are not likely to legalize sports betting this year, according to industry insiders and those close to these states' legislative processes.
While some will argue that each state has a different reason for its particular hold-up, that's not entirely true. As with the loosening of any erstwhile restricted industry, legalized sports betting has as its primary opponent the financial establishment. In other words, such snags are entirely based around disruptions to existing profit mechanisms.
While the motives for California's opposition and Florida's opposition are easier to pin down (they are based on tribal gaming and exclusivity agreements in state-tribe compacts), there has been an effort to frame Texas' reluctance to offer legal sports betting as a moral imperative. That seems disingenuous considering where the anti-wagering lobbying efforts are coming from.
Existing Casino Interests
The largest roadblocks to legalized sports betting in each of the three most-populous US states are the existing gaming industries within – and around – those states. In Florida, the Seminole Tribe – owners of the Hard Rock brand of casinos and restaurants (and owners of seven of eight tribal casinos in the Sunshine State) – opposes sports betting legalization, as does Disney.
While the latter doesn't operate casinos, Disney is the largest hospitality brand in the state, and money spent by potential patrons on sports betting cannot as reliably go to company coffers.
However, when it comes to the Seminole Tribe's gaming interests, the motive is easy to understand. Per the state compacts, Florida tribes – namely the Seminole – have the exclusive right to offer full casino gaming products. The state, however, wishes for sports betting to be operated by commercial outlets. That takes away tribal exclusivity, and it's viewed as a slippery slope.
Such is the same in California, where the only casinos allowed to operate in the state are of the tribal variety thanks to exclusivity pacts. The California legislature wants sports betting to be the purview of commercial outlets in the state, like race tracks and card rooms. As in Florida, this arrangement in California would equate to more taxable revenue for the state, hence its interest in removing tribal exclusivity.
Texas: Morality Or Meddling?
In Texas, there are no Class III casinos (and only three Class II casinos, two of which are being challenged by the state re legality to operate), so the common line of reasoning is that the resistance to sports betting legalization is a moral one. But that isn't the case, as legal sports betting has been a largely bipartisan issue nationwide.
Like California Democrats, Texas Republicans are worried only about the bottom line. This is clear when you follow the money and find the influence affecting the state's stance on sports betting. The neighboring states of Oklahoma and Louisiana have large gambling industries of their own, with their casinos attracting millions of Texas residents annually.
Lobbyists in both of these states are attempting to get sports wagering legalized within their borders. These same lobbyists, however, are spending big money in Texas to keep the Lone Star State from offering that same sports betting.
Tilman Fertitta, who owns the Golden Nugget brand of casinos, has donated over $500,000 to Texas Governor Greg Abbott, while Oklahoma's Chickasaw and Choctaw Nations have given more than $5 million to Texas legislators over the last decade or so.
The Future For Sports Betting In Florida, Texas, and California
Despite the short-term hurdles and barriers towards establishing legal sports wagering in these three states, the future for the pastime in Florida, Texas, and California is bright. These states are home to an estimated 11 million active sports bettors, and the majority of the money they spend on their hobby is sent overseas. This means that the revenue is untaxed.
LegalGamblingUSA believes that at the end of the day, state governments are larger businesses than any casino or casino network. The lobbying efforts afoot in these states to maintain the gambling status quo will eventually yield to the states' desire for a big cut of the action.
It would be a surprise indeed if sports wagering isn't legalized in all three states within the next two to three years.
| Legal Betting Sites | Bonuses | Features | Visit Site |
| --- | --- | --- | --- |
| | 50% - $250 | Casino Games | |
| | 50% - $1,000 | Poker / Casino Games | |
| | 50% - $1,000 | Poker / Casino Games | |
| | 100% - $500 | Poker / Casino Games | |
| | 50% - $520 | Live Dealer Casino | |