New York Assembly Members Kill Second Consecutive Online Poker Bill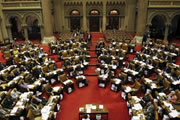 For a few years now, New York Senators have been fighting to legalize and regulate online poker in the state. This year, it looked like there might be a real chance of seeing online poker in the state within the year. This is because of a bill entitled SB 3898.
SB 3898 was introduced in the Senate in late January. It would enable the legalization and regulation of online forums that provided real-money Texas Hold 'Em and Omaha poker games. On June 9th, the Senate passed the bill by a vote of 58-4. Its progress through its Senate committees was promising, to say the least.
Before the bill was passed on June 9th, it was amended upon third reading. The provision added was a "bad actor" clause. This provision stated that online poker sites that had been banned under the UIGEA in 2006 and that had subsequently been found in violation of said law and kicked out of the country in 2011 would not be able to operate in New York. The biggest of these would be PokerStars.
The provision came after elongated talks with the federally recognized Native American tribes in the state who had opened casinos and would stand to gain the ability to open up online poker rooms through their casinos. The problem wasn't that they were opposed to the provision, as they didn't want their casinos to have to compete against already internationally established poker sites when they were just getting on their feet. It was that they didn't believe the provision was tough enough.
The last minute provision did advance the bill, however, and SB 3898 was delivered to the Assembly the same day it passed the Senate floor. The bill was referred to committee, where it made its way through the Racing and Wagering Committee with little opposition, passing by a vote of 10-1. It was when the bill made it to the Codes, Ways and Means, and Rules Committee that it was knocked to the ground.
State Assembly members thought that the provision wasn't tough enough. During several meetings between Assembly and Native American tribal representatives, talks disintegrated and nothing got done. Without agreement on all sides regarding what to do about the bad actor's clause, the committee was unable to pass the bill on to the Assembly floor for a vote.
This wasn't the committee's only issue, however. Along with questions of sufficient toughness, Assembly leader Carl Heastie raised his concerns about a possible constitutional problem with the bill. While New York's constitution was amended in 2013 to accommodate for the addition of several new casinos and racetracks in the state, there was nothing added about online gambling. This puts online poker rooms into somewhat of a gray area.
LegalGamblingUSA believes with two rather mountainous problems, state legislators need to find a solution soon rather than later. These issues aren't just going to go away. Until there is a provision that makes all involved parties happy and until constitutional questions are reasonably put to bed, New Yorkers won't be playing online poker anytime soon.
| Legal Betting Sites | Bonuses | Features | Visit Site |
| --- | --- | --- | --- |
| | 50% - $250 | Casino Games | |
| | 50% - $1,000 | Poker / Casino Games | |
| | 50% - $1,000 | Poker / Casino Games | |
| | 100% - $500 | Poker / Casino Games | |
| | 50% - $520 | Live Dealer Casino | |